Sacrifice for Love: A Saga of Undeterred Romance
Love is a lot of things. It's joy, excitement, pain, passion, fear…
Being in love gives you a roller coaster of all emotions. Love is happiness when you celebrate your beloved's success; love is a sacrifice when you place your beloved's needs above yours.
While falling in love might seem exciting, committing to it calls for efforts. Love and sacrifice go hand in hand. Unconditional love demands sacrifice for love, and surprisingly, you will be willingly making sacrifices for love if your feelings are genuine.
Below is a short story of Matthew's sacrifice for love and how unconditionally he loves Terri.
A dreamy romance
Matthew and Terri had been married for nearly ten years. They met while attending the same local university, sharing several pre-med classes. The couple enjoyed working together on team assignments, and this developed into a friendship.
Matthew and Terri both were active and involved in community services and enjoyed helping the elderly. After completing their undergraduate studies, they were accepted into the same graduate school program to earn their Ph.D. in biochemistry.
The relationship between the two after six years flourished with love, faithfulness, happiness, and attraction for one another, and Matthew decided to ask for Terri's hand in marriage. Terry was so surprised and excited, and when she composed herself, she accepted his proposal.
The couple both agreed first to finish their course studies, and after graduation, they would marry later that summer. Matthew and Terri had a large beautiful wedding and romantic honeymoon.
Problems start surfacing
During the honeymoon, Terri began to experience some discomfort on her right side. It would last for a few minutes and subside. She did not mention her problem to Matthew because she thought it was a result of nerves and excitement. Nevertheless, the couple had a wonderful time in Hawaii and even looked forward to returning in the near future.
One afternoon at work, Terri had excruciating pain in her right side again and including a high fever. The discomfort was so painful that her supervisor called for a medical ambulance and notified her husband to meet her at the emergency room at the hospital.
After several tests, the doctors discovered that Terri was suffering from kidney failure and needed an emergency kidney transplant. The examiner stated that there were no matches available at the time for her surgery to occur, and she would have to be placed on an emergency waiting list.
While the doctors were explaining her situation, Matthew asked the doctors, "What about me! Can I be tested?" The doctors immediately arranged for Matthew to be tested, and they discovered that he was a perfect match for Terri.
A sacrifice like no other…
When Matthew went into Terri's hospital room and told her that they found a match for her, Terri was so excited that she cried. Matthew then said, "It is me. I am a perfect match for you." Terri was in total shock and so thankful for Matthew's unconditional love.
He leaned over towards Terri and kissed her on the forehead and whispered, "You know I love you." Terri's eyes were full of joy and happiness. The time soon came for Matthew and Terri to be prepared for surgery, and they looked at each other, and both said, "See you soon."
The procedure took about 4 hours, and there were no complications. Both Matthew and Terri were in recovery for a couple of hours and were adjusting well. Several hours had passed, and Matthew and Terri were put into the same hospital room after recovery.
Terri looked across the room and called out Matthew's name, and he turned to her, and she said, "Thank you for loving me so much to help save my life."
Matthew said, "I love you, and I will do anything for you. From day one, I have always loved you Terri, and this was an easy decision for me to make."
Ninety days later, Matthew and Terri had a follow-up appointment scheduled to see if any complications might have occurred. After a brief examination, the doctor stated that they both were doing well. Matthew and Terri continued enjoying a loving, happy, romantic, and healthy marriage.
The couple recently celebrated their 30th wedding anniversary with family and friends. Every morning since the surgery, when Terri awakens, she says to Matthew, "I love you. You are my sacrifice of love."
This real story shows that you will not hesitate to sacrifice for love when you have unconditional love for someone. Their problems become yours. You don't run off, leaving them alone to deal with the tragedy. You stick around. And that is what unconditional love is.
Love means sacrifice. You get involved in all of your partner's joys, trials, and tribulations. You become their rock, backup, shoulder to lean on. When you are loving someone unconditionally, you share laughter and breakdowns. You compromise and sacrifice for love. You are there with them through everything.
*The names have been changed to protect privacy.
Share this article on
Want to have a happier, healthier marriage?
If you feel disconnected or frustrated about the state of your marriage but want to avoid separation and/or divorce, the marriage.com course meant for married couples is an excellent resource to help you overcome the most challenging aspects of being married.
More On This Topic
You May Also Like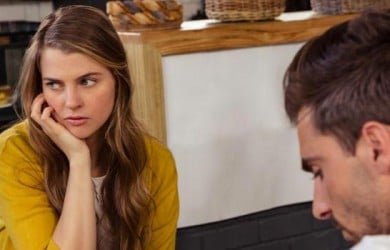 Popular Topics On Married Life