Looking for Love? How to Know Who's Right, or Wrong for You
Love is in the air, it's always in the air. Millions of people today are looking for, hoping for, wishing for that magical partner to sweep them off their feet and ride away into the sunset. But it's not that easy, is it? Here's an insight into preparing yourself for love, by knowing who is a great partner, and who might be a terrible partner regardless of the chemistry that you feel on that first, second or third date.
Here is an interesting take on love, and the most important key that people need to follow when it comes to trying to decide if the person they've just met has the potential to be a long-term partner.
"Compatibility in love is key". Or is it? We've been told that for years. Find someone who is compatible, who has the same interests, the same likes, the same dislikes. But wait a minute. There's another side of the equation.
What about the people that say opposites attract? What about the books that say look for someone that brings a totally different approach to your world, so that you can complement each other. In other words, your strengths are your partner's weaknesses and their strengths are your weaknesses.
It gets kind of confusing, doesn't it? So who is right? Is compatibility king? What if both of these camps are wrong?20 years ago, in my counseling and life coaching practice, I had a major breakthrough. While working with a woman who was looking for long-term love, I asked her to write about her past relationships and the reasons why they failed.
I asked her to make a list, of the various men she dated, and to write next to each of their names the one, two, three or four reasons the relationship didn't work. And what she came in with was gold! I have used this exercise now for over 20 years with every client that I work with who is looking for deep love.
And what did I find out through this exercise? That there were patterns in all of our past relationships that didn't work, yet we seem to keep attracting people with similar characteristics that are unhealthy.
And that helped me create maybe one of the greatest tools in love I've ever created "David Essel's 3% rule of dating." With this new rule, I have people write about what we call "deal killers in love."And these deal killers can be quite easy to see just by looking at your past failed relationships.
So if you were to do this exercise right now, you'll see a pattern. Have you repetitively dated emotionally unavailable men or women? Or men or women who drink too much? Or who have addictions to sex, food, smoking or workaholism?
Do you have a pattern dating the bad boys or the bad girls in love, that offer a hell of a lot of excitement but no security whatsoever? You see, compatibility is a given. If you don't have some type of compatibility at a very high-level with someone, the relationship is doomed. Absolutely doomed.
But that's not the key. The real key is to figure out what your deal killers are, what will never work for you, and then regardless of how incredible the chemistry is if you're dating someone new that has even one of your deal killers you're going to have to walk away. That's it. You've got to have the strength to walk away.
Your deal killers could be something like the fact that your current or brand new partner has children, and you really don't want to have anything to do with children. I don't care how much chemistry you have, the resentments will eventually come to the surface and the relationship is dead.
What about smoking? There was a woman I worked with who dated a guy who is very wealthy, flew her all over the world, they had tons of fun but he would never quit smoking. It disgusted her. So she was seduced by money, travel, and he was very attractive. But one of her deal killers of smoking. She decided to try to push it to the side, but you can't push a deal killer to the side. It's going to resurrect its ugly head and sabotage any chance for long-lasting love.
I share in great detail in our brand new book – Focus! Slay your goals. The proven guide to huge success, a powerful attitude and profound love. If you're not going to pay attention to the 3% rule of dating, you are simply repeating the past. A past that did not work, and never will work.
Some of my clients have said they thought I was too hard when they told me they were dating this "great person", who just happened to have two or three deal killers and they wanted to see if it was going to work.
And I always tell them, that it's up to you if you want to see if it's gonna work, but if there are deal killers the chances of it happening, the chances of the relationship moving forward are absolutely zero. And guess what? Two months later they're back in the office, looking at me with eyes filled with self-frustration. Eventually, I tell everyone, you cannot fool yourself.
Chemistry is not enough. Compatibility is not enough. You've got to find someone that does not have any of your deal killers in love, in order to make love work. Now that doesn't mean that you can't stay with someone who has a deal killer, for 30, 40 or 50 years. But you won't be happy. And isn't that the point of being in love? To find someone that you can actually be happy with for the rest of your life?
Do the work. Now. You'll be forever grateful, forever happy when you find that person that has zero of your deal killers. It's worth having the patience, doing the exercise I listed here in this article or reading in full detail the concept of profound love in our brand new book, in order to make love last once and for all.
Share this article on
Want to have a happier, healthier marriage?
If you feel disconnected or frustrated about the state of your marriage but want to avoid separation and/or divorce, the marriage.com course meant for married couples is an excellent resource to help you overcome the most challenging aspects of being married.
More On This Topic
You May Also Like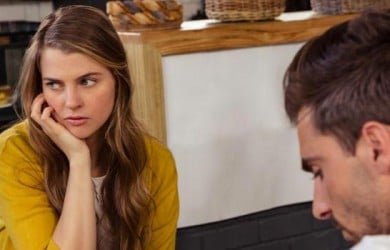 Popular Topics On Married Life