10 Telltale Signs He's Not Over His Ex
When you are in a relationship, sometimes there are things about it that might seem a bit off. Perhaps you feel like your partner isn't telling you the whole truth or that they are still hung up on a past relationship.
When you start having doubts about your partner's feelings, it could be related to your past or insecurities. Your doubts might lack credibility, by looking for signs he's not over his ex you can ensure that you don't suspect things that aren't true.
Here's a look at some signs he's not over his ex for you to consider. They may help you figure out whether he is committed to your relationship or not.
Also try: 

Is He Over His Ex Quiz
10 alarming signs he's not over his ex
There may be several signs within your relationship that he hasn't moved on from his ex. By observing your partner's behavior carefully you can tell whether your partner still has feelings for their ex.
Here's a look at a few alarming signs he's not over his ex. If you notice that these things are occurring, you should take the time to decide what you want to do next.
1. He talks about his ex a lot
If you think he's not over his ex, check whether he talks about his ex often. When a man isn't over a previous relationship, this could make him talk about his ex frequently.
He may mention his ex's name in conversations or tell you things about her, even if you don't ask for these details. It could mean that he can't stop thinking about her.
Related Reading: 

How to Stop Your Spouse From Bringing Up the Past
2. He still has some of their stuff
Another way to learn how to tell if he's not over his ex is by checking if he still has some of his ex's stuff. Perhaps he hasn't given back all the things his ex had at his apartment or proudly displays gifts given to them.
You can ask your partner to put all of his ex's belongings in a box or set aside a specific place for these things.
3. He still talks to their family
One of the telling signs someone is not over their ex is if they still keep in contact with their ex's family.
When he is calling them or spending time with them instead of communicating with you, this might bother you a lot. It can become particularly unsettling if they are not enthusiastic about interactions with your family.
But remember, he might not know that their actions bother you, so try to communicate with your partner before getting upset about things.
4. He still talks to his ex
If your mate talks to any of his exes this could be a sign that he isn't over the person he has dated in the past.
If this sounds familiar to you, consider conversing with your partner about your expectations and boundaries.
While you may feel uncomfortable asking your partner to stop talking to their ex altogether, you can ask him to limit the contact to once a week or month since you find it impolite.
Remember that he may have to talk to his partner if he has children with them, and you must be respectful about this type of relationship.
Related Reading: 

The Danger Behind Talking to an Ex While in a Relationship
5. He is still friends with his ex
Anytime a man is still friends with his ex, this could be one of the additional signs he is not over his ex. He may message them on social media sometimes, call them, or meet up with them upon occasion.
His friendship with his ex may hinder your relationship, especially if your love is new. Ask him how he would feel if you were still friends with an ex and see how he responds.
Related Reading: 

What to Do if Your Partner Is Still Friends With Their Ex?
6. He knows all about their life
You may question whether he is over his ex if you discover that he knows everything happening in their life. This can be troubling and could indicate that he wants to keep tabs on her.
Try your best not to get upset if you notice he knows all about his ex's life. Instead, talk to him about how this makes you feel.
7. He won't open up about what happened
When you ask your partner about their breakup and they are unable to tell you about what happened between them and their ex, this is an issue that can make you worry. This is because it could be one of the most telling signs he's not over his ex.
If you cannot find out what happened between them, he may not be ready to talk about it just yet. Give him some time and try not to get upset about it.
Related Reading: 

Should You Tell Your Partner Everything About Your Past or Not?
8. He compares the two of you
Sometimes you may have a casual conversation with your partner, and he might end up comparing something you said or did to his ex. This can be a red flag and compel you to think that he is still carrying a torch for his previous lover.
In other words, this is one of the signs indicating he's not over his ex that may be the most concerning. You can try to rectify this by asking him to stop comparing you to her, and he might stop if he truly cares about you.
Related Reading: 

10 Reasons You Should Never Compare Relationships or Your Partner
9. He isn't over the relationship
Does your mate clam up when you try to talk to him about his past relationships or his dating history? This could mean that he hasn't processed his last one fully.
However, don't get discouraged if this happens to you since it may be just a matter of time before he processes it and moves on.
Remember, residual feelings for their ex doesn't always mean that he isn't ready to be your boyfriend. It could just be that they need a bit more time.
Related Reading: 

15 Signs You're Not Over Your Ex
10. It just doesn't feel right
Sometimes, the situation between you and your partner might feel off as you can feel like he's holding back or being inauthentic with you.
If you are getting an inauthentic vibe from him, you can consider this one of the telling signs he's not over his ex. It may be best to talk to him about it and keep an open mind.
He could be apprehensive about discussing what he's going through, so be kind and easygoing when possible.
How long does it take for a man to get over his ex?
Depending on their personality, it could take different amounts of time for different men to get over their ex. Some can move on after three months, and for others, it can take substantially longer.
In some cases, it is thought that a man doesn't always get over a past relationship. Instead, they may start to move on with their life. If you ask yourself, "Is my boyfriend over his ex?" he may still be harboring feelings for his ex.
Give him a chance and ensure you keep the communication lines open. He may open up to you after a while, so you can both feel more secure in the relationship.
You can watch this video for more information on how to get over an ex:
What should you do when he's not over his ex?
You may be puzzled and thinking, "He's not over his ex, so should I be patient?" The answer is yes.
When you notice signs he's not over his ex, it is important to be patient with your partner and talk to him about it. Focus on other things, like having fun with him and strengthening your bond.
While you don't have to avoid talking about his ex, it may be better if you don't bring it up regularly.
You must trust your partner since baseless mistrust can lead to problems within your relationship. This is why you must be open and honest with each other at all times.
Consider working with a therapist if you want an expert's help. You can see a professional by yourself or together to strengthen your communication skills with each other and learn more ways to understand and accept each other.
Additionally, you can check out some 'he's not over his ex quotes,' which may be able to make you laugh and help you learn more about what to do.
In a nutshell
Ultimately you may be wondering what to do if he's not over his ex. The answer is that you must try and communicate things better, unless the relationship doesn't feel right.
You don't need to stay silent when you notice signs he's not over his ex, but you should try to be open and understanding with your partner if you want to make things work.
Just because he isn't fully over his ex doesn't mean he can't love you or be a good partner to you. He might simply have trouble getting over his past relationship completely and will need some more time to do so.
You should make sure to talk to him about your feelings and concerns and allow him to express his thoughts.
Besides that, think about talking to a therapist together, so you can overcome your fears related to signs he's not over his ex. If your partner is willing to see a therapist, he can overcome the things holding him back.
A professional can also help you better understand each other's points of view and hopefully learn more about improving your relationship.
Share this article on
Want to have a happier, healthier marriage?
If you feel disconnected or frustrated about the state of your marriage but want to avoid separation and/or divorce, the marriage.com course meant for married couples is an excellent resource to help you overcome the most challenging aspects of being married.
More On This Topic
You May Also Like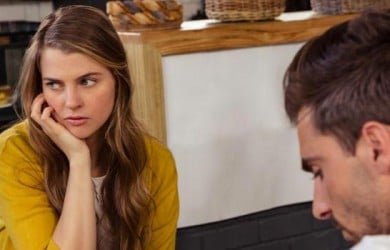 Popular Topics On Married Life