20 of The Best Sexual Gifts for the Holiday Season
With all those long nights, the festive atmosphere, the fine food and wine, and roaring fires, the festive season is the ideal time for fun, sex, and intimacy.
Whether you want to give sexual gifts to your partner or you've got a sex-positive friend who'd appreciate something a bit risky to explore, you're sure to find something to please them on this list.
Sexy gift ideas for couples
If you are looking for gifts to spice up a marriage or searching for intimate sex gifts for couples, some options can get you started.
1. A crystal sexual wellness tool
If your friend or partner is into alternative medicine or is just a bit boho at heart, they'll love the crystal sexual wellness tools handcrafted by the folks over at Chakrubs. Chakrubs offers a range of crystal pleasure wands, curved wands, and female stimulation yoni eggs, all handcrafted from pure, high-quality crystal.
These fun toys adapt to body temperature, are smooth to the touch, and are free from plastics, chemicals, and dyes.
According to the folks at Chakrubs, their sexual wellness tools promote emotional harmony and well-being. They also bring a sense of sacredness and wholeness to intimate moments.
In either event, they're beautiful to look at, sensual to use, and an excellent sex-positive gift for yourself or anyone else in your life.
2. A vibrator made for couples
If you're looking for a sensual gift to share with your partner, look no further than the We-Vibe. This discreet, compact vibrator has an ergonomic shape for a perfect fit and is designed to be used and worn in various ways. Couples will love experimenting with the We-Vibe to find the most pleasurable way to use it.
The We-Vibe is made of silky soft silicone for a comfortable, flexible fit and can be controlled using the We-Vibe app for even more fun. It charges in just four hours on its custom charging base and even has a wireless remote control.
3. A beginner's pleasure kit
Babeland's Beginner's Pleasure Kit is an ideal gift for a couple new to enjoying sex toys. The pleasure kit was designed to help women connect with their sexual selves and find a healthy, positive relationship between their bodies and pleasure.
Each kit comes with a Miss Leopard vibe, a bottle of Babelube, a pair of batteries, and an information pamphlet providing a beginner's guide to self-pleasure.
As the kit creators explain, purchasing a Babeland pleasure kit means coming for a good cause! 100% of the sales from each kit go direct to planned parenthood clinics, which promote better sexual health and education.
4. An unbound gift box
Unbound offers a subscription box service with a sexy difference. Every three months, subscribers get a carefully curated sex-positive gift box in the mail. Curated? Yes indeed! The sexperts at Unbound put in a lot of time and effort to ensure each box contains only the highest quality items, emphasizing new and innovative ideas.
A typical box contains over $100 worth of items (subscriptions start at just $65 a box) and can include anything from sex toys to lube or erotic jewelry. The items are hand-picked to ensure they can be used together for an immersive sensual experience.
You won't just feel good; you'll be doing good – Unbound donates 6.9% of its profits to nonprofit organizations that promote female sexual health and wellness.
5. Some environmental friendly lube
A good quality lube is a must for any couples' (or singles') toy box, but even the best lubes can be less than kind to the environment. Harsh chemicals with unpronounceable names aren't perfect for the planet – it makes you wonder if you want to put them in your most intimate areas.
Luckily you don't have to. Some fabulous environmentally friendly lubes on the market will keep things smooth, easy, and eco-friendly.
Sutil makes a range of natural water-based lubes free from parabens and glycerin, relying on natural ingredients such as oat beta-glucan and white lotus root.
Sexy gifts ideas for husband
It can be tricky to buy sexy gifts for your husband. It would be best if you knew about their personal preferences before buying an intimate gift for him. Here are some options that may help you select the right sexy gift for your husband.
6. Sex swing or sling
Having sex on a swing or sling is almost every man's fantasy. You can gift your husband a swing if you know that he will be into it. If you think that hanging a swing from the ceiling will be too much for you or your partner, you can also choose to gift a sex sling.
A sex sling is a comfortable alternative for a sex swing. It comes with a padded pivot seat, and you can hook it to a wall.
Watch this video to understand, how to use sex swing or sling safely:
7. Fantasy sex games
If your husband is too much into role-playing and dressing up, a fun sex fantasy game
will cheer him up like anything. You can take one challenge a week and prep for the story, character, or any situation explained in the challenge.
This might be one of the best sexual gifts for your husband.
Also Try: What Is Your Sexual Fantasy
8. Handcuffs
If you and your husband are into BDSM play or thinking of exploring it, a soft handcuff could be a good option. It is one of the most alluring gifts to spice up the bedroom.
You can explore the lighter side of the BDSM, or you can stick to handcuffing and enjoy new experiences that come with the new sexy tool in your hands.
Sexy gifts ideas for wife
Trying hard to find sexy gifts for your girlfriend or wife? These options may come in handy.
9. A truly adaptable vibrator
The Crescendo vibe is just a little bit different. It's the world's first fully poseable vibrator. Its smooth, curvy shape can be bent and formed into different shapes. Crescendo was designed to suit any body type, making it a genuinely diverse gift.
Apart from having a highly adaptable shape, Crescendo has six motors that work in unison and can be programmed with customizable vibration patterns.
It's also waterproof, making it a genuinely go-anywhere toy that is wonderful for a single friend or to explore with your partner.
Crescendo also charges quickly and efficiently when you place it on its custom charging dock.
10. Jewelry with a secret
For the ultimate secret thrill, why not gift someone a piece of jewelry that hides an erotic secret in your life?
If you want to give someone jewelry with a difference, why not gift them the Crave vibrating necklace by Vesper? The slim, elegant design is available in silver, gold, or rose gold finish and looks understated and elegant yet conceals a powerful USB-rechargeable vibrator designed for maximum pleasure.
Give the gift of sensuality this holiday season with one of these gorgeous gifts – and each one is made by an ethical sex-positive company, too, so you'll know you're doing good while giving something oh so good!
11. A laced lingerie set
Sexy lingerie could be one of the best sexy gifts for your wife. She might not feel as confident as Kardashians, but she would feel sexy and confident in bed.
A new enticing piece of cloth can set the right mood for all those intimate nights. You might need extra effort because she can be on a roll oozing with all that self-confidence and irresistible passion.
Sexy gift ideas for boyfriend
Not everyone is sure when it comes to picking out the right sexy gift for your boyfriend. There are a lot of options available that you can try out. Here are some options that you might consider buying next.
12. Dice sex game
This is one gift that will surely help you entice your sexual life. You need to roll them, and it auto-generates activities for you. Each dice had six sides, and there is a sexual task on every side. Combining two sexual tasks makes this game more interesting than other sexual games.
You need to perform the actions mentioned on the sides and take them to the level you are comfortable with. This game could be a bedroom game changer.
13. Edible body paint
If he is into art or maybe trying out new intimate things, you should probably gift him edible paint. You can ask him to paint you or use it on his body.
You can choose your preferred flavor and savor it later. It can add the needed spice to your daily sex routine and improve it.
14. Modern Kamasutra graphic novel
The modern Kamasutra novel doesn't have a lot of text but only positions with needed information about it. It would be perfect for your husband as he would know that you are also open to new experiences.
It will also get him excited about trying a few new positions mentioned in this book.
15. Edible underwear
What could be better than something that he can eat right off your body? There are many good options and ranges available in edible lingerie. Mixing things up with edible underwear can create unforgettable intimate memories.
Sexy gift ideas for girlfriend
It is a task to find out the best sexy gift for a girlfriend, especially when you have unlimited options. However, we find the options below slightly better than others.
16. Sex position pillow
This gift can change the entire experience of doggy style position for you as a couple. She would love it as it means better penetration, and you will be thrilled to have experienced it better than ever. You can use this pillow for multiple sex positions. This is one of the best sexual gifts for her as it would also take of her back pain.
17. Beginners bondage kit
If she is slightly interested in exploring BDSM, you should gift her a beginner's bondage set that can help her get started. It can be used for multiple positions and stimulations.
18. A suction toy
A suction toy will be the best sexual gift of all time. A suction toy may be little, but it provides more pleasure than you can imagine. It is not only useful for clitoral stimulation but nipple stimulation.
There are so many cute options available in the market. You can pick a style that you think will be suitable for her.
19. Lube
A good lube is always a better option when looking for a sexual gift if she is a sensation seeker. It can be beneficial when it comes to using sex toys. If she has a dominant wilder side, gift her a lube that cools or heats to add more ecstasy to her pleasure time.
20. Massage candle
Don't we all love massages and candles separately? They both set the mood right for intimate encounters. What could be a better sexual gift than a candle that smells nice and can be used after burning out?
The candle is major oil-based, so that you can choose from the different fragrances. The candle doesn't burn at a high flame; instead, it has a very soft flame that keeps the oil perfectly warm to be applied to the body.
Takeaway
All these gifts will entice your sparkless sexual nights and will make this festive season more celebratory. It will make you feel closer to your partner, and they will appreciate you for making efforts. So take your pick and get shopping.
Share this article on
Want to have a happier, healthier marriage?
If you feel disconnected or frustrated about the state of your marriage but want to avoid separation and/or divorce, the marriage.com course meant for married couples is an excellent resource to help you overcome the most challenging aspects of being married.
You May Also Like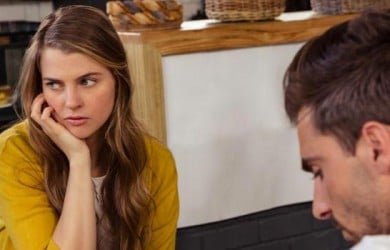 Popular Topics On Married Life