7 Money Management Habits That Can Improve Your Marriage
Marriage can be the most beautiful part of our lives. It's the union of two souls that (ideally) results in the creation of a happy new family.
A lot of couples make the crucial mistake of not thinking about money management in marriage.
On the flip side, many couples worry too much about managing finances in marriage and not enough about marriage.
Both attitudes result in failing marriages or households standing on fragile compromises.
But the good news is that most financial problems don't stem from the lack of money, but rather, the poor money management. And this is something that can be fixed.
Seeking financial tips for married couples? Look no further as we bring to you the most effective money management tips.
7 money management habits that can improve your married life
1. Discuss your finances
A lot of spouses don't discuss their family finances as they should.
This is especially apparent in financially asymmetrical couples where one person is, by default, expected to take care of every financial need of the family.
The first good habit for financial planning for couples that you can pick up is to start discussing your finances with your spouse.
If one of you is earning and the other is not, you can consider how to manage the cash flow of the household best.
If you are both earning, you should discuss how to best pool your resources, control expenses, and save for the future.
Discussing your finances, goals, and issues with each other over casual "money-dates" or every other Sunday can be a good idea.
The more you discuss your funds in a relaxed, happy environment, the less angry money-related rows you are likely to have with your significant other.
Also watch:

2. Control of finances
Deciding which one of you has what kind of control over family money and finances can help out a lot.
One of you can control the day to day expenses, and the other may manage the savings and emergency funds.
If one of you is better at handling money than the other, there is no shame in having that spouse control most of the financial decisions. That's what marriage is – depending upon and trusting each other, without becoming a burden.
It's usually a good idea to leave control of the necessary expenses of the household with the primary home-maker.
3. Make a budget and stick to it
Making a proper budget is crucial for a happy financial, and consequently, married life. Budgeting helps couples in balancing finances and marriage successfully.
Whether one spouse is earning or they both are, it's usually a good idea to create a combined pool for family expenses. That's a key money management tip to follow.
Your mortgage, utility bills, groceries, other necessary expenses, and recreation are just some common parts of a usual married couple's budget.
Large non-essential purchases that go above the scope of the set budget should be discussed with your partner.
There's nothing wrong with buying a high-end set of golf clubs for one spouse, or an expensive new pair of shoes for the other. However, these items should come out from personal earnings and savings, and shouldn't put a strain on the family budget.
4. Set some financial goals
It would be best if you had a clear idea about you and your spouse's financial goals.
Many couples think that since their income is barely enough to cover the expenses, they shouldn't have financial goals.
But that's the kind of thinking that keeps people from growing. Whatever the income is, each of you should have set financial goals.
These goals don't have to be elaborate or even combined.
You might want to save enough to start a small side business

Your spouse might want to buy a family car

If you know each other's goals, you can prioritize and help each other out

You may decide to pool all your savings for the down payment on a property.
This will help you acquire a hard asset and give you more financial strength as a couple.
The point is that unless you don't have proper financial goals, you will just be earning, spending, and probably saving. But you won't be "growing" your wealth.
A robust financial standing can help remove a lot of strain from your marriage, and for that, you need to work towards some sound financial goals as a couple.
5. Focus on savings
Having substantial savings is essential for individuals, and doubly important for a couple.
They can help you out in hard times, emergencies, and over-the-wage necessary expenses. They can also help you grow your wealth through interests or investments.
If only one of you is earning, savings should be the part of budgeting.
Sit down together, plan your expenses, see what you can cut back on, and allocate as big a part of your income towards savings as you realistically can.
In a single income household, there should always be a cushion to fall back on in case that income stream stops.
If you are both earning around the same, you can have three different saving stashes, one for each of you, and one for the family.
If there is a significant disparity between your incomes, a common practice is that the higher-earner covers the usual expenses, and the other spouse's money goes into the savings.
Both can still stash some of their income away for their personal goals.
6. Give your partner space
Giving space is an essential part of a relationship. That's the quintessential money management advice for couples looking at enjoying financial compatibility.
It's just as true in finances, as it is in emotions.
If your partner is pulling their weight in the family finances, don't give them a hard time about the money they have set aside for themselves.
This can smother the other person's sense of financial freedom.
You can advise them about managing their money better, like having sufficient personal savings instead of wasting all their money on a hobby, or clearing up their debt before taking up a lavish lifestyle.
But trying to change a person entirely often results in a widely distorted marriage.
7. No secrets when it comes to finances
If you had an expensive night out with your friends, you might not want to tell your spouse about the hundreds of dollars you spent.
But it's a good idea to keep each other in the loop about your spending and savings. Keeping such secrets not only results in poorly managed finances but also in damaged trust when the other person finds out.
It's better to be open about your financial decisions.
If you can't tell each other your financial problems, impulse purchases, and debts, then your marriage might have deeper issues than just lack of money management.
A final word on financial tips for married couples
A happy marriage isn't solely standing upon sound finances, but it's one of the pillars.
If you or your spouse can't change your destructive money habits, your marriage is going to get affected by it sooner or later. And it's much harder to go through a stressful marriage, than developing good money habits.
Share this article on
Want to have a happier, healthier marriage?
If you feel disconnected or frustrated about the state of your marriage but want to avoid separation and/or divorce, the marriage.com course meant for married couples is an excellent resource to help you overcome the most challenging aspects of being married.
More On This Topic
You May Also Like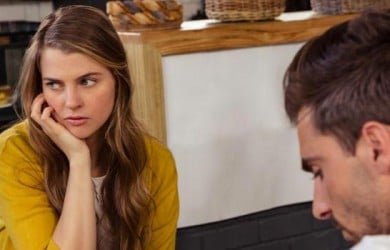 Popular Topics On Married Life