56 Inspirational Marriage Quotes That Are Actually True
Quotations are always a good way of expressing love in just a few words. Besides quotations on love, there are marriage quotes as well for the wedded couples. In fact, you will be surprised at the different categories of quotes about marriage available in the World Wide Web today.
Most wedding quotes have been quoted by famous authors, poets and other figures we know. And you have the option to either select from 'marriage inspirational quotes' category to 'happy marriage quotes', depending upon your situation.
We have chosen 56 marriage quotes and sayings which are an amalgamation of romance, humor, and inspiration. Read on these five great inspirational quotes about marriage and love that will surely make you believe in love, all over again.
Inspirational quotes for marriage
This is one of the inspirational quotes about marriage that brings out the true essence of the age-old institution – marriage is a union of two souls. Successful relationships, including marriages, rest on the shoulders of both the partners alike. And since this is a union of two souls, each one has a responsibility to take care of and a commitment to fulfill. So, never blame your partner if your marriage fails for specific reasons. Look back and analyze your actions instead. After all, marriage is not about 'finding the right mate,' but, 'being the right mate.'
Quite an inspiring quote for marriage!
The very point of marriage means you can return home to your spouse after a hectic day at work and re-energize yourself. A good marriage includes a meaningful exchange of thoughts, feelings and even anxieties. In a healthy relationship, both partners need to feel that they are being valued, respected and appreciated for who they are.
Marriage motivational quotes like the one mentioned here bring out the hidden beauty of sharing your life with the person who possesses the power to make you feel alive and re-energized again after a hectic day of chasing goals and targets at work. This is what a good and healthy marriage is all about – you feel complete, happy, loved, respected, and appreciated by your better half.
Related Reading: Marriage Quotes You Will Love
Such positive marriage quotes would work as a constant reminder by turning your attention to the positive factors about your relationship, such that you can return the loving gestures to your partner if it lacked from your end initially.
As a power couple, improve and work on your relationship so much that you can't get enough of each other. Go on hikes, enjoy a budget weekend, cook meals together, go skiing – the works! Marriage has no expiry dates; do everything to understand and appreciate each other a little more than you did previously. It will work wonders!
Inspirational quotes on marriage like this one have just revealed the secret ingredient to having a long-lasting happy marriage, and that is to stay connected with one another every single day of your life.
Friendship creates a strong bond between married couples. Every relationship starts with friendship and then gradually matures into something more depending on the direction the couples want their relationships to head. Inspirational quotes for married couples like the one given here advice partners to become 'best friends' of each other and enjoy a fulfilling married life together.
Spouses who treat their partners as their friends easily connect emotionally and that bond is stronger than any form of physical intimacy can create.
He loves a little foot rub after work, and she loves when she gets to control the remote control for a bit. These are little things, but those little things add up. This is one of the inspirational marriage quotes that teach you to treat your partner with love and care if you expect the same kind of treatment from them.
Get inspired by positive marriage quotes
You can learn a lot from the inspirational quotes for marriage like the ones mentioned in this article. You can find a quote matching your situation and emotion – draw inspiration from them and see the difference you create in your marriage.
Marriages are a selfless pursuit. You will want to bring a smile to your partner's face and see it lit up! This inspirational marriage quote celebrates the selfless pursuit of spreading cheer in your spouse's life.
an learn from other couples how to communicate, how to keep the passion in the relationship alive and how to manage conflicts effectively. Humans are social beings and have the habit of internalizing their environment. If you surround yourself with happy and healthy couples it will have a positive effect on your relationship.
Your partner is not the antagonist in your story, they are the one that will help you reach your fairytale ending. If you realize that and pledge to work together rather than against each other, life would be so much easier for you.
Marriage and friendship aren't so different after all. The main ingredients of marriage are support, communication, and respect, which is the same as the ingredients of a healthy friendship. Passionate friendship is the next milestone for marriage after successfully building a passionate relationship.
Marriage is the most sacred commitment of all. It entails giving everything you have to your relationship, no matter how hard it is, no matter how many sacrifices you have to make, no matter what price you have to pay. But the result of all this hard work is always sweet.
Marriage is synonymous to selflessness. You commit to another person, promise to fulfill all their needs and make them happy regardless of how much efforts you have to put in for that. Marriage is indeed a special form of generosity.
Marriage, unlike fairytales, doesn't just end with a happy ending. Courting and committing your partner is just the beginning. After that, you have to keep working consistently to keep your relationship functional. If you don't, it won't take much time before your relationship is in shambles. Your marriage should never go down in the list of your priorities.
Years of marriage should not wear you down, it should make you wiser and stronger as a couple. If you are in a healthy relationship, it will not feel like a burden, it will feel like a safe zone where you can relax, unwind and feel the warmth and connection with your partner.
Sacrifice is inevitable in a marriage. But what is strange is that you won't feel the sting when you sacrifice for your partner. Doing things to make your partner happy is sweet and will give a strange kind of fulfillment. Marriage is magical.
When holding hands doesn't make you feel special anymore, it is a red flag that you need to be wary of. The feeling of touch will always make you feel connected and loved if everything is right in your relationship.
Well rested partners make good partners. Sleep is a such a simple need but it's still a necessity. If you and your partner get adequate sleep and aren't tired all the time, you will have fewer mood swings and will make more efforts to keep your relationship healthy.
When you are married, you need to wake up and choose to be with your partner every day. Some days you will feel like the relationship you are in is too demanding and is nothing short of drudgery. In those days, you will have to remember how magical your relationship has been and inspire yourself to work harder on your relationship.
Marriage is an intimate bond like no other. The things that you share with your partner are sacred and you should never involve a third person in the middle of your affairs. This will not only cause conflict in your relationship but will also reflect poorly on you.
Nagging and complaining aren't solutions to all problems. Since the person you have married is someone you have chosen yourself, show some faith and let them work on their problem themselves. You don't have to keep poking and reminding them of their shortcomings all the time.
If you have spent an adequate amount of time and efforts to build a strong marriage, then there is no challenge that your marriage can't overcome. Building a strong foundation is the key to a lasting relationship. Nothing can shake a relationship if the bond between the couple is strong.
If you are a spouse that complains all the time, think and reflect over the time that you have lost, that could have been sweet and happy memories had you been mindful about the things you could have been grateful for. Count your blessings and talk to your spouse about the things that make you delighted.
Small moments that you spend with your partner is what will become memories that you will cherish in the future. Marriage is made of the small moments of connection and intimacy that you share with your partner. Don't let them slip away!
The act of handholding has such a positive effect on your marriage, it's more than anything you could have imagined. You would be surprised to know how much closeness can be created alone by just holding hands. Hold hand with your spouse today, even it is for a few minutes.
Spending quality time with your partner is essential to ensure that your marriage is in good shape. Even if you have been married for years and know each and everything about each other, you need to sit back and connect with each other. This will help you let go of all the built-up resentment.
Marriage takes work, it takes effort, time, perseverance and discipline. The benefits that you will reap out of this bond is endless. But, if you are married and aren't taking your relationship seriously, it can result in a lot of heartaches. Be sure that you pay attention to your relationship.
In a marriage, there is no point of striving for perfection. What you should aim to be is happy and satisfied with each other. It doesn't matter how your relationship appears to other people, what matters is you have love and each other's best interest in your heart.
Marriage has so many facets and each of them equally beautiful. You must take all phases of a marriage in a stride and enjoy all the flavors of your relationship that you come to see in the term of your marriage. Change is constant but not necessarily bad.
Parenting should not make you put your relationship with your partner in the back burner. When you become parents you need all the more support from your partner so you must ensure you don't ignore your marriage for parenthood. You are partners first and parenting comes after that.
Marriages don't become successful on their own, they need your time and your efforts. If you want to be happily married, you need to make efforts to make your marriage happy. Compatibility on its own will not make a marriage thrive.
Focusing on your partner's negatives will only fetch you heartache and dissatisfaction. Not to mention the spillover effect it will have on your relationship and on your partner. Don't let the negativity breed, instead, focus on the things that you love about your partner and boost their self-esteem.
If you think that you are displaying immense patience when your wife shops and you wait, you are wrong. The amount of patience that marriage is far more than that. When you are ready to support each other in the darkest of times, when things get very difficult is when your patience is really tested.
Marriage gives us so many gifts, the gift of friendship, love, kindness and so on. If you have found the person to share all these gifts then you are privileged. Though marriage is not free of challenges, the gifts that it offers far supersedes the negatives that you have to endure.
When you sacrifice something for your spouse, you are not really giving up anything because they are a part of you. If you are losing a part of you and giving it to your other half then you are really not losing anything. On days when you feel that your marriage is weighing heavily on you, remember this and things will get easier.
When you stop dating your spouse your marriage can become boring and lose all the spark that it once had. Every day make an attempt to make your spouse feel special, do the things that you did to woo them and attract them. This way the passion in your relationship will never fade.
Marriages are a selfless pursuit. You will want to bring a smile to your partner's face and see it lit up! This inspirational marriage quote celebrates the selfless pursuit of spreading cheer in your spouse's life.
Marriages don't run on auto-pilot. This inspirational marriage quote will encourage you to do all that is required to give love, affection, and strength to your partner. After all, marriages need constant work to keep them shining like glistening gold.
If you decide to walk down the aisle, you must be willing to follow through with all the promises and maintain the sanctity of your marriage vows. This marriage quote will instill a sense of perseverance in you to work toward marital bliss.
Commitment is the cornerstone of a successful marriage. Deepen your love and commitment by seeking inspiration from this lovely marriage quote.
Each marriage comes with its unique share of challenges and joys. Each one is a love story with a wide array of twists and turns. This quote celebrates the magic and uniqueness of marriages.
A marriage should not shackle you. This inspirational quote brings important insight into the picture. About people making the judicious choice to stay or walk out of a marriage.
Whether you are just married or otherwise, you will never run out of people who will give you unsolicited advice on marital bliss. Just take it with a pinch of salt!
This inspirational marriage quote will make you want to infuse your marriage with passion. Don't let anything douse the fire of passion and love in your marriage.
Spending quality time with your spouse is the key to beat marital discord. This inspirational marriage quote will give you a reason to jolt out of marriage ennui and do marriage check-in to get your priorities right.
Now that the fancy wedding is over, it's time to wake up to the reality of marriage. Make no mistake, marriage is no fluff.
When you are married, you have a great partner who will always be on your team. Read on this marriage quote that highlights the importance of shared goals and double strength that you enjoy as a married couple.
The secret ingredient to an amazing marriage is to go that extra mile to bring a smile to your spouse's face. This funny yet inspirational marriage quote will make you want to reach out and cuddle your partner.
Keep the intent to follow through with your promises by seeking inspiration from this marriage quote. Enhance the longevity of your marriage with your determined efforts to follow through with your promises.
This marriage quote highlights the importance of motivating your spouse. Acceptance is the key to happiness in a marriage. Read on to know about the importance of encouraging each other and standing by each other in the face of adversity.
This inspirational marriage quote will infuse mental strength in you and your partner to overcome the tumultuous times together, make compromises for a stronger marital harmony and being true to each other, come what may.
Marriages are a lot of hard work. This inspirational marriage quote will encourage you to work on shared goals, deepen affection and face the challenges chin on.
Making small adjustments in a marriage makes way for a fulfilling marriage. This marriage quote will make you smile and reminisce about the ups and downs of married life faced together.
A happy wife means a happy life. To love someone deeply gives you strength. This inspirational marriage quote will cement the bond of love between you and your spouse.
This marriage quote will surely make you believe in love, all over again. Love and romance in marriage should never be lost in the array of the mundaneness of everyday life.
Marriage is about navigating difficult avenues together. Read on this great inspirational quote about marriage and combating challenges together. Cuddle up with your spouse and read onto seek inspiration and infuse strength in your marriage.
A happy marriage is where a spouse looks forward to returning home to their partner after a hectic day at work and rejuvenate themselves with an equally affectionate partner who awaits them. This is one of the inspirational quotes about marriage that celebrates togetherness in a marriage.
Inspirational quotes on marriage like this one have just revealed the blueprint to build marital harmony. Allowing space and encouraging each other's growth is the ultimate pathway to enjoy a happy marriage.
Share this article on
Want to have a happier, healthier marriage?
If you feel disconnected or frustrated about the state of your marriage but want to avoid separation and/or divorce, the marriage.com course meant for married couples is an excellent resource to help you overcome the most challenging aspects of being married.
More On This Topic
Recent Articles
You May Also Like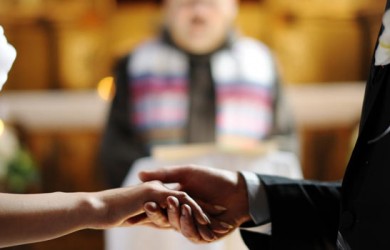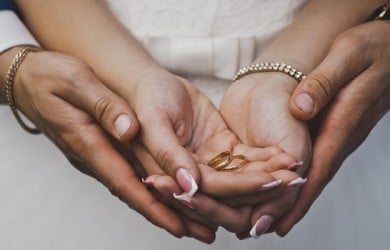 Popular Topics On Getting Married