125 Relationship Quotes to Make Every Couple Feel All the Feels
Regardless of whether you are married for years or in a brand new relationship, sending relationship quotes is still relevant when you want to show your partner how special they are to you. Communicating in the relationship by sending them sweet relationship quotes is a great way to show how much they mean to you.
Read on and pick your favorite relationship quotes & sayings to share with your significant others today.
Cute relationship quotes
Wanting to remind your special someone how important they are to you and spark the butterflies again? Sometimes, cute relationship quotes are all you need to rekindle the flames of love. Positive relationship quotes will bring a smile to your partner's face. These can also be used as rekindle love quotes.
"A flower cannot blossom without sunshine, and man cannot live without love." – Max Muller

"The ultimate test of a relationship is to disagree but to hold hands." – Alexandra Penney

"We were together even when we were apart." – Shannon A. Thompson

"A successful relationship requires falling in love multiple times, but always with the same person."

"Maybe you don't need the whole world to love you. Maybe you just need one person." – Kermit the Frog

"Deep in your wounds are seeds, waiting to grow beautiful flowers." – Niti Majethia

"A great relationship doesn't happen because of the love you had in the beginning, but how well you continue building love until the end."

"Happily ever after is not a fairy tale—it's a choice." – Fawn Weaver

"Let us be grateful to the people who make us happy; they are the charming gardeners who make our souls blossom." – Marcel Proust

"All relationships have one law. Never make the one you love feel alone, especially when you're there."
Related Reading: 

100+ Marriage Quotes You Will Love
Strong relationship quotes
Do you have a strong relationship? Watch this video to know more.
Quotes about relationships can push us to be better for ourselves and our partner. We can relate to what they are trying to convey, and they inspire us to invest in strengthening and improving the relationship. What is your favorite among these strong relationship quotes? These can also be considered relationship advices quotes since they are based on strong relationships.
"The purpose of a relationship is not to have another who might complete you, but to have another with whom you might share your completeness." – Neale Donald Walsch

"The extent to which two people in a relationship can bring up and resolve issues is a critical marker of the soundness of a relationship." – Henry Cloud

"We have to recognize that there cannot be relationships unless there is a commitment unless there is loyalty unless there is love, patience, persistence." – Cornel West

"Remember, we all stumble, every one of us. That's why it's a comfort to go hand in hand." – Emily Kimbrough

"We are afraid to care too much, for fear that the other person does not care at all." – Eleanor Roosevelt

"When you stop expecting people to be perfect, you can like them for who they are." ― Donald Miller

"One word frees us of all the weight and pain of life. That word is love." – Sophocles

"When you don't talk, there's a lot of stuff that ends up not getting said." – Catherine Gilbert Murdock

"Treasure your relationships, not your possessions." – Anthony J. D'Angelo

"There is no challenge strong enough to destroy your marriage as long as you are both willing to stop fighting against each other, and start fighting for each other. " – Dave Willis
Best relationship quotes
Quotes about love and relationships are appropriate for many occasions. Relationship quotes are the way to go if you want to tell someone how much they mean to you, how much you miss them, make their day, or simply remind them why you appreciate them. If you are looking for quotes about rekindling love, look no further. These quotes will give you and your partner all the feels.
"Whether it is a friendship or a relationship, all bonds are built on trust. Without it, you have nothing."

"Apologizing does not mean that you're wrong and the other person is right. It just means that you value your relationship more than your ego."

"The greatest relationships are the ones you never expected to be in."

"Don't talk, just act. Don't say, just show. Don't promise, just prove."

"A true relationship is two imperfect people refusing to give up on each other."

"All relationships go through hell, real ones get through it."

"A good relationship is when someone accepts your past, supports your present, and encourages your future."

"Relationships, marriages are ruined where one person continues to learn, develop, and grow and the other person stands still." – Catherine Pulsifer

"Do what you did at the beginning of the relationship and there won't be an end." – Anthony Robbins

"Being deeply loved by someone gives you strength while loving someone deeply gives you courage." – Lao Tzu
Inspirational relationship quotes
Inspirational relationship quotes can motivate you to look at your relationship and be grateful for what you have. These motivational love and relationship quotes can also invite you to become the best version of yourself for your loved one.
"There is only one happiness in this life, to love and be loved." – George Sand

"We are most alive when we're in love." – John Updike

"True love stories never have endings." – Richard Bach

"Love is composed of a single soul inhabiting two bodies." – Aristotle

"You know you're in love when you can't fall asleep because reality is finally better than your dreams." – Dr. Seuss

"No relationship is perfect, ever. There are always some ways you have to bend, compromise, and give something up to gain something greater." – Sarah Dessen

"The best and most beautiful things in the world cannot be seen or even heard, but must be felt with the heart." – Helen Keller

"Love cures people – both the ones who give it and the ones who receive it." -Karl Menninger

"It doesn't matter who hurt you or broke you down. What matters is who made you smile again."

"Love is when you meet someone who tells you something new about yourself." – Andre Breton
Funny relationship quotes
Perhaps your special someone is having a bad day, and you are looking to cheer them up and tell them you love them. Humour in relationships has an important role. For that reason, funny relationship quotes are the perfect way to do that.
"Before you marry a person, you should first make them use a computer with slow Internet service to see who they are." – Will Ferrell

"My wife and I were happy for 20 years – then we met." – Rodney Dangerfield

"I almost had a psychic girlfriend but she left me before we met." – Steven Wright

"Intimacy is the capacity to be rather weird with someone and finding that that's ok with them." – Alain de Botton

"Marriage is a wonderful institution, but who wants to live in an institution?" – Groucho Marx

"Women marry men hoping they will change. Men marry women hoping they will not. So each is inevitably disappointed." – Albert Einstein

"I was married by a judge. I should have asked for a jury." – Groucho Marx

"Marriage has no guarantees. If that's what you're looking for, go live with a car battery." – Frederick Ryder

"Love is telling someone their hair extensions are showing." – Natasha Leggero

"The most important thing in a relationship between a man and a woman is that one of them must be good at taking orders." – Linda Festa

"

Honesty is the key to a relationship

. If you can fake that, you're in." – Richard Jeni

"

Relationships are hard

. It's like a full-time job, and we should treat it like one. If your boyfriend or girlfriend wants to leave you, they should give you two weeks' notice. There should be severance pay, and before they leave you, they should have to find you a temp." – Bob Ettinger

"It's no good pretending that any relationship has a future if your record collections disagree violently or if your favorite films wouldn't even speak to each other if they met at a party." – Nick Hornby

"Marry a man your own age; as your beauty fades, so will his eyesight." – Phyllis Diller

"The difference between being in a relationship and being in prison is that in prisons they let you play softball on the weekends." – Agatha Christie
Real relationship quotes
Some of the wisest people have shared their thoughts on love and relationships. These relationship quotes are thought-provoking, touching, and helpful. They are ideal to show your partner how you think of them and the love you share.
"There is no more lovely, friendly, and charming relationship, communion, or company than a good marriage." – Martin Luther

"Truth is everybody is going to hurt you: you just gotta find the ones worth suffering for." – Bob Marley

"Love is composed of a single soul inhabiting two bodies." – Aristotle

"We loved with a love that was more than love." – Edgar Allan Poe

"The best thing to hold onto in life is each other." – Audrey Hepburn

"There are no goodbyes for us. Wherever you are, you will always be in my heart." – Mahatma Gandhi

"The meeting of two personalities is like the contact of two chemical substances: if there is any reaction, both are transformed." – Carl Jung

"Love looks not with the eyes, but with the mind/And therefore is winged Cupid painted blind." – William Shakespeare

"Love is something eternal; the aspect might change, but not the essence." – Vincent Van Gogh

"Ultimately the bond of all companionship, whether in marriage or friendship, is a conversation." – Oscar Wilde

"You don't develop courage by being happy in your relationships every day. You develop it by surviving difficult times and challenging adversity." – Epicurus
Deep relationship quotes
Many may find sending relationship quotes a cliché. Yet, many consider them to capture what love and relationships are all about. Many stood against the test of time that you can use to send to your loved one.
"Every couple needs to argue now and then. Just to prove that the relationship is strong enough to survive. Long-term relationships, the ones that matter, are all about weathering the peaks and the valleys." – Nicholas Sparks

"Don't settle for a relationship that won't let you be yourself." – Oprah

"In the end, there doesn't have to be anyone who understands you. There just has to be someone who wants to." – Robert Brault

"Far too many people are looking for the right person, instead of trying to be the right person." – Gloria Steinem

"Fall in love with someone who makes you glad to be different." – Sue Zhao

"There is no love without forgiveness, and there is no forgiveness without love." – Bryant H. McGill

"True love stories never have endings." – Richard Bach

"Sometimes the heart sees what is invisible to the eye." – H. Jackson Brown, Jr.

"Forgiveness is the oil of all relationships."

"The person you're meant to be with will never have to be chased, begged, or given an ultimatum." – Mandy Hale
Relationship quotes for him
Here are some relationship quotes for him.
"If you don't value yourself, then you will always be attracted to people who don't value you either."

"Trouble is part of your life, and if you don't share it, you don't give the person who loves you enough chance to love you enough." – Dinah Shore

"Real giving is when we give to our spouses what's important to them, whether we understand it, like it, agree with it, or not." – Michele Weiner-Davis

"The relationship between husband and wife should be one of closest friends." – B. R. Ambedkar

"To know when to go away and when to come closer is the key to any lasting relationship." – Doménico Cieri Estrada

"True love is your soul's recognition of its counterpart in another."

"It is the things in common that make relationships enjoyable, but it is the little differences that make them interesting." – Todd Ruthman

"In relationships, the little things are the big things." – Stephen Covey

"The intense happiness of our union is derived from a high degree from the perfect freedom with which we each follow and declare our impressions." – George Eliot

"When you're in a relationship and it's good, even if nothing else in your life is right, you feel like your whole world is complete." – Keith Sweat

"If you love someone, set them free. If they come back they're yours; if they don't they never were." – Richard Bach
Relationship quotes for her
Here are some relationship love quotes for her.
"I'm not telling you it is going to be easy- I am telling you it is going to be worth it." – Art Williams

"Relationships end too soon because people stop putting in the same effort to keep you, as they did to win you."

"The moment you start to wonder if you deserve better, you do."

"A perfect relationship is not perfect, it's just that both people never gave up."

"Don't let someone change who you are, to become what they need."

"Relationships are worth fighting for, but you can't be the only one fighting."

"Lose your pride in your love. But never lose your love just because of your pride."

"Constant kindness can accomplish much. As the sun makes ice melt, kindness causes misunderstanding, mistrust, and hostility to evaporate." – Albert Schweitzer

"Don't try to be something to everyone. Be everything to someone."

"Love is a two-way street constantly under construction." – Carroll Bryant
Relationship goals quotes
Here are some quotes for relationship goals.
"You can measure the happiness of a marriage by the number of scars that each partner carries on their tongues, earned from years of biting back angry words." – Elizabeth Gilbert

"Each relationship nurtures a strength or weakness within you." – Mike Murdock

"The most important ingredient we put into any relationship is not what we say or what we do, but what we are." – Stephen R. Covey

"It is the connection we can't explain."

"The first time I saw you, my heart whispered, "that's the one.""

"My favorite place to be is inside your hug."

"You are the first and last thing on my mind, each and every day."

"You are the guy that all my love quotes are about."

"I have got a perfect heart because you are inside."

"I fell in love with the way you touched me, without using your hands."
Long-distance relationship quotes
Here are some long-distance relationship quotes.
"Distance means so little when someone means so much."

"The best and most beautiful things in the world can not be seen or even touched. They must be felt with the heart." – Hellen Keller

"Absence is to love as wind is to fire; it extinguishes the small and kindles the great."

"I hate the stars because I look at the same ones as you do, without you."

"No matter how far you manage to go, distance will never be able to erase those beautiful memories. There is so much goodness that we shared together." – Lucy Aims

"I have made new friends and have many new people that I know. But hey, you will always be a special part of my heart because no one has been able to replace the space you left in it." – Stephen Lob

"Sometimes I just sit in front of the computer dreaming. I have food in front of me but no appetite to eat it. All because my heart misses you and my mind is dreaming about you." – Sandra Toms

"I dropped a tear in the ocean. The day you find it is the day I will stop missing you." – Unknown
Related Reading: 

100 Long-Distance Relationships Quotes to Bring You Closer
New relationship quotes
Here are some quotes for new relationships.
The best part about getting to know you is anticipating that each day brings new surprises that are all about you!

I knew you were special from the moment we met. How I'm looking forward to all of our tomorrows.

Love at first sight has nothing on how special love at first talk is. I've cherished all our getting-to-know-you moments we've shared. May they go on and on!

Always remember the three R's of new relationships: respect one another, revel in the wonder, and reach out with kindness every chance you get.

Have you ever felt your heart race while on a roller coaster, flutter at the idea of your most coveted toy on Christmas Eve, or be soothed when you sit down after a run? I felt all that combined the moment we met. You still thrill me in every wonderful way!

Being together and doing nothing can be the best way to spend time that means everything.

New love may soar and plummet as it ebbs and flows, but what remains are the things we've discovered about each other. I'd do it all again because it led us to this love we share today.

A world of joy can be found in a simple moment shared between kindred spirits who care for each other the way we do.

Just the idea of losing you is enough to make me realize how time is irrelevant when it comes to how deeply I hold you in my heart. I'm so glad we found one another.

What started out as attraction has blossomed into love. May we grow together now as we discover one another.
Conclusion
Love quotes for relationships are suitable for all occasions. Whether you want to make a birthday, an anniversary, or any day of the week better for your partner, these relationship quotes are there to help you.
The best relationship quotes are the ones that make us wonder and that we took notice of. That means they hit a chord and resonated with us. Pick the favorite ones that spoke to you and share it with your partner!
Share this article on
Want to have a happier, healthier marriage?
If you feel disconnected or frustrated about the state of your marriage but want to avoid separation and/or divorce, the marriage.com course meant for married couples is an excellent resource to help you overcome the most challenging aspects of being married.
More On This Topic
You May Also Like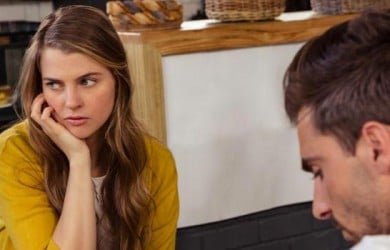 Popular Topics On Married Life