Tips for Inspired Living Through Better Marriages and Relationships
A great marriage needs a great effort, that's an unsaid fact. By great efforts, it doesn't mean that one has to engage in some tough bone-breaking labor. It means one has to be very much involved and dedicated to their relationship that it doesn't feel like a chore to be completed.
A great relationship or marriage is not easy, agreed, but it's also not that difficult to be loving and caring for your partner. There are numerous factors that contribute to a good marriage.
Subsequently, couples can follow a few tips to make their relationship stronger as the days pass.
Emotions matter
One cannot be simply indifferent towards their partner's emotions when married to them. The feeling of closeness that brings two people closer to each other, that makes them acutely aware of each other, at almost all times, cannot be compared to any other feeling.
When you see that you can share everything with your better half, that they would understand it without judging you, is a feeling of immense satisfaction.
Express your feelings
Expressing feelings may not be everyone's forte but it's necessary for you to show what you feel towards him/her. Though they know that you love them, but a few words that communicate your inner feelings to them from time to time would help strengthen your bond.
Communication is the key to a great relationship, as is been stressed upon by people who have been happily married to their partners for more than 50 years. Communicate what you feel, be it the good or the bad, be it praise or a grudge, communicate and express for better mutual understanding between both of you.
Manage your finances mutually
It's true that love alone cannot feed you, finances are also important.
If you manage your money mutually, and without any conflicts, it'd help to have a financially secure married life. It doesn't matter if one of them is working or both, what matters is, how you manage what you earn. When your finances are in order, half of your life and problems are in place.
A proper savings and expenditure plan will not only point towards you being a wise one but will also keep you guys tied to each other in a better way. Choose the money methods that fit your relationship and lifestyle. Stick to it no matter what and you'll find it rewarding when most needed.
Having kids builds a deeper emotional bond
Having kids might make you a happier couple.
It's a known fact that pregnancy brings huge responsibilities and that couples face attention issues when kids take over their time and space, but an underlying truth is that when they share a baby, they share their future.
When your partner tries to make you comfortable while you pick and cry over your anxiety and depression, all this amounts to a powerful connection over time. Pregnancy, however tough it seems for the women when you go through it, brings a lot of joy too, in the relationship. It helps with stronger emotional attachment between the couple.
Don't ignore problems
Always try to resolve conflicts in your marriage.
Don't let them stay like an open wound unattended, lest they may get worse and infect the whole system between you two. So always try to resolve them, maybe in a good time, if not immediately. All marital relationships demand work, especially when going through a rough patch. It's not an unknown fact that everyday stress often takes a toll on a relationship and if unresolved issues pile up, they can be a threat to the stability of any relationship.
But as long as partners are willing to solve their issues and move on while creating a solution-oriented space around them, they can overcome almost any hurdle that may come their way.
Respect your partner and your marriage
It's no joke. Two people actually decide to get married, take the solemn vows to stay together through the thick and thin. It's extremely important to pay respect to your husband/wife and it's not optional. Rest is the crux of any good marriage. Talk politely to one another.
A lot many times, it's not necessary that your partner's happiness may lie in whatever you do. But by simply accepting them and their choices or the way they are and respecting and giving them space to be who they are (does not include being drunk all the time though), is very beneficial for a good marriage.
Valuing and acknowledging your partner's efforts is one way of showing your respect towards them.
Physical intimacy
Don't forget that physical intimacy is as important for a great marriage as any other aspect. People often try to make it light and avoid discussing it. But a couple needs to be physically active with each other and try to satisfy those wishes as much as possible.
A few months into the marriage and partners start taking this aspect of their relationship for granted, and lack of intimacy eventually results in a lack of interest in each other and vice versa. It's important for a thriving relationship. This may seem surfaced thought but it's true that if you don't have enough sex with your partner you may feel disconnected to them after a while, which is not a good sign altogether.
Don't compare
Don't compare your relationship to others. Not all marriages are the same since no two people are the same ever. A healthy marriage will have the power to make others think or strive to be like them and not feel inadequate or dissatisfied with their own marriage.
Join a few classes together, spend some time together. In this hectic life, it's important to take out time to work on creating a happy marriage. Giving time to your partner would not only make them feel good about themselves but would also satisfy you about your relationship.
When you have a good marriage, you have better self-esteem in any sphere of your life.
Work towards building a great marriage, a great family, thereby attaining a healthy and happy life.
Share this article on
Want to have a happier, healthier marriage?
If you feel disconnected or frustrated about the state of your marriage but want to avoid separation and/or divorce, the marriage.com course meant for married couples is an excellent resource to help you overcome the most challenging aspects of being married.
More On This Topic
You May Also Like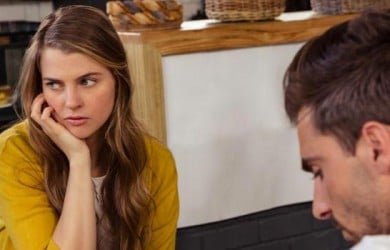 Popular Topics On Married Life