4 Reasons Why My Fiance Left Me & What To Do To Avoid the Situation
My fiance left me!
Does it feel like your life has fallen apart? The person you imagined spending your future with has turned on you? Have all those efforts turned out to be futile?
Well, it could be a sign that something has clearly been missing in the relationship from the day it started.
Sometimes, we tend to ignore the fact that a number of small misunderstandings combine to create a problem that might be tough to solve in a certain amount of time.
Here are a couple of factors to consider if you are questioning yourself, "My fiance left me?"
1. Lack of communication
You might think, "I gave it all to the relationship. The love was there. Yet, my fiance left me. Why?
It could be due to the lack of communication that led to the loss of connection between you two.
Over the passage of time, differing opinions may turn into disputes, ultimately resulting in cold wars. This causes barriers in a relationship.
You might be upset with each other most of the time. This also decreases the level of respect and acceptance for each other and could be the reason to break up with someone. A couple should always embrace their differences instead of arguing uncontrollably.
However, if this does not happen, the relationship can become overwhelmingly negative.
2. Loss of interest
Sometimes the spark in a relationship tends to die.
You or someone you know might say, "My fiance left me because we lost interest in each other."
What does it mean?
As strange as this may sound, it is a part of human nature. Everyone wants a constant change in their lives because that is what keeps life exciting and full of surprises.
Also, if there is no growth in a relationship, it dies.
This could also be a sign that your partner is cheating on you. However, this is not true for everyone.
3. Trust issues
One of the reasons to break up with someone you love is when the trust is lost in the relationship.
If two people are not able to trust each other fully, then it can really take a toll on the relationship.
Although extremely possessive behavior might appeal to the audiences in movies or local dramas, in reality, it can be very harmful. Hence, it means the relationship was weak all along.
If there is no trust, it means that there are feelings of resentment and jealousy.
4. Over-attachment
Why do people break up? Why my fiance left me?
An excess of anything is bad in a relationship.
A lack of support is detrimental to a bond between two people and when a guy dumps you unexpectedly, this could also be about too much clingy behavior.
If there is no space, one forgets to realize the value of their partner. It is undoubtedly healthy to consult each other on essential matters.
However, if your partner is the only person you depend on for all sorts of advice and suggestions, it means that you are clearly overburdening them. Similarly, constantly dictating or guiding your partner on every issue is also bad for the relationship and could be one of the reasons to end a relationship.
It means that there is no mutual understanding.
Here are some ways to cope with the entire situation-
Talk it out
If you are constantly wondering, "My fiance left me," then make sure you both have effective communication to understand each other better and avoid the reasons to break up.
Address the elephants in the room and be open to provide and receive clarifications
When someone is going through a phase of rejection, there's nothing more consoling than having a friend to talk to.
Feelings of anxiety and helplessness tend to make a person lose their level of confidence and self-belief.
If you think there is no one you can confide in, then talking to a counselor can be pretty helpful in expressing yourself. It is always better to let out your emotions instead of carrying them around like a burden.
Even a few words of encouragement from a loved one can make a person feel better about themselves. Hence, don't hesitate to call your friends or seek advice from a counselor.
In the video below, Mike Potter talks about six levels of communication between couples. The first two stages are about small talks and sharing facts, and as the couple reaches further levels, they strengthen their bond more in the process. Watch out:
Change your life to better
There could be certain aspects of your personality that might work negatively in the relationship. Here, you both need to give in to the relationship more than before.
So, work on yourself so that you can work on the relationship well. Also, introduce some common interests and hobbies so that you both can connect better.
Acceptance and reinvention
You might say to yourself, "My fiance left me for no reason."
If your fiancé makes the decision to leave you, there is nothing you can do to alter their mindset. The best possible way to deal with the despair of a partner leaving you is to accept the existing situation.
It might not be as easy as it sounds, but it is definitely one of the first steps on the stage to recovery from sadness.
If you are dealing with being dumped unexpectedly, it is important for one to realize their worth and acknowledge some positive aspects of their previous relationship. One should keep on reminding themselves of their achievements and growth in life.
Letting yourself go would be the worst possible decision.
Pick a hobby that takes your mind off what has happened and gives you a new direction. This includes painting, joining the gym, or even going on a trip with friends. Focusing on a career or studies could also be a good option.
In the end, one should remember that personal health and happiness should be the top priority.
Share this article on
Want to have a happier, healthier marriage?
If you feel disconnected or frustrated about the state of your marriage but want to avoid separation and/or divorce, the marriage.com course meant for married couples is an excellent resource to help you overcome the most challenging aspects of being married.
More On This Topic
You May Also Like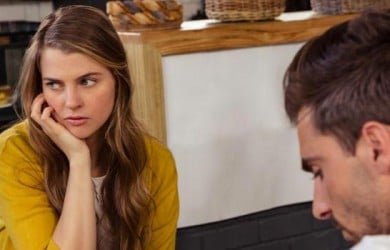 Popular Topics On Married Life