4 Relationship Myths and Barriers That Jeopardize a Relationship
As a couples therapist, I often hear people tell me all of the reasons they don't need couples counseling. Sadly, these are often the people who need it the most.
There is a big difference between deciding you want to take the initiative to work on your relationship and waiting until you're at the end of your rope to start addressing concerns.
The big difference tends to be in the outcome and personal investment. Couples who come to me to address problems before they become relationship enders are more likely to be equally engaged in the process.
This also increases the likelihood of a potentially successful outcome.
I hope to tackle some of the relationship myths and barriers that prevent couples from saving a relationship or, at the very least, being a happier couple.
Barrier 1: Denying a relationship concern
Denial comes in various forms when a relationship is experiencing some distress. One person might be saying they're not happy while the other person insists everything is perfect.
Other times, both people are unhappy with dynamics that are playing out, but neither of them will admit to it.
We often subscribe to denying relationship problems. "If I don't say this out loud, it won't be true." The reality is that when you're not happy in your relationship, the worst thing you can do is nothing.
The seemingly small things will only turn into more significant issues and can often lead to solidifying unhealthy dynamics that are otherwise fixable if tackled early.
The longer you put off addressing such relationship barriers, the worse things tend to get, and the more resentment builds.
When couples finally do find their way into my office after denying their problems, one of two things usually happens.
Either they cannot get past the wall of resentment/anger/frustration/lack of trust they have built, or they wonder what took them so long to start working on things finally.
I'm fortunate to work with several couples who came to me before the walls went up.
Some of them talk to me about how they sing the praises of couples therapy to their friends.
Some of them tell me how someone told them how successful couples therapy was for them and how it impacted their view of treatment.
Barrier 2: Minimizing relationship issues and miscommunication
It's safe to say that people either love to complain about their problems or love to downplay them.
I understand why people brush off concerns in a relationship or marriage. We want to believe things will work out.
We see how "happy" everyone else seems to be through the skewed lens of social media. We were also fed the idea that when you're in a good relationship, it should be easy.
However, even in the best relationships, people do a lot of work to maintain healthy communication and connection. Even then, miscommunication in a relationship is bound to happen at some point in time.
Sharing negative feelings or constructive feedback with someone we love can be challenging, and most of us are not the best at it.
On the other hand, many of us struggle with receiving our partner's message without getting defensive or trying to minimize the situation.
Regardless of the many ways we have these days, it seems like we're only getting worse at conveying our message. This miscommunication leads to unnecessary misunderstandings.
The idea that we can say anything via text does not often help us have productive conversations when things are getting lost in translation, and we are making assumptions about tone and message.
Another component of minimizing issues is the belief that your relationship is not at the point where it needs help. Come on now, when did help not help? We can always be better with some support.
The same cannot be said for the lack of support. Things do not always get better. When couples come to me because they are so fixed in their unhappiness, it makes it so much harder to help them let go of their negative view or blaming behavior.
They usually come fixated on the idea that the other partner is the problem. This doesn't often lead to creating an atmosphere of hope or teamwork.
Myth 1: Couples therapy equals breakup
One of the common relationship myths that almost everyone perpetuates is that seeing a couple's therapist means their relationship is in trouble.
Let's face it; we are all works in progress, and so are our relationships. I see many couples who have an acute awareness that coming to see me is enabling them to improve on something that may already be going pretty well.
We can talk about how much they love and respect one another but also want to deepen their connection or find ways to communicate more clearly.
However, avoiding to address your concerns or areas of growth can lead to a breakdown in the relationship.
Myth 2: Couples therapy is expensive or "Not worth it"
Another relationship myth everyone tends to believe is that couples therapy is too expensive.
Often, people hear the rate for a couples' session and have wondered, 'is marriage counseling worth it?' I can't speak for all therapists when I say that you're paying less per person when you come as a couple.
Aside from the cost breakdown, much like investing in self-care, investing in a stint of couples therapy can pay off down the road.
When we're talking about how to have a better relationship with someone we love, it's hard to put a price on that. If you're concerned about the cost, I recommend that you think about what the potential couples therapy benefits.
You will hopefully learn ways to communicate with your partner better, address relationship concerns more adequately, or end a relationship that no longer works and was not healthy.
Also watch:

Therapy can help your relationship
If we think about couples therapy like maintaining a car, it might be a helpful comparison.
If we take our car to the mechanic when we hear a concerning noise, it will often lead to a better outcome than if we ignore the noise, and our car eventually breaks down due to our neglect.
I often say that it's important to do some work upfront to avoid more work down the road. Also, the sooner we address areas that could benefit from improvement, the less likely we will get stuck in counterproductive behaviors.
Try couples therapy, improve your relationship by knocking down the barriers. Breakup is not inevitably in the cards.
Share this article on
Want to have a happier, healthier marriage?
If you feel disconnected or frustrated about the state of your marriage but want to avoid separation and/or divorce, the marriage.com course meant for married couples is an excellent resource to help you overcome the most challenging aspects of being married.
Learn More On This Topic
You May Also Like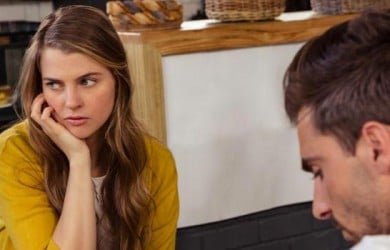 Popular Topics On Married Life