When Do Couples Move In Together: 10 Signs You're Ready
If you have finally met the one for you, chances are that you may have begun asking this question. Maybe, you have been in the relationship for a while, and the snippets of time you've gotten together may not be enough for you again.
Although you speak on the phone many times a day, facetime as much as possible, and hangout almost every other evening after a busy day, there's every possibility that you may have started asking yourselves the average length of time to date before moving in together.
When it comes to the people we love, you may admit that time is never just enough. Sometimes, you may get tempted to wrap yourselves together in your own fantasy world, hold on tight, and never let each other out of sight. However, the decision to move in together isn't something you should make on a whim.
Because your life may be altered significantly once your partner moves into the same living space with you, you may want to pause, take a deep breath, and analyze things from a not-so-emotional perspective.
In this article, you will discover how long you should wait before moving in together, the pros and cons of living together before marriage, and some practical strategies that will get you prepared for having another person in your private space moving forward.
How soon could you move in together?
Let's get one thing out of the way right now.
In a recent survey, about 69% of Americans say cohabitation is acceptable even if a couple doesn't plan to marry. Over the past few years, the rate of people moving in with an unmarried partner has risen from 3% to over 10%.
If anything, this implies that the number of people who frown at cohabitation is reducing. Hence, knowing when to move in with a significant other is mostly up to one, as the external factors that would have stretched out that time is carefully getting eliminated.
Here's another interesting fact. A survey carried out in 2017 revealed that between 2011 and 2015, 70% of marriages among women who were under 36 years began with nothing less than 3 years of cohabitation before they eventually got married.
What do these numbers show?
It is okay to want to move in together even before getting married. However, the decision about 'when' is entirely up to you as there is no Holy Grail of moving in together that states the time it should be done.
As every couple is unique, you must consider some independent factors before making this life-altering change to the way you live. However, when you feel ready, give it all you've got.
You can choose to move in together within the first 3 months of your relationship or do so after celebrating your 3rd year anniversary (or when you get married). The final verdict is up to you.
10 signs you're both ready to move in together
Knowing how long you should wait before you move in together is not enough. More important is training yourself to spot the signs that show you're finally ready to move in together.
Do you see these signs in your relationship? Then it may be time to make the big move.
1. You have discussed the monetary aspect
Moving in together may require some changes to your relationship with money (as individuals and as a couple). Who pays the mortgage? Will it be split in two, or will the splitting be with respect to how much you earn? What happens to every other bill?
You must be aware of these before you move in together.
2. You now understand your partner's quirks
Before asking if you should move in together, take some time to understand your partner's quirks. Do they always get an early start each morning? Do they love to begin their day with a huge cup of coffee?
How do they react when you move their favorite pair of slippers from the spot next to your bed to another room? Do they like it when you wear their favorite shirt to work (if you're in a same-sex relationship)?
Before moving in together, take some time to understand the way your partner's mind works, or you may soon hit a rock.
3. Have you mastered the art of communication?
At some point, fights are bound to come up when you move in together. They could be the result of big or small things. However, what matters is that both of you must be on the same page about what effective communication means to you.
Do they prefer some time and space when they're angry? If yes, pushing them to open up to you when they're pissed might hurt your relationship more.
 

Related Reading

: 

10 Reasons Why Communication in Marriage Is Important
4. Your partner's work habits
As you figure out how long you should date before moving in together, considering your partner's work habits is crucial (especially if they work from home).
Do they prefer to be left alone when they want to concentrate? Would they rather blast loud music in the apartment in a bid to let their creative juices flow? Are they the type that would spend hours holed up in a home office, only to come out when the night falls?
Think about these things before you make the big move.
5. You've met the people that matter to your partner
Another way to know when you should move in together is to check if you have met the people that matter to your partner. Considering the effects of family and close friends on relationships, you may want to wait a bit until you've gotten the approval of these people.
6. You now spend much of your time together
The amount of time you spend together can indicate whether or not you're ready to move in together. Do you spend many nights together? Have your favorite clothes and personal belongings somehow snagged a spot in your partner's house?
Those could be signs that you're ready for the big move.
7. You've talked about chores
No matter how much we hate to admit it, the chores won't be done alone. If, at some point, you've found yourselves discussing chores and who gets to do what, that could be a sign that you're ready.
Related Reading

: 

15 Ways to Get Your Husband to Help More with the Chores
8. You're unafraid to be yourself when you're with them
At the start of every relationship, putting up a front to impress your partner is normal. It isn't uncommon to walk with a little extra sway in your hips or make your voice sound deeper to convince your partner that you're charming.
While figuring out how soon you should move in together, please ensure that you don't move in with a partner you're not yet comfortable being your real self with. At some point, they may see you at your worst. Are you ready for that?
If you're still ashamed of your partner discovering that you snore lightly when you drift off into a deep sleep after a stressful day, you may want to consider renewing your rent in your apartment one more time.
9. The prospect excites you
How do you feel when the thought of moving in with your partner crosses your mind? Excited? Elated? Reserved? Withdrawn? If the idea of moving in together doesn't make your heart beat faster (for the right reasons), please take a break.
10. You know your partner's health challenges
Another thing to consider before thinking about moving in together is if your partner has any underlying health challenges that can affect your relationship. Do they have ADHD? OCD?
How do they cope with anxiety? What do they do when they feel spooked or physically crowded? Ensure you know what you're getting yourself into before moving in together.
The pros and cons of living together before marriage
Now that you know the signs to look out for before moving in together, here are some of the pros and cons of living together before marriage.
Pro 1: Living together before marriage allows you to encounter your significant other in their natural state. Here, there are no filters or facades. You experience their quirks, see them at their worst, and decide if you can handle their excesses before marrying them.
Con 1: It might not be easy to convince the people that matter to you that it is something you want to try. Although widespread, there's no guarantee that your people won't freak out when they hear you're moving in with your partner.
Pro 2: You save a lot of money when you move in together. Instead of spending on the rent for different apartments, you get to save some and maybe get a bigger apartment together.
Con 2: It is easy for one person to start living off the generosity of the other. If you don't intentionally set boundaries, you or your partner may soon feel cheated when you move in together.
Pro 3: Living together can improve your sex life. Since you don't have to travel halfway across town to see your partner now, you can enjoy sporadic and steamy sex life.
Con 3: It soon gets old if you don't pay attention. Imagine waking up to the same face every morning, seeing them in your personal space everywhere you turn, or hearing their voice every time you take your AirPods out of your ears.
Living together before marriage gets old easily, and you must be sure you're ready before you make this big lifestyle change. If you are not sure about whether or not you are ready or you want some clarity about it, you can also go o a relationship therapist who can guide you through.
5 tips to help you adapt to living together
Now that you've figured out how long you should date before moving in together and are ready for this next big step apply these 5 strategies to make your transition smooth.
1. Have an open and honest conversation about it
Don't be that person who decides to 'surprise their partner' by waking them up early one morning with all your belongings in hand. That is a recipe for disaster. Begin this phase of your life by talking to your partner first.
Are they excited about the idea? Do they have any objections? Are there any quirks you think should be addressed before you become roommates? What expectations do you have of them? What do they expect you to be doing now in your relationship?
Lay all your cards on the table and ensure that you are on the same page.
Related Reading

: 

12 Ways to Have an Intimate Conversation With Your Partner
2. Work together to figure out the financial aspect of things
The last thing you want to do is move in together without laying a ground plan concerning who handles what financially. Talk about your rent. Who handles the utility bills? Both of you will split them, or should they be rotated per month?
This is also the perfect time to start practicing collective budgeting as a couple. Redefine your values regarding money and decide how you will be spending or saving moving forward.
Suggested video: 10 couples confess how they split rent and bills
3. Set healthy boundaries
Another thing you want to do before moving in together is to set healthy boundaries that work for both of you. Are guests allowed in the house? Are they allowed to stay for a while? What happens when your partner's family member wants to visit?
Are there times of the day when you don't want to be interrupted (maybe because you want to focus)? What does family time mean to you? Talk about all these because these scenarios will soon arise, and all of you need to be on the same page.
4. Pick up your decor together
Chances are that you may be moving into another apartment together or redesigning your current apartment now that you're moving in together. The last thing you want is to live in a place with dreadful decor.
As you plan to move in together, discuss how your new home will be set up. Are there specific colors of drapes you would like to hang in your living room? Would you rather buy new cutlery instead of using the ones your partner had?
You should have a say in the overall look and feel of the new home you're making if you want to be comfortable in it. Your ability to compromise is required here because your partner may not think all your ideas are genius.
5. Ease into the process
A one-time move may be overwhelming for a lot of people. Having to pick up your life and move into a new space with someone else can be challenging. To take the edge off, consider easing into the process.
Instead of hiring a trucking company to move you in with your partner simultaneously, how about taking things slowly? You can decide to take a few weeks or months to move instead of finishing everything in one day.
Every time you go to see your partner, pick up a few things that you'll be leaving in the new house. This way, you give yourself the grace of knowing that you can always cancel the move if you feel it isn't right for you.
However, if you prefer to move at once, then have at it.
FAQs
Let's discuss some most asked questions about moving in together in a relationship.
1. How long do most couples date before moving in together?
Ans: Studies show that many couples move in together after 4 months of dating. 2 years into the relationship, about 70% of couples would have moved in together.
2. Do couples who live together last longer?
Ans: There is no simple answer to this question seeing as the factors that make a relationship last long are numerous and diverse. However, living together may improve your odds of finally working out as a long-term couple.
Summary
"When do couples move in together?"
If you have ever found yourself asking this question, please bear in mind that there's no standard time earmarked for this. The decision to move in together is up to you and should only be done when you feel ready.
However, please pay attention to the signs we covered in this article. Those pointers will surely tell you if the time to move in together has come.
If you aren't ready, don't be compelled to do so.
Share this article on
Want to have a happier, healthier marriage?
If you feel disconnected or frustrated about the state of your marriage but want to avoid separation and/or divorce, the marriage.com course meant for married couples is an excellent resource to help you overcome the most challenging aspects of being married.
More On This Topic
You May Also Like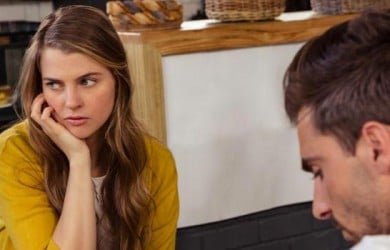 Popular Topics On Married Life