Financial Pros and Cons of Living With an Unmarried Partner
A question about financial upsides and downsides of living with an unmarried partner is something few people ask. This occurs because a cohabiting couple has several other things in mind and money issues get relegated to the back seat.
While living with an unmarried partner does not entail much commitment, it has several financial upsides and downsides, when compared to marriage.
They arise primarily due to the absence of long-term commitment to the relationship. Therefore, it is better to get acquainted with some of these pros and cons that may help you better manage personal finances.
Financial downsides first
Indubitably, there are several economic downsides when living with an unmarried partner. However, money is the single largest contributor to broken relationships, including marriages.
Inability to plan for future
This is the most significant financial threat to people living with an unmarried partner: they are unable to draw astute financial plans for their future.
Uncertainty prevails over issues like taking the mortgage for housing, savings for high returns and planning for retirement, among others.
If you take a mortgage, you have to opt for smaller amounts since you cannot consider the income of the unmarried partner.
Additionally, the amount saved will depend upon your sole income. Returns on savings and savings products are commensurate with your investment. Hence, lower investment means inferior returns.
Planning for retirement also takes a hit due to inherent uncertainties involved in living with an unmarried partner.
You will have to depend upon your income to buy retirement plan, with a lower premium and resultant lesser returns.
Servicing loan, credit, mortgage
The financial fallout of living with an unmarried partner is apparent when servicing loans, credit, and mortgage.
With a single source of income, you get overwhelmed by the amount of money that goes towards maintaining credit without assistance from the unmarried partner.
Should any eventuality such as loss of employment arise, you will be forced to depend upon your savings and efforts to maintain acceptable creditworthiness?
Finding jobs can sometimes take weeks if not months. Till such time, you can rely upon an unmarried partner only for basics such as food, clothing, and shelter.
Unless the unmarried partner is willing to go that extra mile and help you get past financial doldrums, you may have to find any employment that provides a breather from creditors for some time.
Consequently, you might end up taking a low paying job merely to keep your financial record straight.
Profit sharing
Should you invest jointly with an unmarried partner, they will want their portion of the money with returns. They can demand the money and profits even while a relationship is alive, to tide over some crises or when it ends. This means you will have to discontinue any long-term investments.
Exiting out of long-term investments is not easy. It entails penalties that can negate any profits.
While your unmarried partner would not have any issues settling for the smaller amount, you can lose considerably for premature discontinuation of a perfectly profitable long-term savings plan.
Such scenarios can also cover mortgage taken jointly with an unmarried partner. Upon splitting, the partner will demand the share. Unless you have sufficient buffers to pay the unmarried partner, chances are, the asset gets sold. Hurried sales can mean lower profits or even losses.
Financial dependence
You may have to help the unmarried partner sail past any financial difficulties while the relationship is active. Dumping a partner due to their financial problems caused by any reason is not an ethical practice. Nor is it accepted morally or socially.
External pressures will force you to support a partner, even when your finances are low.
Such situations can lead to delays in paying your creditors, servicing investments and paying legal obligations including child-care and alimony.
Further, you will have to support the unmarried partner without any expectation of recovering the money. This can occur if your unmarried partner is disabled or gets afflicted with the chronic illness that causes hindrances to employment or business.
Now the financial upsides
However, living with an unmarried partner need mean financial disaster for anyone. There are lots of financial upsides of living with an unmarried partner too.
Financial flexibility
A significant upside of living with an unmarried partner is unparalleled financial flexibility. This means you have the choice to decide how much you wish to spend joint household expenses such as food, utilities, and entertainment including cable TV bills.
Financial flexibility means, you do not have to justify any expenses such as alimony or child welfare you need to pay as legal obligations. Nor do you need to explain spending on your leisure and shopping since commitment with the partner is limited.
Credit score
Every lender will want you to see your credit score before giving a credit card or mortgage.
Should you have an excellent credit score, it is possible to maintain that by staying away from joint loans and mortgages with your unmarried partner.
A married couple often avails credit and mortgages jointly. They are assessed on the basis of individual credit scores for a joint loan. Living with an unmarried partner enables you to avoid financial entanglement in their money matters.
Savings and investments
You are free to save and invest your money in banks deposit and other products without seeking consent from an unmarried partner.
This enables you to build a portfolio of wealth for the future and assists in retirement planning.
Should you and the unmarried partner decide to enter into wedlock at a later date your savings and investments can be used for mutual benefit? It can be expanded by including the partner since they are your legal spouse.
Living with an unmarried partner enables you to plan for a future without depending on another source of income. You can choose your own financial goals and objectives for self.
Financial portability
Living with an unmarried partner brings in financial portability.
This means, you can shift your bank accounts and investments to other providers, should you decide to relocate to another geographic location or opt for better services and returns. You do not need the consent of your unmarried partner since they are not signatories to your financial dealings.
Financial portability is essential for millennial and younger people who are in quest of better jobs and willing to relocate for better career prospects.
Understandably, it may not matter much over a period of years or as you mature with age.
There are several financial upsides and downsides of living with an unmarried partner. However, these are ambiguous at best. Relationships are forged for several reasons and not merely money. Hence, you need to define how you intend to manage personal finances while living with an unmarried partner.
Share this article on
Want to have a happier, healthier marriage?
If you feel disconnected or frustrated about the state of your marriage but want to avoid separation and/or divorce, the marriage.com course meant for married couples is an excellent resource to help you overcome the most challenging aspects of being married.
More On This Topic
You May Also Like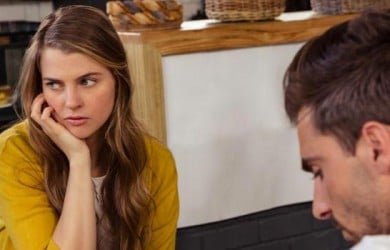 Popular Topics On Married Life