What Can I Expect From an Online Marriage Class?
Every single couple on the planet wants their marriage to be thriving, healthy, and happier.
But what most miss is – marriage is not a one-time phenomenon, it's evolutionary in nature, and constant maintenance work is needed for it to be functioning the way you want it should.
Love, trust, compassion, empathy, forgiveness…are those ingredients that make a relationship delightful and help it last a lifetime.
However, most married couples say it's hard to keep it that way, and for some, it's that point in their life where they can't bear their partner anymore. It sounds as if their relationship is falling apart.
But hold on – it's not over – there is good news!
If you're frustrated about the state of your relationship and looking for that final measure that can help you rekindle the love and passion in your relationship, a marriage course is an excellent resource that comes to your rescue.
Enroll in Marriage.com course today to build a relationship that you've dreamed of!
Let's touch base with a few frequently asked, obvious questions that anyone would ask before making their choice.
What is an online marriage course?

What can I expect from an Online Marriage Class or Course?

And how does it work, and what are the benefits?
Let's start with the most fundamental – what an online marriage course or class is.
Online marriage class – what is it all about?
An online marriage class is your private guide to help you fix your marriage. Private in a sense – you won't need to disclose the state of your marriage to anyone and get access to the tools that can help you rebuild the lost trust and love in your relationship right on your smartphone.
The course materials are designed by professionals and are laid out as chapters with step by step instructions. You can access your online course anytime, anywhere, and can pause, resume, and rewind whenever you want.
If you wish to rekindle the intimacy of your relationship, an online marriage class is the most private and easy way to do it.
Also watch: What Is an Online Marriage Course?
How does a marriage class work?
An online marriage course is designed in a way that you can take it individually or with your partner if they are willing to participate.
As you begin, you learn why there is a disturbance in your relationship and what's damaging it. The online marriage course has workshop exercises and assessments at the end of chapters that help you shift from the 'blaming mode' to a 'problem-solution mode' wherein you identify and work towards a solution collaboratively.
There are different types of courses designed to tackle specific problem areas in a relationship.
For example, if you have communication issues leading to conflicts, a conflict management course is ideal.
For those whose relationship is on the verge of separation, there is the 'Save My Marriage' course, which focuses on finding out the root problems by assessing the behavior and the state of affairs, providing exercises to improve verbal and non-verbal communication, and showing ways that mark progress in this regard.
How to figure which Online Marriage Course fits my situation?
It's easy to find out what course fits your situation with a simple need analysis. Here are some stepping stones for you to get started with.
Identify the objective
Are you eyeing to resolve ongoing conflicts in your relationship? If that is so, a conflict management course may suffice. However, if you think your relationship is on the verge of a breakdown, you might need a 'Save My Marriage' course that comes with practical workshop exercises, assessments, handouts, and expert advice to strengthen the love bond.
Now match the course contents with your objective
See if the course you're opting for aligns with your needs. The best way to find that out is to scan the table of contents on the pricing page, which mentions what the package offers as a whole.
How do I take an online marriage class?
Taking an online course is easy. As soon as you buy a course, you get the login details along with the classroom link to the course you opted for.
As you log in to the classroom, you will find your course listed there. The best part is, you can take online courses at your convenience, from wherever you are.
The online course works seamlessly on a laptop, tablet, or mobile phone, so feel free to switch between devices as the course will resume from where you left off last.
You can finish your course chapter-by-chapter doing the workshop exercises as instructed by the virtual course instructor.
What are the benefits of marriage classes?
The step-by-step online marriage class is secure, helps you build unconditional love and trust in your relationship. Take a look at the benefits of an online marriage course.
Facilitates better marriage communication

Restores trust in your relationship

Empowers you to combat

marital challenges

Helps you

rebuild your marriage

Helps you achieve common goals with your partner and live happily

Deepens compassion and empathy in your relationship

Reduces anxiety and brings kindness in the relationship dynamics
You would agree that healthy communication is at the heart of every successful marriage.
But there can be times when relationship challenges can make communication hard to establish.
While most of us know the importance of communication, the challenge is to make sure that it HAPPENS.
An online marriage course makes it easy for you to make that happen, and that's precisely what you can expect from an online marriage class.
"Marriage is all about the commitment and the willingness to work together."
Share this article on
Want to have a happier, healthier marriage?
If you feel disconnected or frustrated about the state of your marriage but want to avoid separation and/or divorce, the marriage.com course meant for married couples is an excellent resource to help you overcome the most challenging aspects of being married.
You May Also Like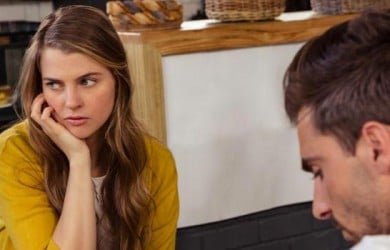 Popular Topics On Married Life