Are You in a Situationship: Here's 10 Ways to Turn Situationship to Relationship
You meet someone, and you just click with each other. You start dating and move forward. You might even see yourself settling down for good.
Seems so easy, but the reality is, it's not.
The reality is, you meet someone, and you get attracted. Then, everything else is a blur. You find yourself in a situationship, and you just wonder where you stand with this person.
Is situationship to relationship possible?
Let's tackle one of the most complicated 'relationships' of today, and who knows, with enough knowledge, you might turn your situationship into a relationship.
What exactly is a Situationship?
At first, this may be a little bit confusing. So before we learn how to deal with a situationship, we first need to understand what it is.
By definition, a situationship meaning talks about the feeling of being in a relationship, but not having any labels.
It's deeper than just friendship but less than a relationship.
Now, you may think about friends with benefits, but it's also not like that.
Friends with benefits are available to satisfy each other's carnal desire, and that's it.
With situationship, there are times where you seem like a couple, and then you're not.
It's still a bit confusing, right? That's precisely the point!
People who are stuck in a situationship feel confused – all the time.
Is being in a situationship a bad thing?
Being in a situationship isn't entirely bad. It's more common than you think. Today, people may feel lonely and want to test the waters first before committing to a serious relationship.
It has its pros and cons, but the real question is, how long do situationships last.
Does it guarantee a situationship to relationship future?
Let's weigh the pros and cons of being in a situationship.
What are the pros and cons of being in a situationship?
If you are looking for situationship advice or a guide, let's start with checking the pros and cons of being in this type of agreement.
Here are the pros and cons of being in a situationship.
Pro: The thrill is addicting
If you are in a situationship, the thrill is always there. There is something about the chase that makes everything addicting.
Con: You're not moving forward
The thrill is nice, but for how long? With a situationship, you're not moving forward. You are stuck in the limbo of being close friends and lovers.
Pro: No label, no pressure
When you're in a relationship, you will experience pressure to tell your partner where you are, what you are doing, and what time you will come home. Skip that when you're in a situationship because you don't owe anyone an explanation.
Con: No label, no rights
At the same time, being in a situationship means you have no right to call this person your partner. You don't have the right to get angry if this person flirts with other people.
Pro: You have an easy way out
You realize there is no situationship to the relationship that is going to happen. It means getting over a situationship is easier than having a real committed relationship.
Con: Your friendship is at stake
However, don't expect that you can salvage your friendship after getting out of a situationship. It's nearly impossible to go back to just being friends.
Pro: It's cool, you have choices
As some people say, there are still many fish in the sea. So people in situationship want to explore and are not ready to get tied down with commitment.
Con: The chances of getting hurt is high
But what if you're the one who falls first and hard? Being in a situationship can lead to heartbreak. Can you imagine the pain of learning how to move on from a situationship that failed to become a relationship?
Do you think the person you are in a situationship with is in love with you? Relationship coach Clayton Olson tackles the hidden signs that a man is falling in love with you. Watch it here.

15 clear signs you are in a situationship
Situationships can still be quite confusing. That's why we've compiled the top 15 signs you are in a situationship. By knowing the signs, you'll have more time and more facts to ponder on.
1. You don't go on serious dates
One situationship sign is that you don't go on serious dates. You can 'hang out' and be intimate, but that's it.
You won't find yourself on a romantic date where you just look at each other's eyes and hold hands. Talk about how much you love each other and enjoy being in love.
Related Reading: 15 Signs You Are in a 'Right Person Wrong Time' Situation
2. There is no consistency with your actions
Your special someone makes you feel special. You feel that there is something real going on. Then ghosting happens.
What's sad is that this isn't even the first time this has happened.
This is one of the bitter realities of situationship. There is no consistency with this person's actions.
3. You have different lives
How well do you know this person?
Where does this person live, study, or how much information did this person share with you?
When you ask your partner about something personal, they might try to change the topic or give you a vague answer.
Sadly, you are not a part of their lives. Most of the time, people in situationships will live different lives.
Related Reading: Can Living Separately While Married Be a Good Idea?
4. You can ditch any plans
A person in a relationship will make an effort to commit to your plans or dates.
This is not the same case with situationships. This person can call you at the last minute and cancel just because of a shallow reason.
What will hurt is you can't even get angry because you're not in a relationship.
5. You don't plan or talk about your future
Future? What future? If this person laughs at an attempt to talk about your future – it's a toxic situationship.
It only means this person has never considered going from situationship to relationship.
6. Your partner can date other people
Everything may look 'cool' for the first few weeks or months – until you realize that this person can date another person.
This is the sad reality of not having a committed relationship.
Also Try: Who Did You Date in a Past Life Quiz
7. You're not moving forward
Most of the time, situationship is just to test the waters, but you still expect to move forward.
Unfortunately, some situationship never do.
You just realize you have spent weeks, months, or years for nothing.
8. You haven't felt that deep connection
You get each other, but not on a deeper level.
Have you ever had a serious conversation? Have you felt that this person just gets you for who you are?
There is no intimacy. No connection.
9. You're not included with their plans
Do you know what hurts? Realizing that you're not included with this person's plans.
This person may want to move to another state, get their apartment, or travel abroad, and not a single word from them about these plans.
Related Reading: Are You Planning For A Marriage Or Just A Wedding?
10. You don't talk about labels
You may find that your friends would start teasing you about your status, but you just smile because you haven't talked about labels yet.
If you try to, this person may try to change the subject, giving you one of the signs of situationship.
11. Your partner's family and friends don't know you
Deep inside, you might want this person to invite you to a family or a friend's dinner, but sadly, this doesn't happen.
If you were to ask the people close to your partner, they would probably say they're single.
Also Try: How Much Do You Love Your Family Quiz
12. Your partner doesn't 'flex' you
You can take photos together, but this person may ask you not to post them on social media.
This person might start giving you an explanation about keeping it private, or it's not yet the right time.
13. You've never been the +1
This person may be friendly, often going to parties, but you were never invited to be the +1.
If you're in the same company, you can't even go there together.
14. You're beginning to feel hurt
A situationship to relationship that doesn't happen will begin to hurt.
You're only human, sooner or later, one will fall – hard, and if this happens, it will hurt.
15. Your gut says there is something wrong
You feel it, don't you?
You feel that there's something wrong with your situationship. You're not moving forward, and you know that it's time to turn your situationship into a relationship.
Also Try: What Is Wrong With My Marriage Quiz
How long should you stay in a situationship?
No one talks about how long a situationship lasts.
The people involved in a situationship just go with the flow.
Until one day, they have this realization that they need to have the 'talk,' and that changes everything.
If it goes well, they will commit and have a real relationship. Sadly, not everyone gets to have a happy-ever-after.
Most situationships end in goodbyes.
10 Ways to turn a situationship into a relationship that lasts
The realization that you're not the one for this person or that your partner doesn't show interest in committing to you will make you realize that you deserve more.
Here's how to get out of a situationship and start a real relationship.
1. Allow your partner to enter your world
The transition of situationship to a relationship does not happen overnight.
You can start by bringing your partner into your life. Invite them when you're with your friends. You don't have to tell them that this person is your partner; just allow them to see who you are and what you do. Open yourself up and let them in.
2. Ditch the casual meet-ups with intimate dating
Don't just remember each other when you're lonely or want to be sexually intimate.
Try turning that midnight rendezvous into an actual date. Try to plan it ahead of time, have coffee, or eat lunch.
This would be an excellent opportunity to get to know each other and have a deep conversation.
Also Try: Intimacy Quiz- How Sexually Intimate Is Your Relationship?
3. Talk and see each other more
Make time for each other. Hang out more often. It's one of the best ways to turn a situationship into a relationship.
How can you become closer if you don't see each other often? You can find ways to spend time with each other.
4. Talk about your feelings
Turning your situationship into a relationship won't be possible if you don't speak up.
You're stuck in this situation, and you want more. Then, it's time to tell this person that you're in love, and it's time to make it exclusive.
It's being true to yourself and knowing what you deserve.
Also Try: Should I Tell Him How I Feel the Quiz
5. Introduce your partner to your friends
It's also time to ditch the 'mystery' about the person behind your smile.
Have your partner meet your friends; you can even hang out together. It's another way to bring your situationship to the next level.
6. Introduce your partner to your family
Once your partner is comfortable around your friends, and you see progress, it's time to invite your partner to dinner with your family.
This can make your partner realize that you've got something serious.
7. Get to know what your partner wants
Your partner may already notice that there's more going on with your situationship. If this person sees the changes, it's time for you to ask what this person really wants.
You may not get a straight answer, this person may require time, but at the least, you're seeing progress.
Related Reading: Here's Why You Shouldn't Try to Change Your Partner
8. Show your love
It's understandable if you are afraid to show how you really feel. You risk being hurt, but don't we all?
There is nothing wrong with showing this person that you're in love, but you still need to know you're worth more than a situationship.
If this person doesn't see your love, then it's time to let go.
9. Talk about it
All these actions will only lead to one thing – setting things clear.
This means you have to talk about it. Again, it's all about communication.
Open up, explain your part and just be sincere. It's time to talk about these things together.
You just have to be prepared. You will hear lots of excuses, a diversion of topics, and even a clear rejection of turning situationship into a relationship.
10. Set an ultimatum
We also don't want to force anything.
If your partner tries to ask for more time, that's okay, but know that you, too, deserve a direct answer.
Give an ultimatum.
Set things clear and let your partner know that they need to choose and that you know what you deserve.
You don't have to fight since this situationship was both your decision.
However, do let this person know that now, you want commitment.
Related Reading: 7 Things to Do When Your Wife Decides to Leave Your Marriage
How to get over and move on from a situationship
Once you have realized what you want, it's time to move on and turn your situationship into a relationship.
However, you have to prepare yourself too. You need to have a clear mind and see what your partner is showing you.
If everything goes south, you should be brave and move on.
You need to know how to get over a situationship for your own sake.
Hope for the best but prepare for the worst. It's better to give your all and to take that chance to ask your partner if they can commit than to regret it.
But also be aware of the risks. Love itself is a risk.
Prepare yourself physically, mentally, and emotionally.
You will experience heartbreak, but it's a risk worth taking then to wait for someone who doesn't want to move forward.
Know that you did your best
If your partner is not yet ready to commit or is not interested in having a real relationship with you, then that's your answer right there.
You need to know how to get over a situationship – fast. There is no point in staying in this type of setup.
You did your best, and you did your part. At least, now, you don't have to guess what your real score is.
Know that you deserve better
Love yourself enough to walk away in a setup that will not be good for you.
You are just wasting time being in a situationship where the other person doesn't even see you as a potential partner.
Conclusion
Situationships are complicated.
People choose this setup, but when you're in a situationship, you will realize how toxic, complicated, and unfair it is.
Can you imagine staying in this setup for months, or even years, then you'll just hear the news that your partner is now in a relationship with another person?
How painful is that?
That's why many people soon want to turn their situationship into a relationship.
Now, it's up to you to work on this transition, but like any other relationship, there are risks involved.
With all the things you can do to move forward, you owe yourself to be happy.
However, if the other person is not yet ready, then it's time to move forward with your life.
You deserve a genuine relationship. You deserve happiness, and somewhere out there, someone will love you like this – but you need to love and respect yourself first.
Share this article on
Want to have a happier, healthier marriage?
If you feel disconnected or frustrated about the state of your marriage but want to avoid separation and/or divorce, the marriage.com course meant for married couples is an excellent resource to help you overcome the most challenging aspects of being married.
You May Also Like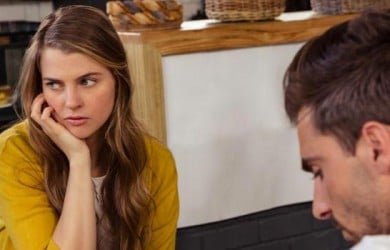 Popular Topics On Married Life