How to Overcome Relationship Addiction and Emotional Dependency
Are you dependent on being in a relationship, in order to be happy in life?
Love is amazing. Sex is awesome. Having someone to turn to during difficult periods is a godsend.
Yet, millions of people are struggling with relationship addiction, every day across the world they are clamoring for a love relationship.
Love and relationship addiction
Addictive relationships or unhealthy emotionally dependent relationships is the last thing in the world people should be looking for.
For the last 28 years, number one best-selling author, counselor and life coach David Essel has been helping to shatter the myth of love, the myth of relationships, and the reality of inner peace in life.
Below, David talks about the power, and the high self-esteem and confidence that comes when you shatter your compulsive need to be in a love relationship and overcome emotional dependency or relationship addiction.
"A very successful attorney from the East Coast contacted me, because he was craving a love relationship.
When I asked him what it was about love that he wanted so badly, his answer surprised me, but it surprised him even more.
"I hate to be alone, I hate to feel lonely, I feel really needy but I want to be with a woman right now."
So I asked him, if he met the greatest woman in the world, and he told her that he was looking for love because he was lonely, needy and had to have a woman by his side. I asked him what that woman would probably say or do?
He laughed, mumbled a few words and then told me that she would probably run for the restaurant door.
He was right. Or if she didn't run, she was extremely codependent in love just like he was. Clearly he was oblivious to the fact that he had signs of relationship addiction.
The psychology of relationship addiction
Love addicts may have the best intentions, but addicted to being in love does not make life any worthier.
Just 30 days ago I started working with a woman via Skype who had almost the identical response to the guy above who had a covert struggle with relationship addiction.
She was lonely on weekends, and she knew the answer to her loneliness was to get involved with a great guy.
After asking her the same question, what would a great guy think about the fact that she wanted to date him because she was lonely on weekends, she laughed as well.
"David, I think I've got it all wrong. But I feel caught up in the vicious cycle of love and relationship addiction."
And she is. And the guy above is too.
Also watch:

Understanding the impact of relationship addiction
As I explain to all my clients, if you're needy in love you will either attract a controlling partner, or a partner who is needy as you are. Both of those answers will spell disaster.
The key to all of my work with codependency and relationships is to get my clients to be incredibly happy, free, and independent on their own.
And it makes sense, doesn't it, and so does identifying and overcoming love addiction.
If you're at peace and happy on your own, the odds increase directly that you will attract a healthy person into your life. Or the opposite is true too, if you're happy and at peace you will not be able to date someone who is needy and lonely.
Everything I've written about so far is called "Addiction in relationships."
It's not just sex addiction, but it's love addiction.
In some cases it's a combination of both, many men will get validated by having sex with a woman, that proves they are manly, virile and desired.
Many women will get validated by having an attractive, or successful man on their arm and they will feel that they've made it now that they're not alone anymore on Saturday and Sunday nights.
And both of these cases are going to spell absolute chaos and drama in love.
Oftentimes my clients will tell me how much they hate being alone. That they are envious of their girlfriends and boyfriends who are married or in relationships.
That the purpose of life is to be in love, that being on their own says there's something wrong with that.
Let's reverse it all
Being in a relationship because you're lonely, needy or desperate will bring you the absolute worst relationships over and over and over again.
The answer to overcoming relationship addiction? Let's look below:
1. Learn to go on your own on the weekends
Get the hell off all dating sites until you can look in the mirror, and go six months or longer on your own on the weekends without having to try to find someone to be with.
2. Focus on being a happy single
As I mentioned above, strive to be happier on your own, via hobbies, classes, your work or whatever it takes to be happy. Service. Volunteerism. You will then be in the best position to create an amazing love relationship.
3. Get ready to go through withdrawal
Withdrawal in love can carry many different faces. We can start to justify after 30 days of being alone, that now we are healed we can get out there and date.
We can justify by looking at two of our best girlfriends who just got into relationships, or a couple of our buddies that just started dating people, that now is the time, if they can do it why can't I?
So withdrawal is craving. The fear of being alone, the fear of sitting in your loneliness, the fear that you're never going to find someone for the rest of your life. It's all nonsense, but that's the power of addiction.
The craving will create an opportunity for us to continue to walk back out to our drug of choice, love, sex and relationships.
About 10 years ago I helped a woman heal from this insidious and ongoing addiction to being in a relationship, and the process for her was challenging and yet at the same time so rewarding.
She finally ended up taking a year off from dating, no lunches, no dinner dates, and yes I know this sucks , no sex.
At the end of the year she was so confident, so at peace, when she started to go out into the world of dating she was blown by guys left and right who were needy, lonely and absolutely codependent as hell in relationships.
Six months into her newfound strength, she attracted this incredible guy, who had also done a year of work with a different counselor, and it truly was a match made in heaven.
They had their own independent lives 2 to 3 days a week, and the other four days they couldn't wait to be together.
I want the same for you.
Follow the above tips on breaking the destructive cycle of relationship addiction, work your butt off, and you can find out maybe for the first time in your life, what a healthy relationship looks like.
David Essel's work is highly endorsed by individuals like the late Wayne Dyer, and celebrity Jenny McCarthy says "David Essel is the new leader of the positive thinking movement."
Marriage.com verified David as one of the top relationship counselors and experts in the world.
His 10th book , another number one bestseller is called "Focus! Slay your goals… The proven guide to huge success, a powerful attitude and profound love."
If you'd like to bring David into your organization as a speaker, or take advantage of this free 15 minute jump start counseling session on the phone, email us today. Inspiring 2 million people or more every day. For more information visit here.
Share this article on
Want to have a happier, healthier marriage?
If you feel disconnected or frustrated about the state of your marriage but want to avoid separation and/or divorce, the marriage.com course meant for married couples is an excellent resource to help you overcome the most challenging aspects of being married.
More On This Topic
Recent Articles
You May Also Like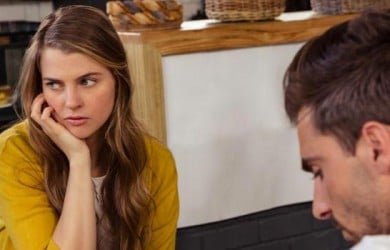 Popular Topics On Married Life