5 Tips for Getting Over an Affair
Nothing can turn your world upside down as quickly as finding out that your partner has been cheating on you.
You cannot prepare to feel the full-scale of emotions as you try to navigate the situation and understand how the person you trusted the most could betray you so easily.
It's completely normal to be in a state of disbelief when you first learn about the affair because most people don't want to assume the worst in their partners.
When dealing with infidelity, it's also natural for you to feel the rage as the reality of the affair sets in.
Consequently, getting over an affair can take months, or even years, as you take time to process your feelings, accept the new reality, and separate your partner from the terrible mistake they've made.
Surviving an affair and healing from infidelity may seem impossible, especially when the details of the affair are still fresh in your memory.
But it's important to remember that recovering from infidelity and grief does not happen overnight. With time, the hurt your partner has caused you will sting a lot less, and you may be able to forgive them and move forward with your life.
Also watch:
Even though there are no scientific ways for coping with infidelity, here are some tips you can keep in mind that will help you understand how to cope with an affair and, in time, how to get over an affair.
1. Allow yourself to feel pain
When getting over an affair, instead of shying away from grief, you need to allow yourself to feel the full range of emotions before you can try and overcome them.
There's nothing wrong with taking a break from your normal routine and sitting with your feelings and thoughts for a while. Yet, the key here is to do it without judgment and self-compassion.
It may take a long time before you can move beyond the pain and take control of your life. You may require social support so you must confide in your friends and family members, have a good cry and let it all out to start your journey towards getting over an affair.
It's common for people to experience feelings of shame and low self-worth. Some people may start to blame themselves for not being as involved as they should've been in the relationship.
They can also begin to doubt their attractiveness and feel like their looks are partly responsible for the affair.
If these feelings seem familiar to you, then instead of sweeping them under the rug, you need to acknowledge their presence before you can finally learn to accept them as they are and find a way forward.
It's also important to read about people who've been through something similar and learn about the strategies they used for getting over an affair.
Remember that while it is a challenging and painful situation, you are not alone in experiencing such betrayal. With self-compassion and a healthy mindset, you will be able to overcome your hurt.
2. Be patient with yourself
Although people naturally want to be free from pain as quickly as possible, when it comes to healing from infidelity, it just isn't going to happen.
Getting over infidelity can be emotionally challenging, but that shouldn't discourage you from looking for ways to heal. You must not lose your patience because it can be a long process before you can separate yourself from your emotions and come to terms with reality.
For surviving infidelity and to rekindle your relationship after the affair, you need to know that nothing in life comes easy.
For getting over an affair, you'll have to work together and stay committed to your relationship to move forward into the next phase of your life.
Overcoming infidelity takes time — often months and years — to get things back to normal. It's necessary to be patient and to take it one day at a time and allow your partner to express their needs to you clearly to make sure history doesn't repeat itself.
3. Develop compassion and forgiveness
It can be extremely difficult to forgive a cheating spouse and let go of anger and resentment when all you can do is question how little the marriage meant to them if they could betray you so easily.
Instead of speculating about everything they did and didn't do, you need to focus your energy on healing.
If you've decided to stay with your partner, the only way you can take your relationship forward is with compassion and forgiveness.
You may not realize it now, but by forgiving your spouse, you could be giving yourself a chance to truly recover and get over the affair.
Remember that forgiveness is not for your partner. Forgiveness is for you to move beyond your pain. This could also allow you to release all your negative emotions and finally find a sense of comfort.
Once you recognize that making mistakes is what makes us human at the end of the day, and your partner is remorseful and willing to work on themselves, you'll be able to find the will to forgive them and give them a chance to correct their ways.
4. Understand the meaning of the affair
Instead of letting your thoughts spiral out of control and losing yourself to delusions, you need to understand the meaning of the affair.
It may not have anything to do with you or the marriage, or you may have betrayed your spouse in some ways as well.
Your partner may not have intended to hurt you, and this could just be a horrendous mistake that you need to put behind you and give your marriage a second chance.
Once you're able to look at your marriage with an open, non-judgmental mind, you may be able to identify the problems that could've contributed to the affair in some way and what you need to do differently to start the next chapter on the right foot.
5. Find ways to improve the relationship
Getting over an affair and getting your marriage back on track can be a long and taxing process, but both of you need to stay committed every step of the way and make active efforts to make each other feel heard, validated, and understood.
You may need to set up boundaries that are crucial to your healing process and work together to eliminate the root causes of the affair.
Your partner also needs to be completely honest and transparent with you about all their interactions if they wish to turn the marriage around.
Final thoughts
Whether you choose to let your partner back into your life or cut ties with them, you should know that overcoming an affair isn't going to be easy.
If you decide to stay with your spouse, you must remember to be patient and work together to eliminate the causes of the affair and figure out how you both can emerge from this experience stronger than ever.
It's understandable if you feel betrayed and don't want to see past the affair, but you need to realize that, at the end of the day, your partner is human, and humans make mistakes.
Granted, there's no excuse for an affair; it's important to try and get to the bottom of why things happened the way they did so you can move on with your life and find peace.
At times, you won't be able to understand the reasons, or even accept the situation. For that, you need to develop a greater level of compassion, especially self-compassion.
Share this article on
Want to have a happier, healthier marriage?
If you feel disconnected or frustrated about the state of your marriage but want to avoid separation and/or divorce, the marriage.com course meant for married couples is an excellent resource to help you overcome the most challenging aspects of being married.
More On This Topic
You May Also Like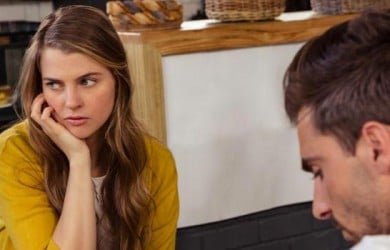 Popular Topics On Married Life