15 Things You Should Never Sacrifice for a Relationship
While relationships require compromise, you shouldn't have to sacrifice constantly, especially when your spouse isn't willing to do the same.
Should couples make sacrifices for each other?
It is okay for couples to make sacrifices for each other, but it shouldn't be one person making more sacrifices for love than the other.
It is likely that the person making sacrifices may feel like they are being used or unhappy if they notice that their partner isn't also sacrificing for them or the good of the relationship.
You must determine what are you willing to sacrifice for love and stick to these aspects. It may be detrimental to your well-being if you sacrifice things that you didn't plan on letting go of and you may also feel uncomfortable doing so.
Keep reading for advice on things you should never sacrifice for a relationship, so you can consider if these things are occurring in your life.
How important is sacrifice in a relationship
Sacrifice can be important in a relationship, especially in terms of making the relationship work.
For example, if you aren't willing to sacrifice time and energy for your relationship, this may not lead to growth between you and your partner. Research shows that relationship sacrifice may make you feel better in some cases if you willingly sacrifice because you want to.
Examples of sacrifice in a relationship may be giving up your career to raise children or moving away from your family for better job opportunities.
It may be helpful to talk to your mate about things you are willing to do in your relationship and allow them to do the same. These are boundaries that shouldn't be broken.
How much sacrifice is too much in a relationship
It can be difficult to understand when you are sacrificing too much in a relationship.
If you don't feel like you are yourself anymore, feel like you are experiencing mental health issues, or you have adopted all the likes, wants, and goals of your partner, it is possible that you are sacrificing too much.
It would be best to strive for compromise in your relationship instead of sacrificing. This allows both parties to find common ground to meet a goal and may also avoid either party feeling like they have given more than the other person when it comes to making sacrifices in a relationship.
For information about compromising in a relationship, check out this video for advice
15 things you should never sacrifice for a relationship
No matter how long you have been in a relationship or how much you love the other person, there are a few things you should never sacrifice for a relationship. Here's a look at 15 of these things.
1. Your happiness
When it comes to sacrificing in a relationship, your happiness is not something you should sacrifice. You should be able to be happy with your partner without having to give this up.
If you feel like your happiness has been affected, sit down with your mate, and talk about what may be able to change this. You might also want to work with a therapist to regain your happiness.
Related Reading: 

A Household of Happiness and Love: Tips for a Happier Family
2. Relationships with family
The relationships you have with your family members are something that no one should be able to take away from you or want to take from you.
If you don't talk to or see your family because of your relationship, this may be something that should be remedied as soon as possible. You may be able to reach out to your parents, siblings, aunts, or cousins and check in regularly.
3. Your support system
Your support system should also be ever present in your life. These are the people you can lean on when you have a bad day or need help figuring out the solution to a problem.
When you notice that you don't have a support system or haven't engaged with them, you may sacrifice your happiness for the one you love. This is not necessary, so you should reevaluate what is happening within your relationship.
4. Your health
Your health is something you might not be able to get back once it has been compromised, making it a prime example of one of the things you should never sacrifice for a relationship. Try to take care of your health at all times.
Try to eat the right amount of calories, get enough sleep, and exercise regularly. It would be best if you also talked to a doctor to get checked out when you can.
5. Your beliefs
If you have been raised with a certain belief system, this is not something that needs to change simply because you get into a relationship with another person.
Ideally, you will be able to discuss your beliefs while getting to know each other and respecting one another's views. This is an aspect of your life that you should only change if you want to, not because someone told you to or expects you to.
Related Reading: 

6 Damaging Beliefs About Happiness You Are Unaware Of
6. Things you want
Have you noticed that your partner gets everything they want out of your relationship, but you don't? This could make you feel upset and resent your partner, so it must be changed when it can be.
Tell your mate what you want and see if they will work towards getting it for you.
For instance, if you want to join a book club or work out at the gym on the weekdays, perhaps you can make a plan together to get what you want.
7. Your self-esteem
Self-esteem is another of the things you should never sacrifice for a relationship. If you don't have a healthy regard for yourself, your mate may not have one of you either.
You need to be able to like who you are and if you don't feel this for some reason, you might want to work on this. This is another way that therapy may be able to help you.
Be sure to reach out for mental health support if you are experiencing issues with your self-esteem.
8. Your dreams
Are there things that you haven't been able to accomplish because you sacrificed for your relationship? While this is okay short-term, you shouldn't have to forget your dreams so your partner can make their dreams happen.
If you would like to pursue a dream or goal yourself, this is something that you need to talk to your mate about. They may be willing to make a compromise for all the times you sacrificed for them.
Related Reading: 

Dreams About Cheating: What They Mean and What to Do
9. Who you are
If you have forgotten who you are and what you like to do, you may have given too much of yourself for your relationship. This can be problematic since you may simply be doing what your partner wants instead of doing things you like to do.
You owe it to yourself to do things you like, even if they are small, so you can regain your sense of self and have fun.
10. Decision making
Your ability to be part of your household's decision-making process is yet another thing you should never sacrifice for a relationship.
If you aren't allowed to decide on things that affect you, this must change as soon as possible. It isn't fair for you not to get the input you deserve. Discuss this with your mate so you can start making decisions together again.
Related Reading: 

25 Best Divorce Tips to Help You Make Good Decisions About the Future
11. Your boundaries
In many relationships, a couple talks about their boundaries before they get too serious with each other. Your partner should be aware of yours, and if they force you to break them or sacrifice further than you feel comfortable doing so, this can lead to an oppressive relationship.
Related Reading: 

6 Types of Boundaries in Relationships & How to Maintain Them
It would help if you thought about your boundaries and ensured you aren't breaking yours to make your partner happy.
12. Inner peace
Sometimes, when you are sacrificing often for your partner, this can cause you to be upset, sad, and not feel comfortable anymore. You won't have the inner peace you once had.
When you are upset over sacrifices, it is vital to regain your peace, so it won't lead to mental health issues, problems with your physical health, or other issues that can greatly affect you.
13. Your goals
Goals are things you should never sacrifice for a relationship since it isn't fair for you to focus on the goals of just one person in the relationship.
You should be able to meet your goals, whether small or large or at least be allowed to try to reach them. This is another matter that you should discuss with your mate, and they may be willing to make changes for you.
14. All your time
Devoting a lot of your time to your relationship is okay, but if you spend all of your time on your relationship, you probably don't have time to do things you need to accomplish or things that make you happy.
Try to do things you like, reach out to people you care about, and practice self-care.
15. Self-love
When you find that you don't love yourself anymore, this also falls along the things you should never sacrifice for a relationship. The issue is that once you no longer love yourself, this may be hard to regain.
Again, you may want to talk to a professional for help getting through this and learning to love yourself. It is important to your overall confidence and wellness.
Conclusion
While relationships can involve a lot of give and take, there are things you should never sacrifice for a relationship.
You should be able to keep relationships with loved ones, have time for yourself, and be a part of your home's decision-making process.
Make sure you talk to your partner when you feel like you are losing yourself in your relationship to determine what can be done.
You can also work with a therapist to help you learn more about focusing on compromise instead of sacrifice in your relationship.
Share this article on
Want to have a happier, healthier marriage?
If you feel disconnected or frustrated about the state of your marriage but want to avoid separation and/or divorce, the marriage.com course meant for married couples is an excellent resource to help you overcome the most challenging aspects of being married.
More On This Topic
Recent Articles
You May Also Like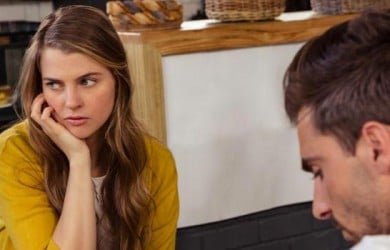 Popular Topics On Married Life