15 Ways To Inculcate Sound Relationship House Theory In Marriage
Learning how to build a sound relationship house will be a game-changer in your marriage, and you don't even have to step onto a construction site.
What is Sound Relationship House Theory?
Developed and introduced by Dr. John Gottman, the sound relationship house theory compares marriage to the construction of a house.
It may sound kind of funny but stay with it.
A house is built on pillars and a strong foundation. These cornerstones keep the house strong and secure when storms and unexpected issues creep up.
Similar to the house's concrete foundation, marriage is built on a foundation of trust and commitment. When issues and the general stresses of life attack a marriage, this foundation will help keep it strong.
This is the sound relationship house theory.
What is the foundation of the sound relationship house?
The pillars of the relationship in the house theory are trust and commitment, but that isn't all there is in this marital construction. The floors of this romantic home consist of:
Shared meaning

Making life dreams come true

Managing conflict

The positive perspective

Turning towards instead of away

Sharing fondness and admiration

Building love maps
The foundation of relationships can be made to last when couples conquer these marital reinforcements.
How effective is the Sound Relationship House Theory?
Throughout various control studies, Dr. Gottman has been able to predict with up to 94% accuracy which couples in his groups would stay together and which would get a divorce.
This insight into relationships gives him credentials to help couples build a strong foundation for a happy, lasting marriage.
As for the sound relationship house theory itself, it is only effective if both partners are willing to put in the work to make changes toward:
Effective communication

Building trust

Committing to their marriage completely
15 ways to practice Sound Relationship House Theory in marriage
Check out these effective ways to inculcate Sound Relationship House Theory in marriage:
1. Understand what your spouse values
Think of this act as a healthy relationship pyramid. You have to get to know your partner before you understand what is at the bottom of their pyramid (less important issues) and what is at the very top (think trust, commitment, and physical attraction.)
Every pyramid is different, so get excited about finding out what your spouse values.
2. Build a love map with your spouse
What is a love map?
This is a guide to your partner's personality, in a sense. According to the sound relationship house theory, partners build love maps by getting to know each other.
What were they like growing up?

What kind of relationship do they have with their family?

What are their likes and dislikes?

What is their romantic past like?

What is their idea of a perfect day together?
By getting to know each other on a deeper level, couples become each other's best friends.
Check out how to build love maps to keep your relationship healthy and strong:
3. Continue working on communication
Research on why couples end up getting divorced found that 53% of couples surveyed listed poor communication as a major cause of ending the relationship.
When you communicate with your partner, you strengthen the pillars of a relationship house. You get to know each other better, identify triggers, and learn how to navigate problems in a way that is productive and respectful.
4. Keep turning toward each other
According to the sound relationship house theory, the need for attention, comfort, or support from your partner is called a "bid."
For example, your spouse asking for a date night is a bid for your emotional and physical attention.
Instead of turning away from your spouse, turn toward them by accepting their bid.
To keep successfully turning toward each other, you must get to know how each partner expresses their bids.
5. Make trust a cornerstone in your marriage
It is no surprise that trust is one of the pillars of the sound relationship house.
Trust is what allows couples to feel comfortable and safe in their marriage. It allows vulnerability to flow easily and draws them closer together.
When you put effort into being a trustworthy partner, your relationship will grow.
Related Reading: 

15 Ways on How to Build Trust in a Relationship
6. Keep it positive
The way you speak to your partner can be a game changer when it comes to building a sound relationship house.
Always look at your relationship as if you and your spouse are on the same team. Think positively about them and give them the benefit of the doubt.
By doing so, you'll strengthen your marriage and train your brain to think the best of your spouse, always believing that they would never purposely hurt you.
7. Commit to each other fully
Commitment is one of the pillars of relationship theory. It's how couples stay strong and conquer challenges in the marriage.
One study found that a lack of commitment and too much conflict were both common reasons for couples to consider divorce.
So how can you deepen your commitment to your partner? Wasn't getting married the biggest commitment you could ever make?
To commit is to bind yourself intellectually and emotionally to a course of action. It's a sincere and steadfast purpose, namely, keeping your marriage healthy.
If you want to commit to your marriage, you need to make it your number one priority.
8. Learn how to manage conflict
Couples can build a sound marital house by learning how to manage conflict. According to the sound relationship house theory, that means:
Have empathy
Acknowledge your partner's feelings and desires and take them into account. This leads to more cooperation and compromise.
Talk about your problems
Don't just let things fester.
Self-soothe when you feel things getting out of control
Instead of saying something you regret, excuse yourself from the conversation and go for a walk or take deep breaths.
When differences come up, approach them as a team. Instead of fighting each other, tackle the problem as a unit.
9. Improve your partner's well-being
Looking for little ways to be helpful and loving can be a game changer in a marriage.
Doing something as simple as making your spouse coffee in the morning or clearing snow off their car in the morning can go a long way to building a higher level of relationship satisfaction.
Try Now - 

What's the Satisfaction Level in Your Relationship?
10. Don't be afraid to admire each other
Do you ever get lost looking at your partner? Do you find yourself adoring them and their amazing qualities? If so, don't keep it to yourself. Spread that love around!
Research shows that partners who express gratitude and admiration regularly experience an increase in:
Relationship satisfaction

Commitment

Intimacy

Self-expansion, and

Support for goal pursuits
Partners who showed gratitude were also more motivated to engage in relationship maintenance.
11. Get on the same page about important issues
Opposites may attract, but it's much easier to be married to someone who shares your outlook on life than it is to be constantly bickering about your thoughts and feelings.
Part of managing conflict is getting on the same page about where you stand on important issues such as religion, starting a family, and where you want to ultimately live.
If you don't agree on important topics, find a way to compromise so that both partners are happy.
12. Start a romantic ritual
Floor 7 of the sound relationship house theory is all about creating shared meaning. This is all about creating that special world as a couple that nobody else understands but the two of you.
Having your own inside jokes and romantic rituals (such as a regular date night, sharing a favorite takeout place, or having a song that reminds you of each other) makes the relationship feel more special and worth fighting for.
13. Build emotional intimacy
Emotional intimacy is just as important to marriage -if not more- as physical intimacy.
Studies show that the longer couples are together, the more likely they are to value emotional intimacy over sexual passion.
When you take a step back, this makes a lot of sense.
Emotional intimacy helps couples weather storms that shake their marriage. Sexual passions ebb and flow the longer you are married. During times when sexual intimacy isn't taking center stage in your relationship, it is the emotional intimacy that will keep you feeling close to one another.
14. Share and strive toward your dreams
One of the last floors of the house of relationships is about making life's dreams come true.
Being supportive of a spouse means being secure enough in your relationship that you can encourage your partner to reach their goals. Not only will you be their biggest cheerleader as they strive toward something amazing, but you will help them do it.
This could mean:
Supporting your spouse financially and helping them to pay off debts

Supporting your spouse's decision to stop working and stay home to raise children

Supporting your spouse to go back to school and change their career
Whatever your spouse's goal is, you will help them reach it because you want the very best for them.
Related Reading: 

How to Be a Better Spouse: 25 Ways to Help
15. Create goals together
Supporting your spouse's endeavors is amazing, but so is creating shared goals. This might mean:
Saving money for a special vacation

Planning a big move across the country

Starting a family together

Buying a house

Learning a new language
Goals are different for every couple, but sharing a goal is an amazing relationship booster. It helps you think as teammates. It's something exciting to talk about and plan with your partner.
Making goals as a couple brings you closer together and strengthens your marriage.
Takeaway
A sound relationship house is all about building the foundation of relationships based on commitment and trust.
Dr. Gottman's relationship theory involves managing conflict, building dreams together, expressing admiration for one another, and building love maps.
Once you have these tools in your belt, you will be able to navigate the waves of marriage with success.
Share this article on
Want to have a happier, healthier marriage?
If you feel disconnected or frustrated about the state of your marriage but want to avoid separation and/or divorce, the marriage.com course meant for married couples is an excellent resource to help you overcome the most challenging aspects of being married.
More On This Topic
You May Also Like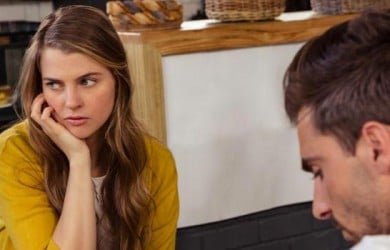 Popular Topics On Married Life