20 Signs You Really Hurt Him and What to Do About It
Knowing your partner really well, you might recognize the signs you hurt his ego. For those of you who are just starting to date, it might be alarming to discover that a relationship doesn't stay on Cloud Nine every day. It will reach its slumps. Hurtful things might be said.
Ups and downs are normal in a relationship; it's what makes your own particular relationship with your partner special and unique. When you really love a guy, you don't want to see signs you really hurt him. You want to keep him happy and in love with you all the time!
How do guys behave when they are hurt?
Men often act guardedly when they have been hurt. Many don't run to their families or friends and pour out their guts. Some act stoically [1]. Instead of saying something, they withdraw and act out in other strange ways. This can cause confusion and frustration.
How do you know if you broke a guy's heart?
Sometimes, it's easy to not realize what effect your actions have caused on your partner. Signs you really hurt him will be him ignoring you or avoiding you. He won't be able to look you in the eyes.
He will want to get away from being close to you and will even stop talking to you.
20 major signs you really hurt him
Signs you really hurt him can be too obvious sometimes that you realize your mistake within the same day. While, sometimes, the guy won't make it obvious and keep holding his pain inside till you make an effort to see it. Here are some signs you really hurt him.
1. He tries to avoid you
Signs you really hurt him will be obvious to see. Your boyfriend will avoid seeing you. Some of the excuses he makes might sound extremely silly to you. On his side, it is normal behavior. Usually, when people are disappointed or hurt by someone, they try to avoid that person. They will also avoid the old haunts you frequented lest they bump into you.
Related Reading: 

10 Reasons Why He Is Avoiding Eye Contact
2. The smiles and greetings are gone
It can be sad to notice that the hellos and fond goodbyes that were reserved especially for you are gone. The warmness is missing. You might long to get his attention again as you could before. Now you notice that his warmness and smiling is reserved for his friends and other girls he is with. He is totally ignoring you.
3. He has stopped talking to you
When someone hurts you, you usually don't talk to that person anymore. You avoid any contact with them altogether. That's one of the signs you really hurt him. These reactions are normal, though.
If he has been seriously hurt, it might sound harsh to say this, but it could amount to him simply walking away from all contact with you. What you had between you might end right there and then.
Related Reading: 

15 Things to Do When a Guy Ignores You After an Argument
4. He doesn't acknowledge your presence
It can be devastating when someone acts indifferent toward you; they treat you as if you don't exist. Ouch! You might, for instance, be working at the same business and he chooses to blatantly ignore you. When a man is hurt by a woman he loves, her presence will hurt him.
That's why overcompensates by showing indifference to her. He doesn't want her to see that he still cares.
5. You get no responses or calls to your messages
If you send him a message during office hours, it can be expected that he doesn't respond to it. You can't be sure that he is ignoring you – he might just be busy.
But if you don't get responses to your messages or calls over the weekend or after office hours, these are signs you really hurt him pretty badly.
6. He blocks you on social media
You might think that at least you will be able to see what is going on in his life on social media. But next time you look, you will see he has blocked you! When someone blocks you on social media, it's usually because they no longer want you in their life.
You might start asking yourself, "does he hate me or is he hurt?" Acknowledging this fact can be a hard pill to swallow.
7. Suddenly, he is seen with someone else
Because he has been hurt by you, he might want to show you that it doesn't mean he has lost control of his life. He might show that he is still on top of his game by immediately being with someone else. He wants you to see he has moved on.
This way of acting might be his way of retrieving his self-esteem.
8. Or, he might stop dating altogether
This is going to the other extreme of getting into a rebound relationship. Suddenly he stops dating altogether. He might have decided that women aren't "worth it." Sure, there usually are cooling down periods after a breakup, when people reflect before they start all over again.
But signs you really hurt him will be if time has passed and he is still on his own.Or else he might be planning a completely new life, like going overseas, starting a new career, etc.
9. He is spending lots of time at the gym
Maybe your partner was a couch potato before, and you said something about his appearance enough to hurt him deeply. Now he has become a fitness freak, needing to build up his self-esteem again.
He wants to become so ripped as to make you jealous and want him back. But he has no intention of taking you back.
10. He gets angry with you when you talk
Maybe he hasn't walked away from you yet. A good sign that he has been affected by your hurtfulness is when he answers you angrily every time you speak to him. He seems irritated and disinterested in you. That might leave you wondering, "Did I hurt his feelings that much?"
11. He doesn't help you
Have you noticed that he has lost interest in helping you as he did before? Signs you really hurt him will be when he holds back from being around you. You can't tell him about your problems anymore either; he's no longer interested.
You might notice him withdrawing more and more from your life. This might just be for a short time or it could be permanent.
12. Notice his body language is closed off
It is not that hard to notice from a person's body language that they are dejected, rejected, sad, or hurt [2]. If you are the cause, notice how that person acts around you.
They might turn their back on you, or fold their arms close to their chest as if in defense. If you come up to talk closely with them, they back away from you.
Related Reading: 

What Your Body Language Says About Your Relationship
13. He has become passive-aggressive
Other signs you really hurt him is he displaying passive-aggressive behavior. This isn't conducive to a good relationship. It's when people disapprove of you through their feelings instead of talking to you. It can be really insulting.
If you have hurt your guy and he wants to get back at you, the silent treatment is one way of getting you back.
14. His smile has become fake
Lots of men don't like to let others see their pride has been hurt. They deal with it by being overly positive in their behavior and forcing a smile. You might see if has to talk to you, his smile won't be soft and friendly anymore, but sarcastic and forced.
15. He drunk-calls you
He could be drowning his sorrows somewhere and then start drunk-calling you. It could be his way of getting his message across because he can't face you when sober.
This might tell you how much you have hurt him. Hopefully, he has some good friends who hang up on you for him until he can control his emotions.
16. He goes back to his old habits
One important sign that he has been hurt by you is when he reverts back to his old ways and old habits. When he was with you, he lived healthily and went to the gym. Now instead of the gym, he is frequenting the pubs or buying take-outs.
He might be secluding himself from the world, putting on weight, and becoming disinterested in himself. Who has he to impress now?
17. Or he could be extremely busy again with his friends and family
He doesn't want you to see that your hurtfulness affected him at all. He wants to be the one in power still. He moves away from you and is spending all of his free time now with friends and family, or putting in more hours at the office.
18. Things that hurt guys' feelings can be seen in his eyes
Eye contact, if you hold it long enough with a person can tell you a lot! You can see happiness, admiration, sadness, and joy – so many emotions are in the human eye. They no longer sparkle with feelings for you; it's almost like they are dead.
19. He might just go full out and tell you how much you hurt him
He might be brave enough to tell you outright how badly you have hurt him. It will save you a lot of guesswork.
20. He is a self-lover and knows when to walk away
Perhaps he has experienced hurt in his past. He has learned how to take good care of himself and he believes in himself. He has become self-assured and confident. Even though you have hurt him badly, he knows when something is no longer right for him and can walk away with his head held high.
Watch this video for tips on how to stop hurting your partner:

Frequently asked questions
Girls and guys are always full of questions about how to fix a relationship where one partner has been hurt. Look at these questions that people always want to know.
How do you win a guy back that you've hurt?
If you want to win him back think about what went wrong. You might need to do some soul-searching to work it out.
For example, if you were flirting with other guys that made him so upset, try and avoid him seeing you with other guys. Otherwise he will be reminded of what you did to him.
What makes a guy back off?
Men can pull away and back off for a variety of reasons. They might have their own anxieties, fears, or insecurities. When it comes to you two, you might need to figure out why your guy is pulling away. This might mean backing off to give him some space.
What to do after you hurt him?
Being in a relationship, there will be a few times when you need to apologize for something. It is essential to rebuild broken trust. To apologize, you will need to acknowledge your partner's hurt and anger. Then you can apologize for what you did or said.
Empathy is vital for each relationship so show him you have what it takes to make the relationship right again. Then you could say, "Again, I am really sorry." Try not to turn your apology into a debate or argument again.
After you have given your apology, be patient about his acceptance and forgiveness. Don't forget to remind him of how much you love him.
If you hurt him, you make up for it!
Signs you really hurt him, whether deliberate or unintentional, can have repercussions. These can be short-term or permanent. They can be so hurtful that you will see signs of how your partner reacts.
The good news is that with apology and willingness to forgive, the relationship can survive and even grow from this. Once you've both listened and he has forgiven you, there is no need to bring these old hurts up again. It's time to concentrate on building a better relationship and future together.
If you two believe in your relationship, you can build on it further by attending couples therapy for excellent advice and support. A therapist will listen objectively and give advice and insight that you might not have thought of. They will point you in the best direction – Best wishes!
Share this article on
Want to have a happier, healthier marriage?
If you feel disconnected or frustrated about the state of your marriage but want to avoid separation and/or divorce, the marriage.com course meant for married couples is an excellent resource to help you overcome the most challenging aspects of being married.
More On This Topic
You May Also Like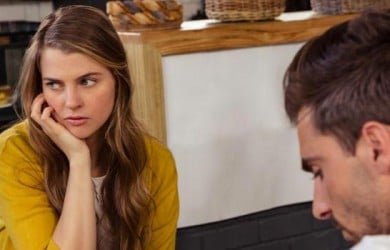 Popular Topics On Married Life