10 Signs He Knows He Hurt You and Feels Miserable
The possibility of your boyfriend hurting you is not impossible. Some romantic relationships last whereas some don't! Heartbreaks can be devastating. If you've been hurt by your beloved, then you might want to learn about the signs he knows he hurt you.
Yes! That's right!
There are signs he is sorry for hurting you. Some of these signs he knows he hurt you are direct and some are quite subtle.
You may even be wondering whether your beloved or your ex is hurting from the break-up. You may be on the lookout for signs he feels guilty for hurting you.
Other pertinent questions related to the signs he knows he hurt you can include ones like: do guys feel guilty for hurting you? Do guys care if they hurt you?
Navigate your way through the difficult period of heartbreak by learning about the signs he knows he hurt you. You'll find answers to the aforementioned questions about heartbreak. You'll also figure out whether he still cares about you.
Just read on.
Related Reading: 

How to Heal a Broken Heart?
What are the reasons that a man regrets hurting his beloved?
The best place to begin when it comes to understanding and identifying the different signs he regrets losing you is to first learn about some of the core reasons a man can regret hurting you.
Here are some reasons:
If the romantic relationship has ended on the grounds of

poor communication

and listening on the man's end.

If the man has that feeling of instant regret after ending his romantic relationship.

When the man realizes that the reason for the woman getting hurt and the relationship ending is due to the man's attitude towards his beloved. This is especially if the man had taken his beloved for granted.

Another time when a guy feels guilty for hurting you is if he sees that you've moved on to another partner. If he notices that you're visibly happier and more content in the romantic relationship in comparison to when you were with him, that is when he regrets hurting you.

If the guy sees his partner

handling the breakup

differently (in a positive way) than he had anticipated, he may end up feeling bad about letting his woman go.

Another one of the standout reasons when a man realizes he hurt you is if he ends up feeling this void in his life and your affectionate ways with him.
Now that you know about when do guys feel bad when they hurt you, let's delve deeper into the topic of signs he knows he hurt you.
How to figure out if your man regrets hurting you
A fantastic way to figure out whether your man is showing the signs he feels bad for hurting you is by learning about the key signs that show that your man doesn't regret losing you.
If he shows the following signs, it is likely that your ex doesn't feel much regret over losing you:
● No signs of remorse
If your ex doesn't experience any remorse or the need to seek forgiveness from you, it means he probably doesn't regret losing you or hurting you deeply.
● He's already moved on
A direct indication of very little regret over losing you is if you see that your ex has already moved on to a new woman after the break-up. Immediately moving on to a new romantic relationship leaves very little to no time to even identify any feelings of regret.
●
He blames you
The blame game is another tell-tale sign that your ex does not regret hurting you or losing you. How and why? Taking ownership of one's mistakes or poor decisions is another fundamental prerequisite of regret.
●
He gaslights you
If your ex is preoccupied with manipulating you into thinking that you're the one responsible for ending the romantic relationship, there's very little scope or room to experience any regret over the failed relationship.
Related Reading: 

15 Signs of Gaslighting in Relationships and How to Deal With It
●
No behavioral changes from his end
This is one of the more subtle signs of no regret from your man's end.
Even if you see that your ex is readily apologizing to you and asking for forgiveness, if there aren't any positive or desired behavioral changes from his end, then he probably doesn't feel any remorse over hurting you.
If you're quite sure that your partner or your ex hasn't shown any of the aforementioned signs, then it is safe to move on to learning about the various signs he regrets hurting you.
How much time does a man take to realize that he's hurt you?
When it comes to figuring out how much time your man may take to show the signs he regrets letting you go, unfortunately, there's no fixed timeline.
But a good way to quickly find an answer to the question: "do guys feel bad when they hurt you?" is by effectively following the rule of no-contact.
When there's no effort from your end to communicate with your ex, he will quickly show the signs he knows he hurt you if there's remorse from his end.
Roughly speaking, the signs he knows he hurt you will show within a few weeks to months of losing you.
Does a man regret hurting a good woman?
The main question that is probably keeping you awake every night is: will he regret hurting me? Usually, men do regret hurting their significant others.
Although it may take your ex to show any signs he knows he hurt you, it does eventually happen especially if you were his source of comfort and happiness.
If your man realizes that romantic relationship because of shortcomings or unacceptable behavior from his end, he will regret it.
10 proven signs that he regrets hurting you
So, does he regret hurting me?
Let's find out!
Now it's finally time for you to learn about the various signs he knows he hurt you.
Here are the top 10 signs he knows he hurt you:
1. He readily apologizes
As already mentioned, seeking forgiveness shows remorse. It also shows that your man still deeply cares for you. The willingness to be held accountable for his poor behavior is integral to experiencing regret.
Here's how you can respond once your partner apologizes: 3 Ways to Respond to an Apology Besides "It's Okay".
Related Reading: Help With Forgiveness in Marriage
2. He becomes very quiet
This isn't to say that he'll just stop talking. No. You will see that when he knows he hurt you, not only will his communication with you reduce significantly but he'll also cut ties or cut down on communicating with all mutual friends in your circle.
3. He tries to put up this front of being very happy
If your ex is putting in conscious effort to show everyone, including you, that he's loving a single life, to the point where he overdoes it and most people can understand that he's trying a little too hard, he's overcompensating for the remorse that feels.
4. He finds excuses to communicate with you
If you see that you're trying to maintain the no-contact rule but he's constantly trying to disrupt it by contacting you for trivial reasons, he probably deeply regrets losing you.
5. He frequently checks on you
After a breakup, it may seem quite odd to you if your ex tries to check up on you ever so often. This caring behavior on his end is his effort to process and overcome his grief over hurting you.
6. He's jealous
If you and your ex still talk and you sense visible jealousy from his end whenever you bring up a guy friend or acquaintance in your life, he's jealous and hurting over losing you.
7. The change is visible
When a guy knows he hurt you and he realizes that it was his unacceptable actions that probably contributed to the failed relationship, he will try to modify his actions. This change is visible.
8. He's drinking too much
An unhealthy coping mechanism implemented by a lot of people to get over difficult breakups is to indulge (a little too often) in drinking. If your man is frequently getting drunk and then probably drunk dialing you, he's probably feeling guilty about hurting you.
9. Sad social media updates
A lot of indirect breakup posts with quotes about failed relationships, stories about an uneventful social life, etc., are all signs of remorse that he's feeling.
10. "Let's be friends!"
This direct sign is an indication of how deeply he regrets losing you. Saying that he wishes to be friends with you shows that he wants to make it up to you for hurting you in the relationship.
Men hurting women: Do men realize what they've lost?
Most men who initiate breakups or hurt their partners through their actions or words do eventually experience remorse over losing their beloved.
Ultimately, your man will likely realize the flaws in his behavior and actions. Men do painfully come to terms with the harsh reality that they've lost a very special lady.
Conclusion
Keep these aforementioned signs of remorse over hurting you in mind. Regardless of whether you want to get back together with your ex, it is important to know these signs. It will help you decide your next step in your love life.
Share this article on
Want to have a happier, healthier marriage?
If you feel disconnected or frustrated about the state of your marriage but want to avoid separation and/or divorce, the marriage.com course meant for married couples is an excellent resource to help you overcome the most challenging aspects of being married.
More On This Topic
You May Also Like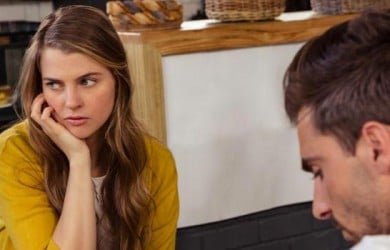 Popular Topics On Married Life