10 Signs She Loves You but Is Scared to Commit Again
Are you one of those guys who think that it's really hard to read what a girl is thinking?
Are you currently in a situation where you are confused if the girl you like also has feelings for you or is just too friendly? We don't want to get friend-zoned, right? That's why it's really hard to just assume that you have something going on.
Well, to better understand the signs she loves you but is scared and to better read what her actions are telling you, we first have to decipher why she is acting the way she is and what can we do to assure her that learning to love again is okay.
Understanding the walls she has built around herself
Love is indeed a beautiful thing.
An experience that we all want to treasure and who doesn't want to fall in love? As beautiful as it is, love can also be as scary, especially for those who have had their hearts broken.
Are you in a situation where you see that the woman you love shows all the signs she loves you but is scared? "Is she scared of her feelings for me?", you might even ask yourself. If you do, then you might need to first see why she is like this.
Most girls really do want to be in a relationship.
In fact, having that label is very important. Though, sometimes, the fear of losing the person they love is far greater than the urge to be happy again. Why fall in love if it will also end soon? Why trust and love when you are just giving that person a license to hurt you?
Understand why she is like this and to start, here are the most common reasons why she shows signs she likes you but is scared.
She has

been hurt before

.

She has

been lied to

or the

person she once loved cheated on her

.

She

felt used

and didn't really experience being loved.

She

thinks she is unworthy of true love

.

The

people she loved left her

.
Signs that she's falling in love but doesn't want to get hurt again
Any of us can feel scared of getting hurt, especially when we have already felt it once before. It's just that overwhelming fear of falling in love again and showing signs she's into you but afraid to admit it.
As men, we, of course, would want to know what the real deal is, right?
Is she scared or not interested?
Sometimes, these clues are so vague that it causes confusion. We don't want to assume that she loves you, but is scared. We want to be sure before we move on to the next step.
How to know if a girl likes you, but is hiding it?
She doesn't give you signs that she wants to be your girlfriend, but she's really not leaving your side either. Confusing? Absolutely!
She may act like the

perfect girlfriend

and she allows you to act like a boyfriend, but you see that

she isn't someone who'd want to settle your real score anytime soon

. She's not playing you; she is just not ready yet.

Do you notice her

being sweet and happy then the next day distant

? This is one of the realizations that she is having a hard time controlling that she's

falling in love

.

She's shy, she's concerned, sweet, and even a little too intimate with you,

but somehow, you also see

s

igns she is hiding her feelings for you. These are major signs that she's trying to hold back.

Another major sign she loves you but is scared of being hurt is that

she gets jealous

. Well, who can blame us? It's too confusing sometimes, especially with all the mixed signs that we can sometimes try to just move on – then

she gets jealous

!

She says she doesn't like you, but you also see that

she's not really entertaining other men as well. She goes out with you; makes you feel special and all but she's not doing it with other men! She loves you but is afraid to admit it.
She opens up with her past hurts and breakups

. This is one major give away to you as a man. Understand what she is trying to say when she opens up.

Do you see that she makes efforts? Do you see how

she takes care of you

? Actions speak louder than words so you'll know.

A sign a woman is falling in love with you is when

she makes time for you

. She won't do this if she is just needy or being a sweet friend.
10. Lastly, you know she loves you by the way she looks at you. You just know, the depth of her eyes will tell you she has feelings for you.
walls she has built around herself
.
More than just promises – how to help her overcome her fear
She may have shown you the signs she loves you but is scared to admit it. But how do you progress from here? The facts are there, but we all know how it's hard to change her mind, right?
The key to gaining her trust is to be yourself and to be true.
Yes, it will take time and it will take a lot of effort and patience, but if you are true to her, then she would be all worth these sacrifices. Now that you are familiar with how to know if a girl has feelings for you, the next step is to win her over.
You no longer need to worry if she is just playing with your emotions or if she loves you but is scared of admitting it.
More than just promises, more than just words, actions would be the best key for her to finally let go of her inhibitions and learn to trust again.
Each and every one of us has our reasons why we're not ready to love again – now we are just all waiting for that special someone to teach us that love is worth all the risk.
Related Reading: Breaking Promises in a Relationship – How to Deal With It
Share this article on
Want to have a happier, healthier marriage?
If you feel disconnected or frustrated about the state of your marriage but want to avoid separation and/or divorce, the marriage.com course meant for married couples is an excellent resource to help you overcome the most challenging aspects of being married.
You May Also Like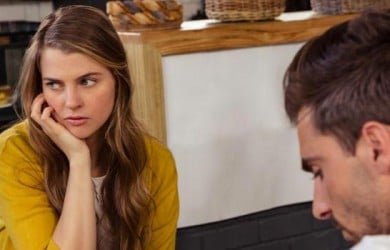 Popular Topics On Married Life