How Jealousy Destroys Relationships: 5 Possible Ways
Jealousy in relationships may be quite damaging, and knowing how jealousy destroys relationships will keep you on your toes and make you avoid it at all costs. When one person in a relationship feels envious, it can create a chain reaction of bad feelings and behaviors.
Jealousy may lead to mistrust, conflicts, and even the breakdown of a relationship.
In this post, we will look at how jealousy destroys relationships. That notwithstanding, remember that jealousy is a natural feeling, but when it goes unchecked, it can turn toxic and destroy even the strongest bond.
Does jealousy end relationships?
Jealousy often refers to the thoughts and feelings of insecurity and fear that come from the lack of something or the presumption that someone else is doing better than you.
From a psychological perspective, it has been described as a motive of intense potency because you may not even be aware that you're jealous of something or someone until triggered.
Jealousy in relationships has the potential to destroy the whole thing. When one person in a relationship becomes jealous, trust, communication, and mutual respect can all suffer.
Spouse jealousy can be induced by a multitude of circumstances, including insecurity, prior traumas, or personality or lifestyle contrasts.
Jealousy in relationships may present itself in a variety of ways, such as being possessive, domineering, or even abusive. This may create a poisonous and unhealthy environment for couples, resulting in emotional anguish and relational harm.
Furthermore, jealousy in relationships can indicate more serious problems, such as a lack of communication or unsolved disagreements. Both spouses must address these underlying difficulties and collaborate to establish a stronger, better relationship.
How can jealousy destroy relationships?
Jealousy in relationships can be extremely detrimental since it may trigger various undesirable feelings and behaviors. Jealousy arises from a fear of losing something, and in the context of a relationship, this worry frequently shows as a fear of losing a partner's love or devotion.
Jealousy is a damaging emotion based on negative thoughts and assumptions. One major reason why jealousy is bad is that when a person is jealous, they may begin to doubt their partner's devotion or integrity, even if there is no evidence.
Spouse jealousy, most significantly, may be very destructive to a relationship. When one partner becomes very jealous of the other, they may become domineering, possessive, and even aggressive toward their spouse. This can cause feelings of loneliness, worry, and despair in the other spouse, eventually causing a schism between them.
Understand that varying levels of jealousy exist and that some jealousy is typical in most relationships. For example, a healthy amount of jealousy comes to play when your partner outrightly flirts with someone else. You may find yourself confronting them, and that's normal.
However, jealousy becomes a major source of conflict and sorrow when it becomes excessive or uncontrollable.
5 ways jealousy can destroy relationships
Are you trying to figure out how jealousy destroys relationships? Well, these are 5 proven ways it can harm any relationship.
1. Lack of trust
Jealousy causes loss of trust, ineffective communication, and loss of emotional connection between partners.
Controlling behavior, emotional distance, and insecurity are just a few examples of how jealousy destroys relationships, eventually leading to a breakup or even worse. While jealousy is natural, you must deal with it healthily and constructively.
Related Reading: 

15 Reasons for Lack of Trust in a Relationship
2. Controlling behavior
Jealousy in relationships can lead to feelings of insecurity, distrust, and dominating behavior. It can also lead to emotional alienation and, eventually, the breakup of a relationship. When this takes hold, the aggrieved partner tries to put the victim in a chokehold, and they start monitoring them closely.
They'd do all they can to restrict their interaction with others. This soon becomes toxic if left unchecked.
3. Insecurity
Jealousy in relationships can wreak havoc by destroying trust and causing a sense of insecurity to the victim. When your partner tries to control you, you may soon start pulling back from them. This can lead to insecurity and declining trust in their goodwill toward you.
Related Reading: 

Emotional Distance in a Relationship & How to Fix It: 5 Ways
4. Emotional distance
Jealousy may tremendously influence relationships, causing communication, trust, and emotional connection to break down. When signs of jealousy in a relationship are left uncontrolled, they may produce a toxic climate of distrust and emotional distance.
How exactly do you trust and deeply connect with the same person who is trying to place you in a chokehold?
At some point, you may convince yourself that staying away from them, emotionally and physically, is the only way out.
5. Relationship breakdown
Consider this the summary of all we've been speaking about. Jealousy in relationships will eventually ruin the relationship by eroding trust, encouraging controlling behavior, and causing emotional distance.
This is why jealousy must be addressed immediately after it is identified. Talk with your partner and lay all your fears to rest – once and for all.
Related Reading: 

20 Ways to Prevent Relationship Breakdowns
How to deal with jealousy in relationships
Dealing with jealousy in relationships can be challenging, but it is necessary for maintaining healthy and successful relationships.
The first stage is to recognize and admit the jealousy, followed by determining the fundamental cause. Past traumas, insecurity, or even external influences might all set it off.
Next, talk openly and honestly with your spouse. Inform them of your feelings and why without criticizing or accusing them. Listen to what they have to say and attempt to establish common ground.
Build trust and mutual respect in your relationship. Concentrate on the good elements of your relationship and express your appreciation for your partner. Avoid comparing yourself to others and constantly remind yourself of your value.
Finally, if required, register for couples counseling. Therapy may be an effective strategy for dealing with jealousy and enhancing communication in relationships.
Remember that overcoming all levels of jealousy is a process that needs time and effort. With the right amount of effort, you will overcome envy and develop a better, healthier, and more meaningful relationship.
Just give it time.
Watch this video to learn more about the signs that someone is jealous of you:
Some commonly asked questions
We have also answered some of the common questions on jealousy in relationships to give you a better understanding of it.
Is jealousy enough reason to break up?
Jealousy may not be sufficient grounds to end a relationship. However, if jealousy is causing considerable harm to the relationship, such as destroying trust, creating emotional distance, and encouraging controlling behavior, you may need to re-evaluate the partnership.
Before considering a split, attempt to manage jealousy healthily and collaborate with your spouse to find a solution.
What is the root of all jealousy?
Jealousy is caused by many different reasons, including prior traumas, insecurity, fear of abandonment, or a lack of trust. External circumstances, such as comparing oneself to others or feeling threatened by a partner's contact with others, can also set it off.
Final thoughts
Understanding how jealousy destroys relationships is the first step to making a commitment that won't eat away at your beautiful relationship. However, it doesn't end there.
You must commit to doing all it takes to throw jealousy far away from you and work on your relationship no matter how hard it may seem.
If required, consider getting professional help. Enlisting the assistance of experts in couples counseling can be handy in helping you get to the root of jealousy so you can find a lasting solution to it.
Share this article on
Want to have a happier, healthier marriage?
If you feel disconnected or frustrated about the state of your marriage but want to avoid separation and/or divorce, the marriage.com course meant for married couples is an excellent resource to help you overcome the most challenging aspects of being married.
You May Also Like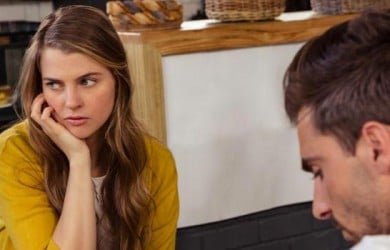 Popular Topics On Married Life