20 Signs He Is Not Ready for a Relationship
It's not uncommon to find yourself falling for someone who doesn't seem quite ready for a relationship. If you're unsure whether the person you're seeing is truly committed to a long-term partnership, there are some key signs he is not ready for a relationship to watch out for.
Here, we'll explore 20 indicators that he may not be ready for a serious relationship.
If you're looking for clarity and guidance when it comes to figuring out the signs he is not ready for a relationship, we have some advice and insights for you.
20 signs he is not ready for a relationship
It can be hard to tell when someone is ready for a relationship, especially if you're not familiar with their situation.
However, there are some definite signs he is not ready for a relationship. Here are 20 signs he is not ready for a relationship:
1. He is emotionally unavailable
When he is not ready for a relationship, then he won't be ready to spend time with you, either. This can make it difficult to form any kind of meaningful connection.
2. He is selfish and self-centered
A guy who's not ready to settle down is unlikely to want to make sacrifices for the people he loves. This means that he probably won't be very good boyfriend material.
Besides, a guy who doesn't care about other people is a warning sign that he isn't necessarily as nice or caring as he appears to be on the surface.
Related Reading: 

12 Red-Flag Signs of a Selfish Partner
3. He is incapable of commitment
Many guys end up settling for the first girl they date because they don't really understand the importance of commitment in a relationship. If he's willing to see other girls while you're around, you can be sure that he's not interested in an exclusive relationship.
4. He has trust issues
If someone doesn't trust you, then they probably aren't going to make a very good partner. This is because true intimacy requires a high level of trust, which cannot happen overnight.
Related Reading: 

10 Things You Need to Know About Men With Trust Issues
5. He has a problem with jealousy
Some people are not good at controlling their anger, which can lead to serious problems in relationships.
If someone has a habit of getting jealous easily, then you shouldn't expect them to treat you very well. He might even try to control your every move in an effort to keep you "safe" from him.
6. He has trouble committing to one job or career
Job and career stability are important when it comes to building a strong foundation for a long-term relationship. If a man can't commit to one job, you probably shouldn't expect him to be reliable in other ways as well.
7. He has no long-term goals or dreams
Without dreams for the future, it can be difficult to have a sense of purpose in life. This can make a person seem rather apathetic and unmotivated, which is certainly not a good trait in a partner.
Related Reading: 

Long Term Relationship Goals Is This Still Possible

?
8. He doesn't take responsibility for his actions
It can be difficult to make lasting changes in one's life if they aren't willing to take responsibility for their actions. This is especially true when it comes to relationships since couples are put under a great deal of pressure to maintain a healthy dynamic together.
If he refuses to take ownership of his behavior, then it's probably because he's unwilling to accept any responsibility for how his actions affect those around him.
9. He's self-centered
A guy who puts himself first in everything he does is not worth pursuing as a long-term partner.
This is because a lack of empathy can quickly lead to a toxic relationship where each person in the relationship is more concerned with their own needs than the needs of the other.
Ultimately, this can lead to resentment and an unhappy ending.
10. He has an unhealthy obsession with sex
Many people claim that their significant other is their soulmate, but the truth is that sexual compatibility is just as important as emotional compatibility.
If he spends most of his time fantasizing about having sex with someone else, then he's probably not ready to settle down with one person for the rest of his life.
11. He lacks self-control
If one wants to be successful in any area of life, then they have to be able to control your own impulses. This is true of relationships as well since the lack of self-control can cause a lot of problems within a relationship.
This is probably an even bigger deal for someone considering marriage since they must share everything in life with their partner, including their finances and emotions.
12. He has a substance abuse problem
People become addicted to substances for various reasons, but the most important one is peer pressure.
So, your partner could have a substance abuse problem. This will distract him from the serious relationship, and your bond with him will suffer because he doesn't pay a lot of effort or attention..
13. He doesn't care about his family
If someone doesn't care about their family, it may be a red flag that they are not emotionally mature or capable of forming strong, healthy relationships. This behavior may indicate that they are not ready for a romantic relationship and may struggle to prioritize the needs and feelings of a partner.
Communicating and establishing clear boundaries and expectations in any relationship is important.
14. He is arrogant and self-centered
If someone is arrogant and self-centered, it may be a sign that they are not ready for a relationship. A lack of empathy and consideration for others can make it difficult to form a healthy partnership.
If he shows negative traits, there is also a good chance that he will become abusive towards you at some point down the road.
15. He has a bad temper
If you have an explosive temper and you frequently lose your temper over small things, then you need to work on it before you enter into a serious relationship.
After all, you can't expect to share your life with someone who is going to yell at you and throw things at you on a regular basis.
Related Reading: 

20 Signs your Man Has Anger Issues and How To Resolve Them
16. He is immature and irresponsible
This is something that most kids deal with at one time or another, but it usually gets better as they get older. If your boyfriend acts like a teenager, then you should think twice before marrying him.
This could be one of the signs he likes you but isn't ready for a relationship.
The fact is that you are not going to see much of a change from him in his twenties to what he is now if you end up getting married to him. And if his maturity doesn't improve over time, then you are going to have a problem on your hands.
17. He has poor self-control and lacks self-discipline
A lot of men struggle with this aspect of their identity because they are so used to being able to do whatever they please whenever they want, whether it is at home, at work, or out in public.
And unless they are taught the importance of controlling their temper and acting responsibly, they will continue to act this way for many years after they get married.
It is up to you to teach him that his behavior is unacceptable and that he has to learn to control himself before he can be in a relationship with you.
If he resists your attempts to change his behavior, you need to end the relationship immediately before he gets too far gone.
18. He hasn't been intimate with anyone else for a long time
If someone hasn't been intimate with anyone for a long time, it may indicate that they are not ready for a relationship. They may need time to work through past emotional or physical issues before fully engaging in a new relationship.
This is also a problem because it could lead to infidelity down the road. The last thing you want is to confront him about cheating after you are already married.
19. He isn't emotionally stable
This is a really big problem with a lot of men these days because they rarely deal with their emotions in a healthy way. Instead, they tend to bottle up their feelings inside themselves until they are ready to explode without warning.
If they do happen to explode, you have to be prepared to take a step back and ensure that you don't become the target of his anger.
20. He isn't financially stable
This is one of the biggest problems because people might not know how to do things the right way when it comes to managing their money. They often wind up spending money they don't have on things they don't need to impress people they don't even like.
Make sure that he doesn't fall into this trap and that you don't end up having to end up supporting him for the rest of his life just because he is incapable of taking care of himself.
Know the 5 things you need to understand while waiting for his financial stability:
5 reasons why he may not be ready for a relationship
It can be hard to know when someone is ready for a relationship, but some clues can help. Here are five reasons why your guy may not be ready for a relationship just yet.
1. He is insecure
Any man who is insecure is not ready to commit to a monogamous relationship. He has probably got his own issues to deal with first, and it may take him a while to find himself and get past some of his insecurities before he is ready to open up his heart to someone new.
2. He may have commitment issues
A man who does not have strong commitment issues in his past will probably not have a strong foundation for building a long-term relationship. But if he has baggage from previous relationships, he may have a hard time trusting you enough to get past his fears and be with you for the long haul.
3. He is afraid of commitment
Some men are just not cut out to be committed or ready for a serious relationship. When he says he's not ready for a relationship, it means he simply lacks the emotional maturity and commitment it takes to make a long-term commitment to one person.
4. He needs more time to heal from his last relationship
When a man says he's not ready for a relationship, he could have gone through a painful breakup that ended badly or involved cheating. He may be too hurt to trust anyone else for a very long time.
5. He has trust issues
If he has trust issues, he will likely have difficulty opening up and exposing himself to another person. This may make it difficult for him to form a deep emotional connection with you and will prevent him from building a long-lasting relationship.
5 things to do when he is not ready for a real relationship
When it comes to relationships, many people seem to think that if their partner is not ready for a real one, then they are not ready for a relationship at all. This is simply not true.
Here are 5 things to do when he is not ready for a real relationship.
1. Be patient
Most people think that being patient is a waste of time, but it actually makes much more sense to be that way than rush into things or try to get your partner to want the same thing you want.
When someone is tired of waiting, they will probably just decide to walk out the door rather than deal with you waiting around for him.
2. Be kind and loving
You might think, "He is not ready for a relationship, but he loves me," there is no need to argue or be negative with him when he is not being ready. Just be positive and loving with him, and he will warm up to you faster that way.
3. Make him feel special
Let him know that he is special to you and that you want him in your life. When he feels like he is the center of the universe, then he will be more receptive to your ideas of a relationship.
Related Reading: 

13 Ways to Make Him Feel Special in a Long Distance Relationship
4. Talk about the future
If you talk about the future with him, he will feel that he is getting closer and it will increase his chances of getting what he wants. It will also help to calm him down and set his mind at ease about the prospect of a relationship with you.
5. Keep doing your thing
If he's not ready to commit, you still have it will be easy for you to become distracted and lose focus on what is really important – yourself and having a good time.
Plus, you never know what may happen in the future, and you may both decide that you are ready to date in the future.
Takeaway
If you recognize some of the signs he is not ready for a relationship we've discussed in your own relationship, it might be time to consider seeking relationship counseling.
With the help of a qualified therapist, you and your partner can work through any issues that may be holding you back from achieving a healthy, fulfilling relationship. Remember, it's never too late to seek help and make positive changes in your love life.
Share this article on
Want to have a happier, healthier marriage?
If you feel disconnected or frustrated about the state of your marriage but want to avoid separation and/or divorce, the marriage.com course meant for married couples is an excellent resource to help you overcome the most challenging aspects of being married.
More On This Topic
You May Also Like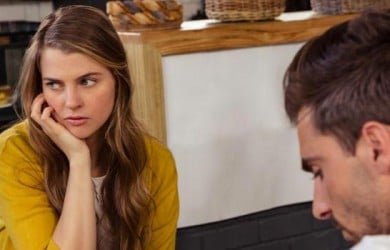 Popular Topics On Married Life