Is My Relationship Over? When to Know It is Not Working
Couples fight. It's a normal part of a relationship.
But there are times when it escalated into something messy that neither of you expects. Suddenly it hits you. "Is my relationship over?" "What have I done?" and "We can no longer go back from this."
What most people fail to realize is relationships do not just fail.
There are signs your relationship is failing way before the big fight. The fight is just the tipping point. But it didn't get there overnight, it took some time to fill the glass and make you wonder, is my relationship over.
Signs your relationship is over
To find the answer to the question, is my relationship over, here are some red flags to look out to see when things started going downhill.
You don't communicate

– Either it ends up in an argument, or you just can't stand hearing the childish reasoning of your partner, a

breakdown in communication

is the biggest red flag in a relationship.

Sex is a chore

– You don't know when it started, but when you or your partner feels that

sex is no longer fun

. But something you have to do because you're in a relationship, then that's a bad sign.

You avoid each other –

If one or both partners purposely avoid talking, meeting, or being in the same room with their lover, then it's one of the signs a relationship is not working.

You argue over the same things

–

Couple arguments are normal

, doing it as part of your daily routine is not. That is especially true if you are always fighting about the same thing over and over.

You reach outside of the relationship for support

– A relationship or marriage is called a partnership for a reason. You are supposed to depend on each other. It's even part of most

wedding vows

. The moment you stop doing that is a big red flag.

Infidelity

– Getting caught cheating is a common tipping point for a lot of relationships. It's a slap in the face that says, "Our relationship is over." A lot of people cheat and get caught because they want their partner to know they no longer care.

Feeling of loneliness

– It is possible to

feel lonely in a relationship

. When you are isolated, exhausted, and stressed continuously by what your partner says or does, you can't help but feel lonely.

You negatively affect each other

– For one reason or another, looking at your partner annoys you. Then you don't need to ask, "Is my relationship over," You are already in the tipping point and only waiting for the trigger to explode.
How to know if your relationship is over
If you or your partner have more than a few flags mentioned above, then the relationship is already over. It's just waiting for a formality at this point. The warning signs are there, and it's the only thing that's occupying your day.
You have to make a choice to turn the situation around or walk away.
Deciding when to end a relationship is a complicated situation. It's possible that you are being threatened, or you have young children to raise. It can also be a case of not being able to support yourself financially once you end it.
In cases like these, you feel trapped and continue with the toxic relationship until an alternative presents itself. An option that sometimes never comes.
If nothing is tying you together and you have all the signs it's time to end a relationship. Then do it. There's no point in forcing yourself when you are no longer compatible. There are times when taking a break to clear your head can help you figure out if it's still worth it or not.
When you know it's over, but you want to turn things around, then you should be prepared for an uphill battle.
Also watch:

How to revive a dying relationship
Reopen communication

– A lot of fights are born out of misunderstandings and overreaction. Talking with your partner when both of you are not angry with each other can give you a chance to lay your cards on the table.

Rekindle the flame –

Bad relationships are also born out of a loveless partnership. It's not that you don't love each other, you just don't show and feel it anymore. You and your partner no longer go out of your way to please the other.

Get professional help

– This is always an option for couples who want to continue with their relationship, but don't know where to start. Seeking outside help from experts is an excellent first step. If you and your partner can cooperate long enough to

find the right therapist

for you, then you're on your way to a proper reconciliation.

Return respect

– A lot of couples break apart because they feel that their close relations give them the right to meddle with every aspect of their partner's lives. This is a big reason why a lot of people feel their relationship is suffocating and leads to other problems. Respecting your partner and returning the special treatment you gave when you were younger can rebuild broken foundations.
Knowing whether or not your relationship is over is irrelevant.
It follows that the question "Is my relationship over" is the wrong question to ask. The right question is and always has been, "do you want to continue your relationship." You can end it any time and deal with the consequences.
It's never about being knocked down. It's all about getting back again.
Share this article on
Want to have a happier, healthier marriage?
If you feel disconnected or frustrated about the state of your marriage but want to avoid separation and/or divorce, the marriage.com course meant for married couples is an excellent resource to help you overcome the most challenging aspects of being married.
More On This Topic
You May Also Like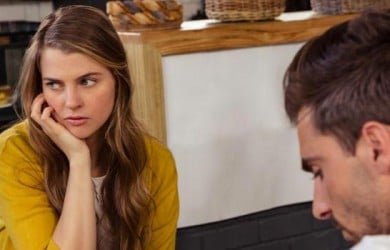 Popular Topics On Married Life