Religious Conflicts in Families: The Etymology and How to Solve Them?
The question of whether religion causes or reduces family conflict has been answered countless times. Many scholars investigated the connection between religion and conflict.
They tried to analyze the role of religion on the family to give a good, informed answer, but if you take a look at the results of multiple studies, chances are you'll have more questions than answers.
To summarize the large body of research on this topic, researchers have split into two groups. The first group claims that religion increases family cohesion and contributes to fewer conflict cases while the second one's views are exactly the opposite. The problem is, both of the groups have a lot of evidence to support their claims, which points to only one logical answer to this question.
Only you and your family can decide whether what kind of impact religion has on your family's cohesion and well-being and how you can reduce religious conflict within families, in case of any.
Our job in this article is to present you with facts and typical outcomes in a situation where religion plays a significant role in holding a family together.
If you are aware of how the religious differences in a relationship or religious conflict within families, can destroy the whole essence of all your relations, you can be more knowledgeable and make smart decisions.
The impact of religion on family functioning
The relationship between religion and conflict in the family has been studied extensively by many scholars in different cultures with two main goals:
Investigate how parents transmit their religious beliefs and practices to their children

The impact of religious beliefs and practices on family conflict
Research shows that many family psychologists and psychologists of religion have defined religion to be an important factor in family functioning.
This is explained by the fact that religion is one significant aspect of the value that parents typically transmit to their children. That's why parents play the deciding role in faith formation in their children in most cases.
In other words, the choice of faith and religious attendance in most families in all cultures is the outcome of intergenerational transmission of religious practices and beliefs from parents to their children.
In fact, the influence of parents is especially strong in the field of religion, as the vast majority of young individuals chose to identify with the faith of both parents or either their father and mother.
It makes perfect sense: if parents raise their children in a certain religious way, chances are very high that they will get used to it and follow in the footsteps of their parents.
Even though the children may not follow such practices as performing religious rituals and discussing religion at home, the religious behavior of parents greatly influences the religious commitment of children.
That's why many researchers consider families an excellent place for studying religion and conflict, and to analyze the impact of religious conflict within families.
Religious conflict within families
Issues involving religion can lead to conflicts in families whether the members are religious or not. The reasons for this outcome are numerous and include but are not limited to:
Children beginning to question the religious practices and beliefs of their parents.

Conversion of a child to a different religion that upsets parents.

Children being involved in drinking alcohol and other activities that religion forbids and/or views as sinful and negative.

Having different views on moral issues where religion has a certain stance. For example, a conflict may occur when a decision of a family member to have an abortion directly contradicts the beliefs of the rest of the family.

Choice of a boyfriend/girlfriend or a life partner. If a child chooses to be with a person from another faith, the parents might be upset or even share negative feelings towards the union; living with a partner from another faith can also cause a range of conflicts when making important decisions, i.e. which school should the kids go to.

Choice of a career or a job. Children may choose jobs that contradict religious views in their family; one example is choosing to be a member of the military and get shipped to conflict zones.
Clearly, there are numerous instances where religion and conflict are intertwined.
So, knowing how to deal with these situations involving religious differences in a relationship or religious conflict within families, is a profoundly important skill. The skill of dealing with issues revolving around religion and conflict, can save relationships and improve family cohesion.

How to solve religious conflicts within families
When the question of religion and conflict arises, every religion says that the relationships within a family should be based first and foremost on responsibility, mutual respect, and love.
For example, according to Islam, both parents and children should not cause any harm to each other; Christianity also teaches parents to love and respect their children whose responsibility is to honor their mother and father.
Without a doubt, the best thing to resolve the issues adhering to religion and conflict is to try to understand each other's motives and views on a situation.
For example, even a severe conflict involving two spouses from different religions can be significantly reduced if they educate each other about the goals and meanings of their actions as well as decisions and celebrations in their respective religions (if applicable).
Once a person understands the meaning and motivation behind an act or a decision, they have a chance to take a step forward and explain their own goals and motives as well.
Keeping an open and mutually respectful dialog is a critical goal while dealing with religion and conflict, as the two parties can start building a bridge towards mutual understanding in other similar conflicts.
As in many different situations, communication and education make it possible to learn how to respect each other's decisions and choices and get over the stressful arguments pertaining to religion and conflict.
Final thoughts on religion and conflict
Religious conflicts can occur in all families regardless of whether they're religious or not.
That's why learning how to deal with religious differences in a relationship and the religious conflict within families is an important skill to maintain the quality of relationships as well as family cohesion.
Hopefully reading this article will be one of the steps you'll take to understanding sources of religious conflicts in families as well as improving your skills of their resolution.
Also, remember that all religions teach us to respect each other and accept the decisions made by other people.
If you don't get over the issues involving religion and conflict, chances are that you'll lose the emotional support and a chance to continue your relationships with those people, which is an unnecessarily high price to pay.
Share this article on
Want to have a happier, healthier marriage?
If you feel disconnected or frustrated about the state of your marriage but want to avoid separation and/or divorce, the marriage.com course meant for married couples is an excellent resource to help you overcome the most challenging aspects of being married.
More On This Topic
You May Also Like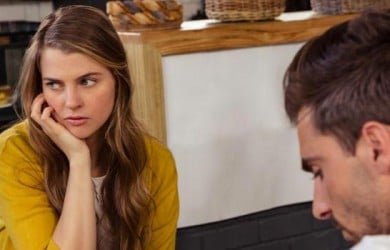 Popular Topics On Married Life