6 Month Relationship Stage What to Expect
Some say that the sweetest and the most beautiful part of any relationship is the "honeymoon stage." While others prefer to start preparing after the 6-month relationship stage and focus on their long term relationship goals, some would rather consider marriage. Regardless of how you label your relationship, there will come a time where everything gets real, where romance isn't the only glue that is holding you together. This is where the real relationship starts.
Do you ever wonder why the 6-month relationship stage is often perceived as the make or break time of your relationship? During the first 6 months of your relationship, you get that butterflies in your stomach feeling, you get that excitement, and thrill of being head over heels in love. As they say, this is when everything seems to focus on just getting to know each other, getting comfortable and getting the most out of this new relationship.
Do you ever wonder if you will go past the 6-month honeymoon stage? If you are, here are some things that you might want to check out.
What works
In a relationship, we do our best to work things out and we go as far as changing just for the person that we love. In all our efforts, we'd love to share that the following are signs you're on the right track towards long term relationships.
1. You make travel plans together
It's easy to date and have fun but when both of you start thinking of traveling together then it's definitely a good sign. We want to see couples be confident enough to travel even once or twice during the 6-month relationship stage.
2. You feel complete with each other
Do you ever feel complete when you're with your partner? Have you ever felt like this before? If this is the first time then you've got something real going on and that's just beautiful. Though don't be too confident, you still have to work your best to maintain this beautiful relationship.
3. You consistently make efforts to keep each other happy
How many months has it been since you started your relationship? Did you or your partner maintain your concern and sweetness for each other? Still see the same effort from your partner? This is one solid reason to be confident that you're up for a long term relationship. It means you're ready for something more serious.
4. You show off your partner to others
When your partner wants you to go with them whenever there's an occasion may it be with friends or officemates, then you're one lucky partner. This means your partner is proud of you and is confident enough to let you meet his colleagues and friends.
5. You introduce your partner to your family
In your 6 months of your relationship, has your partner invited you to meet his or her family? Have you done the same? If so, can you both consider being a part of each other's friends and family? You're both ready for your long term relationship goals.
6. You have faced struggles together
There's no real relationship without trials. If you are proud to say that you've had your fair share of problems and you've overcome them together, then it's all a good sign.
7. You have planned your future together
If you have started talking about moving in together or getting married then it's time to level up. Be confident but be open to change, be ready but don't rush.
If you are in a relationship where you are able to maintain who you are and your personality, then it means that your partner brings out the best in you. You've got a real thing going on…
What won't work
We all know that there is no perfect relationship, in fact, some relationships won't work in the first 6-month relationship stage and some won't even be able to hit the third-month rank. This happens when one is not able to compromise or is a narcissist. Aside from these, here are other reasons why certain relationships won't work.
1. Your partner is still recuperating from a failed relationship
If your partner is still broken inside because of a failed relationship in the past — then he's not yet ready. We're not looking for rebounds here, we are aiming for long term relationships so if your partner is still not over his or her ex, that's a bad omen.
2. You get a negative gut feeling
Trust your guts. If you think your partner is avoiding plans and question about your future, then it's already a sign that he's not ready for it.
3. You feel hesitant about your future plans together
While your friends have started moving in with their partners, yours, on the other hand, shrugs the idea of living together. Red flag right here.
4. Your partner doesn't acknowledge the relationship in public
What if your partner is everything you're looking for but he's just not the type to label your relationship or even call you his partner? Well, this may be the sign that you're asking for before you get out of this unhealthy relationship.
5. You evade your partner's privacy
Now, it's not always the other partner who has the problem why some relationships don't work, we all have faults like being overly jealous or you tend to control his every move and even check his phone. This will not work – guaranteed.
6. You fight a lot.
This is already an indication that you might not be compatible with each other.
7. You haven't met his family
You're almost into a half-year relationship but his family doesn't know you exist or vice versa.
8. You and your partner are not on the same page
If you're someone who's really eager to get married or have kids and your partner feels pressured about it — then it's not healthy. Marriage and being parents is for long term relationship goals and should not be because you were pressured into agreeing.
A step further – Long term relationship goals
Dating is a part of life and we all want to progress into long term relationship goals and even marriage and family. However, not all relationships will be successful, you might find yourself not hitting the 6-month relationship stage but this isn't the reason to stop loving or to stop trying. Don't just be in a relationship; rather work hard to maintain your relationship. Some say that the first few months will test your love for each other, some say it's the happiest part of the relationship — at the end of the day, as long as you are willing to compromise, understand and love, then you are doing good in finding your partner for life.
Share this article on
Want to have a happier, healthier marriage?
If you feel disconnected or frustrated about the state of your marriage but want to avoid separation and/or divorce, the marriage.com course meant for married couples is an excellent resource to help you overcome the most challenging aspects of being married.
More On This Topic
You May Also Like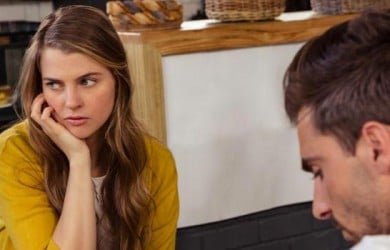 Popular Topics On Married Life