What Is the Psychology of No Contact on the Dumper?
How do you explain the psychology of no contact on dumper? Breaking up in any kind of relationship is not easy, whether you are the dumper or the dumpee.
This may explain why the no contact rule psychology is employed in many cases. By snapping all forms of contact with an ex, both parties involved will have an easier time moving on.
What do psychologists say about the no contact rule?
The term's name explains what it means – no contact with your ex following a breakup.
You cut all ties with them – no phone calls or text messages with their friends and family members. You will try to remove your ex from your world during the period and learn to live without them.
The no contact after breakup psychology will only work if both parties commit to it. There shouldn't be any gray area.
You can't ask for a break from the rule when you suddenly find yourself missing your ex or someone you both know is asking a favor to give something to your former partner. It won't work that way.
It is difficult, but you will only benefit from the power of no contact if you stick to the plan no matter what.
There are many phases of no contact, but from the beginning, you both have to delete each other's numbers, block your ex on your social media accounts, get rid of anything that will remind you of your ex, and tell your friends about what you are going through.
You will need their help to finish all the stages of the no contact rule. The people in your circle need to know.
This way, they will stop telling you anything about your ex, and they won't insist that you come to events where you could potentially meet your former partner.
Should you contact the dumper after no contact?
No matter what you think, don't. Stop thinking about how the dumper feels during no contact or what's the no contact dumper's point of view. It won't help to look for answers to – are dumpers afraid to contact.
Stop overthinking about the dumper and dumpee psychology. It won't help you at this point.
You have to look at it this way. The psychology of no contact on dumper is a coping mechanism to help you think hard about what went wrong and how you could be a better person and a potentially better partner to the next person who will come along.
Instead of thinking about your ex, you have to focus on self-improvement and healing.
The no contact rule psychology is not about making your ex miss you so that they will make the first move. This is a common mistake many people make until it becomes an obsession. If you succeed in getting back with an ex because you've made them miss you, the relationship will likely fail.
How come? As a piece of breakup advice for the dumper, you have to give yourself and your partner time to look after yourselves separately while ensuring that you keep your distance.
It defeats the purpose of the process if you are only doing this because you want to be missed. You have lost something precious, so you have to give yourself time to grieve it.
The psychology of no contact on dumper will give you the time and space to think about your plans and what you want to happen in life, even if it means that it will no longer involve your ex. You have to use this time to get your mind thinking properly.
There will be times when you want to reach out to an ex and beg to get back together. When you feel that way, restrain yourself from doing something you might regret later on.
Understandably, you may be lonely. But will getting back with an ex without going through the proper stages of no contact rule make things right?
It might not. You are here at this stage because you might need help.
What is the psychology of no contact rule on a female dumper?
According to studies, women experience the more negative impact of a breakup. It doesn't matter whether they initiated it or not. Most women go through a difficult period of emotional anguish following a breakup.
However, compared to the psychology of no contact on male dumper, women recover faster and come out stronger. This may be because most of them have a strong support system, and they find it easier to open up to their families and peers.
What is the psychology of no contact rule on a male dumper?
If you think it is easier for males to recover from a breakup even if they initiated it, you are wrong. The psychology of no contact on male dumper is almost similar to the psychology of no contact on female dumper.
The male dumper also needs time to heal and think about the future. It may be harder to cope since most males aren't used to opening up about how they feel to family and friends.
The stages of no contact for dumper, who is a male becomes more challenging if his ex is the only confidante he has had for the longest time.
The no contact dumper perspective for males is challenging, but they have to stick to it to make it work. Remember that no timeline is followed when it comes to the psychology of no contact on dumper.
Some males would take longer to heal than others, while some men can recover from a breakup several days after. Some would also say they have moved on but will prove themselves wrong once they have broken the no contact rule.
So take your time. It's difficult, but it will be doubly hard if you won't take this time to think, care about yourself more, and work hard to become a better person outside of a relationship.
You must check out this book titled The No Contact Rule by Relationships expert, author, podcaster, and speaker, Natalie Lue.
How does the dumper feel during the stages of the no contact rule?
The psychology of no contact on dumper is different from what the dumpee has to go through during the phase. Here are the stages of no contact that a dumper usually goes through:
1. Relief
If you initiated the breakup, you might have a valid reason. It could be because the relationship was no longer healthy, you and your ex were pulling each other down, or it has become an abusive setup.
No matter your reason for wanting to break free from the relationship, you might feel relieved once you have achieved it. You may feel like it's the perfect escape.
2. Curiosity
After several days, a couple of weeks, or months, it depends on how the dumper feels during no contact rule; you will start getting curious.
You may wonder why your ex is not initiating contact despite the existence of the rule. You might think about why your former partner isn't making any effort to reach out to you.
You may also become curious about how they are doing; if they have already moved on or still hurting. You might want to find out if they are seeing someone new.
3. Obsessing about your ex
The questions about why your ex is not making a move to get back together might haunt you. You may become obsessed with thoughts of your former partner.
This is often the hardest among all phases of no contact. It might make you want to break the rule, throw away all concepts about the psychology of no contact on dumper, and initiate the contact.
Before you do, control your emotions and thoughts. You've reached this far. You can wait a little longer to finish all stages of no contact rule.
Related Reading: 

How to Get Over a Breakup: 25 Ways to Move On
4. Grief
If you are the dumper, you may feel more in control at the beginning of the breakup. But it might also hit you harder later on, especially when you realize that you have lost your ex forever and it's time to move to the last phase of the process.
Also Try: 

Quiz: How Should You Deal With Grief?
Why is grief important in moving on? Know more about it in this video.
5. Let go
At this point, you must have thought hard about things. You should have become a better person and realized valuable things from the relationship, your former partner, and the breakup.
You can now contact your ex and see where it leads. You have to accept no matter what the other person's decision would be. If they have decided to move on without you, accept the fate and let go.
Related Reading: 

How to let go of someone you love: 15 Ways
Takeaway
The no contact rule will help both parties who have decided to break up to move on and learn how to be better people outside of the relationship.
If you have found yourself struggling during the phases of the rule, it might not hurt to seek professional advice to help you deal with your demons.
If you think that the psychology of no contact on the dumper is easier than that of the dumpee, you may be mistaken.
It may be hard for you both, so stick with it and do your best to evolve as a better person from experience, even if it means accepting that you won't get your ex back ever again.
Share this article on
Want to have a happier, healthier marriage?
If you feel disconnected or frustrated about the state of your marriage but want to avoid separation and/or divorce, the marriage.com course meant for married couples is an excellent resource to help you overcome the most challenging aspects of being married.
Learn More On This Topic
You May Also Like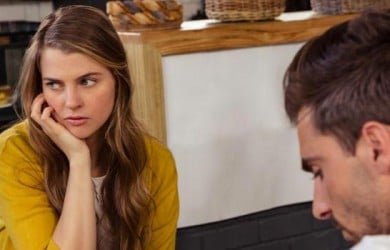 Popular Topics On Married Life