15 Benefits of Silence in Relationships
When you are married or dating, there may be times when you aren't talking or choose to be silent. This doesn't have to cause you any concern. Keep reading for additional information on the silent treatment and for 15 ways silence in a relationship may be helpful.
What does it mean to be silent in a relationship?
When you are being silent within your relationship, you are not talking all the time. In some cases, you may keep quiet when you disagree with your mate, or at other times, you could choose to refrain from speaking throughout the day.
The truth is that silence speaks volumes in relationships for many reasons. For instance, you may not need to talk with your partner because you are both comfortable with each other, even when you aren't having a conversation.
Additionally, you could be keeping your mouth shut to keep from saying something hurtful or because your mate hurt your feelings.
Whatever reason you choose to be silent may make a difference when it comes to how well you can get along and talk to each other.
Related Reading: 

How to Break Silence in a Relationship: 10 Simple Steps
Can silence affect a relationship?
Silence can affect a relationship significantly. Perhaps you are quiet in a relationship because your partner said something that hurt your feelings. When you don't react to what they have to say, this could cause them to realize that they were being unfair and apologize.
Moreover, by not responding to harsh criticism, you didn't say anything that you might regret later. You may also have prevented a major argument from occurring.
For more information on communicating in relationships, check out this video:
Does the silent treatment work?
The silent treatment is a major part of silence in a relationship. Essentially, this type of treatment involves not speaking with your mate for a certain period. There are ways that this can be handled respectfully by both of you, but on the other hand, anyone can use it disrespectfully.
Research suggests that whenever you and your partner are at odds, it may be beneficial to express this to them. However, this might not be possible in all cases. When it isn't, you may have to take advantage of being silent in a relationship.
This involves not saying anything to your partner for a while, but it doesn't require ignoring them in most cases. Instead, you can choose not to discuss an issue that causes strife or take a few minutes to yourself when you are upset and need to collect your thoughts.
How to use the silent treatment?
When you want to utilize silence in a relationship, you should ensure that you aren't being rude to your partner. In some instances, the silent treatment is used to punish an individual or get your way, but you should not act like this.
It would help if you considered using silence in communication instead. This means that you can be silent when you don't have anything to add to the conversation, trying not to say something hurtful, or knowing that things are tense and you want to wait it out.
It is necessary to communicate in relationships effectively, so it is acceptable to not talk to your partner when there is nothing to say, or you want to choose the best words for the situation.
Why is the silent treatment so effective?
The silent treatment works well because of the power of silence in relationships. When one person is saying something, and the other person stays quiet instead of arguing or escalating things, this could lead to a closer bond.
Alternately, when a person is being silent to get their way or a rise out of their partner, this is also effective since it may work. Ignoring your mate using the silent treatment could get them to do or say what you want them to. This is why it is important not to abuse the silent treatment. Consider using it in a manner that won't hurt your partner's feelings.
15 Benefits of Silence in Relationships
Here's a look at the multiple benefits of silence in a relationship that you may want to consider.
1. Provides time to think
One practical reason to stay silent is so you will have time to think about what you want to do or say next. Perhaps you don't have anything to add to the conversation or argument that you are having with your spouse. It is fine to say nothing until you determine the best response.
In some cases, thinking about your actions improves emotional intelligence. Emotional intelligence helps you understand how you should behave and how to interact with others.
2. Prevents you from saying hurtful things
When you don't say something right away when talking to someone or having a disagreement with them, this can prevent you from saying something hurtful. In other words, silence in a relationship can allow you to prevent offending your mate when you want to say something right away.
Taking just a few extra seconds to think before speaking can make a big difference.
3. Can show you are content
Staying silent is sometimes the best course of action. Perhaps you and your mate are watching television together and sharing a snack. You may both be enjoying yourselves, and there could be little reason to talk to each other at that point. Staying silent improves nonverbal communication skills, which can be pretty important.
4. Allows you to listen
When you aren't talking right away in a conversation, you will have an opportunity to listen to what the other person is saying. This may come in handy, especially if they try to lean on you for support.
Imagine how you would feel if you needed help, and a loved one wasn't listening to what you had to say and was talking over you. One of the reasons why silence is powerful in a relationship is because it allows you to think about things instead of acting on them without giving them some thought beforehand.
5. Causes fewer arguments
Another fact about the power of silence in a relationship is that it can lead to fewer arguments. When you are having a bad day and are frustrated, your partner might stay silent and let you get everything off your chest.
This isn't necessarily a bad thing. It might signal to you that they care and want you to blow off steam.
6. Keeps you in the moment
Keeping your mouth shut may also keep you in the moment, especially if you enjoy spending time with your partner.
If you have ever had special moments with your mate and then they were interrupted by someone speaking or making noise, this will likely make sense to you. It could clarify how silence in a relationship can make a big impact.
Related Reading: 

11 Ways to Have Quality Time With Your Partner
7. Helps you pay attention
If you aren't talking, even when someone is talking to you, this helps you pay attention to what is going on throughout the entire experience.
Your spouse may be yelling about how frustrated they are, and by paying attention, you might be able to address some of their concerns once they have finished telling you their point of view.
Besides that, staying quiet instead of arguing back could improve negotiation skills.
You can express how you listened to what they had to say next time you need to get something off your chest. If your mate respects you, they will allow you to do so because you were respectful to them. This is one of the key components of silence in a relationship.
8. You can plan your next move
Not talking can help you determine what you will do next as well. If you are having a difficult time getting along with your partner, you might need to consider all the available options.
When you aren't engaging in fruitless behavior or arguing with your mate, this leaves time to decide the proper course of action. This can also improve your resilience, so you can go with the flow and make decisions for yourself.
9. Might grow your bond
An additional aspect of the importance of silence in relationships is that it can help you grow your bond. When you are in the middle of breakfast, and you can sit there and eat together comfortably without feeling awkward, this could indicate a high level of ease between the two of you. This can be an essential part of a long-lasting relationship.
10. Helps you calm down
Instead of speaking when you feel like you are being verbally attacked, it may be helpful to stay quiet. This will also allow you time to calm down and prevent yourself from saying something simply because you are angry or your feelings are raw.
Keeping your words to yourself helps to control emotional responses.
When one person often says things because of their emotions, it may be helpful when the other individual in the relationship doesn't. Also, stopping yourself from lashing out can help you communicate more effectively.
11. It could be beneficial for health
Something else to keep in mind about silence in a relationship is that keeping quiet could be beneficial for your health in some situations. If you are not arguing with your mate or saying things you don't mean because you are upset, this could lower stress and anxiety.
12. May help you relax
You might not talk to your partner at times because you don't know what to say. However, when you can stay quiet and don't have to choose your words carefully or worry about what you will say next, this could allow you to relax a bit. You might be able to be with your partner without following a conversation.
13. You can communicate without words
For some couples, they may be able to communicate without words in several different ways. Think about if there are things that your partner does that signal how they are feeling.
They may give you a wink from across a room or get a particular look on their face when they are frustrated. These things allow for communicating without having to use words. Consider if this happens within your relationship.
Related Reading: 

Importance of Nonverbal Communication in Relationships
14. Gives time to heal
Talking right after your partner says something that hurts your feelings or insults you may not be the best course of action. However, practicing silence in a relationship can provide you with the time you need to heal and get over the remarks they made that upset you.
15. Might ease tension
Even if your mate didn't mean to say something rude to you, it might still be necessary to keep quiet about a comment they made or when you disagree.
This could ease some of the tension occurring, and after a while, you may not be bothered by it anymore. It is possible to forgive your partner without saying a word to them.
Conclusion
Instituting silence in a relationship can be a helpful thing when it is handled correctly. This is because keeping quiet can ease tension, allow you to consider what to do or say next, and it may also be a great way to get closer to one another.
Be sure that you are being quiet and respectful instead of using the silent treatment as a means to hurt your partner. If you find that you are doing this or your mate is, you may need to visit a therapist for additional support. Besides that, please do your best to communicate effectively with each other and keep your thoughts to yourself when you feel it is the proper course of action.
Share this article on
Want to have a happier, healthier marriage?
If you feel disconnected or frustrated about the state of your marriage but want to avoid separation and/or divorce, the marriage.com course meant for married couples is an excellent resource to help you overcome the most challenging aspects of being married.
More On This Topic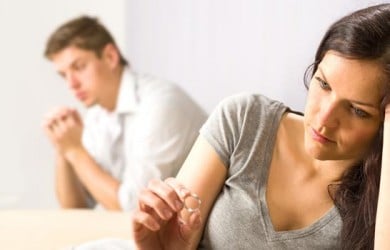 You May Also Like