Past Relationship Affecting Present Relationship: 11 Red Flags
Getting into and out of relationships is a part of life. It's natural how we learn to move on from a failed relationship and continue with our lives after finding someone more compatible.
But sometimes, a heartbreak can leave us with imprints that are hard to go and can get carried forward to our next relationship even if we don't realize that.
There will be times when you feel your past relationship is affecting present relationship by causing unnecessary trouble or creating uncomfortable situations for you and your partner.
The truth is, your past relationships can affect your current one and sometimes, in negative ways.
Do you think 'past relationship affecting present relationship' is possible in your case? Maybe you're experiencing it firsthand. So, here are 11 warning signs to watch out for.
11 sure signs your past relationship is affecting your present relationship
Past relationship affecting present relationship is more common than you think. Here are 11 signs to watch out for:
1. You attract the same type
Your past can haunt you. If you have alcoholic parents, you might notice that you always end up attracted to the same type of people.
It's that pattern that keeps on coming back to you because you're not totally healed. Subconsciously, you keep on coming back to the same pattern because you have unresolved issues.
2. You feel uncomfortable being intimate
Do you feel scared to get physically intimate? Do you feel like you're terrified to show your vulnerability?
Past relationship trauma can cause a person to be reminded of traumatic events, triggers, and even stress.
3. You still suffer trauma
Do you get triggered by the slightest change in your partner's tone of voice? How about words or reactions?
These emotional buttons, for a person who is not yet totally healed, could cause their hidden wounds to resurface.
Healing from past relationships may, at first, seem easy, but when these buttons are pushed, the fear, trauma, and stress would flood back in.
4. You disrespect yourself
One common example of a 'past abusive relationship affecting new relationship' is when you don't hesitate to disrespect yourself.
This unhealthy habit stems from abuse from a past relationship.
It's the mindset that the abuser has planted in their victim's mind that could still be there, even in their present relationship.
5. You are haunted by your past
Is it normal to not talk about past relationships when you've experienced abuse?
Sometimes, even if they don't tell us, there are scenarios that could haunt them over and over again.
It's like re-living a nightmare. Even if you are already in a new relationship, there will be times that you'd experience extreme fear over your past.
6. You lack trust
Past relationship affecting present relationship could show through a lack of trust. You're just too afraid to let your guard down and give 100% of your trust.
7. You always compare
As unfair as it may seem, past relationship affecting present relationship manifests through comparisons.
You may start accusing your partner of being a cheater, or maybe, you might think that they may also start being abusive towards you.
Because you're still caught up with your past problems or issues, these could show and affect your current ones.
8. You feel insecure
Letting go of past relationships that had issues such as infidelity can be hard. This can affect you in your new relationship.
If your ex was a cheater, you could start being jealous and insecure with your new one too.
9. You're filled with anxiety
Past relationship affecting present relationship could show through increased anxiety. If not treated as soon as possible, this could be uncontrollable and will affect your life, love, and relationship.
10. You struggle with communication
Past relationship trauma can have an effect on communication. Some people who had a bad experience with their past relationship may find it hard to open up and connect with their new partner.
Sometimes, we get defensive and fail to listen to the other person. Listening is a very important part of effective communication.
This is why Terri Cole, licensed psychotherapist and global leading expert in female empowerment talks about how to stop being defensive and start listening:
11. You have tainted joys
Tainted joys or tainted pleasures happen when you no longer feel happy or thrilled with the things that used to make you excited.
Either you feel guilty, or you remember bad memories about it. It could be a food, song, or even a place.
Is it healthy to talk about past relationships?
Should you talk about past relationship affecting present relationship?
When you begin a new chapter of your life with a new love, it's important to address and close the chapter on past relationships.
What if there are unresolved issues or abuse that are affecting your current relationship?
If this is the case, then you need to address and resolve them so that it won't affect your current relationship.
Relationship counseling is highly recommended if you have emotional or physical scars from a past relationship.
Additional questions about the effects of past relationships
Getting over your past is important not just for your relationships but for overall life satisfaction. Here are some more questions based on moving on from your past.
Can past relationships affect your new ones?
Yes, past relationships could indeed affect new ones.
Carrying the emotional baggage of a past relationship can affect a new relationship if you are not over your ex.
This could be from abuse, lingering feelings, or unresolved issues.
By acknowledging the impact of past relationships and doing your best to heal and move forward, then you will have a greater chance of having a better and harmonious relationship.
How to stop bringing up the past in a relationship?
"How to not let past relationships affect new ones? Is there a way?"
Focus on the present and avoid bringing up past events. For example, you and your ex used to love having weekend movie nights, and you're doing it now.
You don't need to tell this to your current partner or mention other details that you had with your partner.
Respect your current partner and enjoy what you have now.
Does someone's past matter in relationships?
Every past relationship is different.
Some people have unforgettable exes because of their happy memories, some suffered abuse, while others experienced infidelity.
These scenarios will have different effects on your current relationship. We should also consider how you have moved on from your past relationships.
Does someone's past matter? Well, it depends.
If it involves abuse, then it's just right to help this person overcome any trauma left behind. If it was cheating, then it's also important to show assurance and love.
Each situation is different, and while someone's past is important, we should never forget that we should close that chapter and focus on the present.
Living in the moment
Choosing to love and be loved is a beautiful life event, but it's not always happily ever after.
Sometimes, past relationship affecting present relationship happens and you should know how to get over this situation.
This is where we should communicate, assess the situation, and seek professional help if needed.
Closing the door to your past, may it be good or bad, is the right thing to do for you to live your present life to the fullest.
Share this article on
Want to have a happier, healthier marriage?
If you feel disconnected or frustrated about the state of your marriage but want to avoid separation and/or divorce, the marriage.com course meant for married couples is an excellent resource to help you overcome the most challenging aspects of being married.
Learn More On This Topic
You May Also Like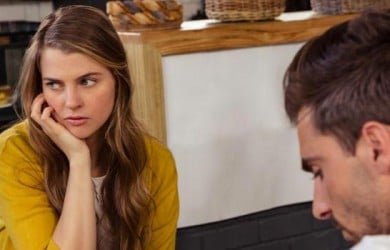 Popular Topics On Married Life