Online Relationship Advice- 5 Quick Tips to Improve Your Love Life
We live in a time where there are big chances for many of us to engage in an online relationship. And, in that case, you might perhaps need online relationship advice.
It is essential to learn a few tricks if you want to have a healthy online relationship. If you are seeking to improve your love life, you can get relationship advice online for free.
In this article, however, we are answering some of the most critical relationship advice questions that people are interested in. Read on for an essential piece of advice to have a happy and fulfilling online relationship.
1. Online dating is a marathon, not a sprint
If you have any relationship advice questions, getting the right answer is incredibly important.
To find a special person online can be a hard job. And, it would be best if you are prepared for ups and downs.
You should be patient to expect the best. So, be prepared to invest a reasonable amount of time in doing thorough research.
Always be genuine and real when texting and before you meet someone.
According to several pieces of online relationship advice, you shouldn't lie on the online platform, even if you are tempted to do so.
Once you find that special one, your honesty will pay off, and it can be worth all the effort and time.
2. Smart communication
If you are already in an online relationship, it can be harder to communicate without the partner being actually around you.
Just as in a normal relationship, communication is the key to the success of your online relationship.
Everyone has a bad day. The beauty of relationships is that we can learn about ourselves more.
Another crucial piece of online relationship advice is to be open and talk about how you feel.
If you notice that you are getting emotional, it is better not to say anything. Finish the phone call until your mind is clear.
Sometimes you can act too sensitive, and it might not be that important. The art of listening is one of the most valuable qualities, especially in online relationships.
Listening implies you are deeply concerned about the other person's perspective. You respect their point of view.
If you ever opt for relationship counseling, you will find that relationship therapy questions majorly revolve around the tactics of smart communication.
There are some of the online relationship tips that you must consider before you start online dating.
You don't have to fear virtual dating at all. Just be mindful of every aspect of online dating so that you can enjoy it safely, and to the fullest.
3. Openness and honesty
It is so easy to misinterpret some words and actions while talking over the phone or via Skype. It is crucial to talk about how you feel while online dating.
According to several credible pieces of relationship advice available online, you should not assume that your partner knows how you feel all the time. It would be best if you express yourself freely.
Use kind words and reflect on the problematic behavior.
It can be easier to point fingers and project blame to our online dating partner. This is the common reason why people can be defensive and feel attacked while online dating.
They are nowhere close to feeling each other's energies, so there is a lot of room for the misunderstanding!
Always let your partner explain first before you jump to conclusions. These are the basics when it comes to therapist advice on relationships you have online.
4. Quality online time together
How you spend time with your loved one is crucial for the quality of your relationship, and here is an essential bit of online relationship advice for you.
It can be tricky if you are not physically close to each other. However, there are many innovative ways to spend some quality time together.
One of the underrated online relationship advice is to read beautiful love letters or poetry to each other while on the phone or Skype. You can also play video games together.
There is so much relationship advice online to help you decide how to spend online time with your partner, that you can feel lost. Nevertheless, this one is an excellent piece of online relationship advice to improve your intimacy.
We often get the best things in life by letting go of our own ways of how things should be. Compromise is a sacred word that you need to remember when it comes to online relationships.
Be mindful and listen to your partner's opinions and always be ready to change your direction of thought when it comes to making mutual decisions. Online relationship experts agree on this matter, as well.
5. Keep your safety your top priority
An online relationship can turn out to be the love of your life. But, you must tread this path carefully by prioritizing your safety.
Make sure that you do not divulge your intimate details too soon.
You must look out for any inappropriate words or jokes used by the person you have found online. Indecency should not be tolerated at any cost.
You can take your time to trust the person and go forward with the relationship.
If you decide to meet in person, make sure that the chosen place is safe for you to go.
A takeaway
We live in a technology age, and the following online relationship advice might improve the quality of your dating life.
By knowing and implementing a few handy tips, you can make your online relationship the best experience ever. You never know when and where you can find your soulmate, and the online dating scene can be a good starting place for you.
There are so many couples who started their relationship online, and they built a beautiful life. Always keep your mind open for new possibilities and bookmark our online relationship advice page!
Share this article on
Want to have a happier, healthier marriage?
If you feel disconnected or frustrated about the state of your marriage but want to avoid separation and/or divorce, the marriage.com course meant for married couples is an excellent resource to help you overcome the most challenging aspects of being married.
More On This Topic
You May Also Like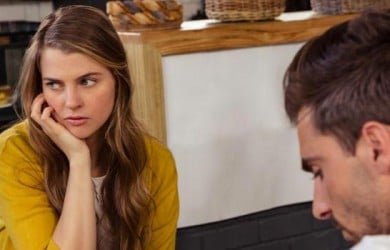 Popular Topics On Married Life