6 Great Love Tips to Make Your Relationship Healthy and Strong
Who doesn't want to learn a few great love tips? You know, advice on how to find great love or hang on to the love you've got. Whether you are new to the dating scene or long-married, it can be helpful to read some love tips from those who are in successful loving relationships. We brought together a group of these happy couples (and one single guy!) and asked them to share with us some of their tried and true love tips so that we, too, can be part of that select group of joyful people.
1. Never take your partner for granted
Jesse and Kaitlin have been living together for four years. "Love tips? I'd say that our biggest one would be to never take your partner for granted," says Kaitlin. Jesse agrees. "Everyday I tell Kaitlin that I love her and appreciate her presence in my life. I never let her head hit the pillow at night without telling her how special she is to me.
I was married before and I think part of the reason our marriage failed is that I took my wife for granted. I don't want that to happen again so I'm quite mindful of reminding Kaitlin how grateful I am that we are together."
2. Marry someone you not only love but truly like
Shirley and Robert are celebrating their 40th wedding anniversary this year. Shirley shares her love tips: "I married my best friend. I'm not kidding. Robert and I have been friends since elementary school. We started dating in high school and we got married after he graduated from the military academy.
Our marriage has seen a lot of changes; being in the Air Force meant we moved every couple of years. But since our love is anchored in a true friendship, we were able to navigate all these transfers. I know Robert has my back and I have his. There's an unbreakable trust in our marriage that sees us through the challenging times. So my love tip is this: marry someone you not only love but truly like."
3. Sharing the same expectations from the relationship
Philip and Carolyn are have been dating for one year. Philip tells us his love tip: "I think for a relationship to work, both people have to have the same expectations of what they want out of the relationship. This may sound odd to some people, but Carolyn and I wanted to have an 'open' relationship, what they call polyamory these days.
My last relationship didn't work out because my girlfriend wasn't on the same page as me, she expected complete faithfulness and monogamy. I didn't want that, so I broke up with her. Then I met Carolyn who is like me, wanting to have multiple experiences but also wanting one primary partner. My love tip is this: make sure your love partner has the same values and expectations regarding what you want out of the relationship as you, or you are setting yourselves up for conflict and disappointment."
4. Sharing the same values and aspirations in life
Leah and Samuel are recent newlyweds, after having dated for two years. Leah tells us her love tip: "I'd date a lot before I met Samuel. We were set up by friends from our synagogue. I had noticed Samuel before; he's tall and cute and fairly active in the temple.
But it wasn't until we were set up that I had a chance to talk one on one with him. Right away I knew there was something there. We clearly had the same values and came from an identical background. So all the stress that can happen when you are your partner come from different socio-economic classes just wasn't there. We had both graduated from the Ivy League and we both were working for well-known financial institutions. All of these things that we had in common made getting together smooth and easy. It's like we speak the same language.
Listen: when I was younger I was all about dating 'bad guys', you know, guys who were from the wrong side of the tracks. I thought that was sexy and made me look daring. My love tip is this: for a relationship to work well with as little conflict as possible, marry someone who is like you in terms of upbringing and aspirations. It will make things much easier."
5. Find someone who is different from you
Alisha and Randall tell a very different story. "I love that Randall was totally different from me. I don't want a partner who is a carbon copy of my life. That's just boring. I want someone whose narrative teaches me something, and Randall is like from another world.
He immigrated from Haiti when he was a teenager. His family was poor and uneducated but knew they could have a better life here in America.
Me?
Born and bred right here in New Jersey. No one could be more 'typically American' than me. I think great relationships are made when the two partners can teach each other something, so diversity within the couple is a good thing. My love tip? Look for that person that will open your world to something you didn't even know you were missing."
6. Define what you don't want in a partner
Lastly, there's Mark. Mark is not yet in a relationship, but active on several dating platforms. "Something I've discovered about finding love through dating websites is this: you can't have a hard list of what you are looking for in a partner. But it is helpful to have a list of what you aren't looking for.
I'm very open to being flexible about what I'm seeking, but there are a few non-negotiable things that say "no deal" to me as I look through the women's profiles. And you have to stick to these non-negotiables, no matter how much you want to be in a relationship. My love tip is this: rather than knowing what you want, you'd do better with defining what you don't want."
These handy tips will definitely help you with your love life. While there is no specific recipe to a successful relationship, some simple advice can guide you get through it better.
Share this article on
Want to have a happier, healthier marriage?
If you feel disconnected or frustrated about the state of your marriage but want to avoid separation and/or divorce, the marriage.com course meant for married couples is an excellent resource to help you overcome the most challenging aspects of being married.
Learn More On This Topic
You May Also Like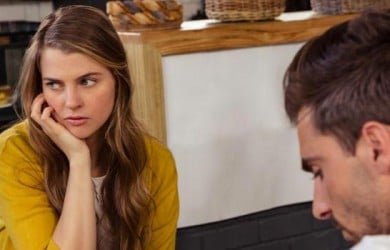 Popular Topics On Married Life