10 Signs of Mommy Issues in Women and How to Fix Them
You've probably heard someone describe a man as having "mommy issues" if he is immature and relies upon a female partner to care for him, but mommy issues in women are also possible.
The psychology of mommy issues can help you understand what this means and how you can overcome these issues if you're experiencing them.
Here, learn answers to the question, "Do I have mommy issues?" so you can begin to solve problems related to your relationship with your mother.
Also Try: 

How to Tell if I Have Mommy Issues
What are mommy issues for a woman?
The term "mommy issues" often refers to a situation in which a person has a strained relationship with their mother, to the point that the strained relationship affects other important relationships, such as those with a significant other.
Frequently, different types of mommy issues result from deep-seated childhood problems, such as extreme conflict, emotional distance, or abuse from a mother. When these problems go unresolved, they continue to affect a person as an adult, leading to the appearance of mommy issues in women.
10 signs of mommy issues in women
If you feel that you might be experiencing signs of mommy issues, you probably want some sort of confirmation that your suspicions are true. The symptoms below can be signs of mommy issues in females.
1. Neediness in relationships
Mommy issues in relationships can show up in the form of neediness. If your mother was emotionally distant and did not meet your needs for care and affection, you are likely to cling to your partner to provide this nurturance to you.
Related Reading: 

How to Stop Being Needy in a Relationship
2. Difficulty expressing affection
We learn a lot about relationships from our parents. If your mom was emotionally cold, you might also struggle to show affection to your partner because you were never given a good example of it.
This can lead to problems with intimacy in adult relationships and lower quality of relationships if you are experiencing the signs of mommy issues in women.
3. Detachment in relationships
Just as girls with mommy issues may struggle with affection, they may become emotionally detached in relationships. Because they struggle with their mother, they are afraid to get too close to their intimate partners.
4. Caretaking for others
Another one of the mommy issues symptoms is excessive caretaking for other people. This can come from having a mother who was overbearing and never allowed you the freedom to be yourself or make your own decisions.
She may have been overprotective and solved every problem for you, which can lead you to take on a caretaker role and sacrifice your own needs in your adult relationships.
5. Tension between you and your mom
Even if you can't quite put your finger on the exact problems between you and your mom, if your relationship is strained, there are probably some underlying mommy issues.
Unresolved problems from childhood tend to keep cropping up in adulthood, so tension with your mom suggests there are some mommy issues still going on.
6. Insecurities
In some cases, mommy issues mean that your mother was incredibly critical of you growing up.
Maybe she criticized your appearance, or perhaps nothing you did was ever good enough for her. This can lead you to feel highly insecure as an adult because if you can't please your mother, how can you please anyone?
Related Reading: 

8 Signs Indicating Insecurity in Relationships
7. Extreme people pleasing
If you lacked love and affection from your mother, you might try to do everything you can to get affection elsewhere. This can mean excessive people-pleasing behaviors.
How do you know if you have mommy issues? You may go out of your way to make other people happy by doting on them, buying expensive gifts, or doing favors for them, even if you aren't getting the same level of care in return.
8. Controlling behavior
Mommy issues in women can sometimes manifest in the form of controlling behavior toward others.
When your own mother is controlling, you may learn that it is acceptable to control others. This can cause you to be rigid in your relationships, expecting people to behave a certain way. You can become upset and try to control other people when they don't meet your expectations.
Related Reading: 

25 Signs You're in a Controlling Relationship
9. Being overly critical of others
Mommy issues signs in females include an overly critical personality. If you have mommy issues as a woman, your mom was likely overly critical of you.
Since we learn by watching our parents, you, too, may become overly critical toward other people. This can mean that you perceive slight flaws as disastrous, and you may become angry with people for minor mistakes or imperfections.
10. Lack of independence
While we often think of mommy issues in women as coming from an emotionally cold or neglectful mother, sometimes mommy issues come from having a mother who was overly protective and overindulged us. This can lead you, as an adult, to struggle with independence.
You may rely on other people to make decisions for you or handle your responsibilities.
Related Reading:  

How Being Too Independent Can Destroy Your Relationship
Psychology of mommy issues
Now that you have a better idea of the answer to, "What does mommy issues mean for a girl?" you may be wondering about the psychology behind mommy issues in women.
Much of what we know about mommy issues comes from Bowlby's attachment theory, which says humans are innately wired to seek connection or attachment with their caregivers.
When young children form healthy attachments with their caregivers, they learn to rely on others to meet their needs.
On the other hand, when children learn that adult caregivers will not respond in times of need, they do not develop healthy attachments. This can lead people to become anxiously attached, meaning they worry about their needs not being met.
When someone has an anxious attachment style, they may become overly clingy and depend upon their partners.
Based upon what is known about attachment theory, if your mother was emotionally distant or abusive, you may develop an anxious or avoidant attachment style.
You would worry about people being available to you or decide that you cannot trust them to be available. You may avoid emotional closeness to protect yourself. This is why the signs of mommy issues in females include detachment and difficulty with affection.
According to psychological concepts from Bowen's Family Systems Theory, people who have a high differentiation of self can remain part of the family but still function as autonomous individuals and make their own decisions.
On the other hand, people who have low differentiation of self cannot distinguish themselves as being separate from their families.
In a household where a mother is overprotective and overbearing, a child may develop low differentiation of self. This can lead the person to have trouble differentiating themselves from their partners in adult relationships, which is why mommy issues in women can lead to neediness, people-pleasing, and caretaking behavior in relationships.
Side effects of mommy issues
Based upon what is known about mommy issues, you can expect some significant side effects if you're a woman living with these issues. Since mommy issues tend to follow us into adulthood, they can negatively affect our relationships and wellbeing.
If you have mommy issues symptoms, you may experience the following side effects:
Feelings of self-doubt

Difficulties maintaining

intimate relationships

Multiple failed relationships

Low self-esteem

Mental health problems like anxiety and depression

A series of toxic or

unhealthy relationships

Codependent behavior in relationships
10 ways to fix mommy issues
Given the side effects and problems that come with them, it is important to learn how to deal with mommy issues. If you're experiencing difficulty with relationships, it's probably time to explore some solutions to your mommy issues.
The following fixes may be beneficial:
1. Become aware of the problem
The first step toward solving mommy issues is to become aware of the problem. The fact that you're reading this article probably indicates that you realize there is a problem.
If you've confirmed that you have mommy issues, now is the time to further increase your awareness by thinking about what led to these issues. Was your mother extremely critical? Did it seem as if there was a wall between the two of you because she was emotionally distant?
It's time to dig deep and determine where the mommy issues come from.
2. Seek social support
Seeking out supportive relationships with other people can help you develop self-confidence to overcome mommy issues.
Surrounding yourself with supportive friends and family members who encourage you and make you feel your best. Cultivating healthy relationships can go a long way when trying to overcome childhood issues.
3. Set healthy boundaries
If you're experiencing signs of mommy issues, likely, there is still tension between you and your mother today. This means that you may have to learn how to set healthy boundaries with her.
If your mother was always overly involved in your life, such as making career decisions or assuming responsibility for your finances, now is the time to break free.
You have a right to stand up for yourself and tell her that you'll be making your own decisions. You also have a right to turn down advice or ask for space.
4. Change your ways of behaving
Once you've identified mommy issues and determined that you want to move past them, you have to make an intentional effort to change your behavior.
Once you're aware of the signs of mommy issues in women, you can look out for behaviors associated with them and put forth the effort to change those behaviors.
For instance, if you judge others harshly, you can acknowledge that this stems from mommy issues and decide to be more forgiving.
5. Cut off unhealthy relationships
It may be challenging to learn this, but sometimes, when you have mommy issues, you are drawn to unhealthy or toxic relationships. This means that if you try to overcome your mommy issues, a toxic partner may not support you.
This isn't a healthy relationship if your significant other expects you to take a caretaking role or meet all of their demands while neglecting your own well-being. You may have to end it if you truly want to recover from mommy issues.
6. Practice putting yourself first
If mommy issues have led you to be overly people-pleasing or to take on a caretaking role in your relationships, you probably don't have much time for yourself.
When you're used to sacrificing your own needs for the benefit of others, it may feel selfish to take time for yourself, but putting yourself first actually puts you in a better mindset, so you're better prepared to care for your family and children.
Take time for self-care, and spend time doing things you genuinely enjoy without feeling the need to always care for others. They'll be okay!
Want to know further why you should put yourself first, watch this video to find out:
7. Use positive self-affirmations
When your mother is critical of you, you're likely to become critical of yourself. Instead of falling victim to negative self-talk, practice positive affirmations, such as, "I am an excellent mother," or, "I am a hard worker."
When these thoughts become automatic, you can begin to overcome the negative voice inside your head.
8. Talk with your mom
If your mom is still in your life, you may have to talk to her if her behavior becomes inappropriate. For instance, if she begins giving excessive input on your personal choices, you may have to ask her to take a step back.
9. Permit yourself to feel
An emotionally neglectful mother may deny your feelings or punish you for having negative emotions. This can lead you to suppress your feelings, especially negative ones, out of fear of punishment.
If you want to learn how to fix mommy issues, you have to permit yourself to feel your emotions. It's okay to be sad or disappointed, just as it's okay to be happy.
10. Seek therapy
Ultimately, you may need to seek professional intervention to overcome mommy issues. Since these issues have roots in childhood and can profoundly impact your functioning as an adult, it can help to work through them with a professional.
A therapist can help you process your emotions and explore the problems in your relationship with your mother. Therapy can also be a safe space to learn what healthy relationships look like and develop skills like setting boundaries.
Conclusion
Mommy issues in women come from relationship problems that played out in childhood, and they can cause issues in adult relationships.
If you notice that you have signs of mommy issues, you've probably experienced difficulty with intimate relationships, whether you found yourself being overly clingy or at the opposite end of the spectrum, afraid to commit.
The good news is that when you notice signs of mommy issues, you can take steps to overcome them. In some cases, therapy may be necessary, so you have a professional walking alongside you as you recover from childhood wounds.
Share this article on
Want to have a happier, healthier marriage?
If you feel disconnected or frustrated about the state of your marriage but want to avoid separation and/or divorce, the marriage.com course meant for married couples is an excellent resource to help you overcome the most challenging aspects of being married.
Learn More On This Topic
You May Also Like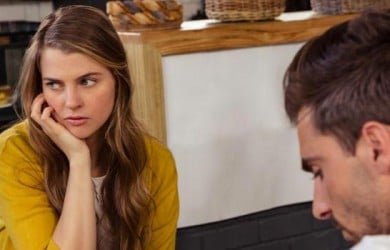 Popular Topics On Married Life