Married to a Stranger: 15 Tips to Know Your Spouse
Being married to a stranger means you know very little about them. But that also means you both are curious to find out more about each other and can stay up all night talking about your childhood stories and pet peeves.
If you're married to a stranger and wondering how to know your spouse better, keep reading. Because in this article, we're going to explore 15 ways to help you know your spouse on a deeper level.
Why would you marry a stranger?
Can you get married to a complete stranger? Under what circumstances would you marry a stranger? While arranged marriages may be uncommon and unpopular in the west, it's pretty common in some countries.
If it's common in your culture for your parents to choose your spouse, you may decide to marry a complete stranger and gradually get to know them after getting married. You might've met them once or twice before the wedding.
The rationale behind getting married to a stranger might be that parents think they know their children very well and are well equipped to pick the right partner for their children. Some people may also prefer leaving this decision in their parent's hands willingly.
Don't give up if you're married to a stranger
So what does it mean if you're married to a stranger? Does it mean you two are incompatible and might end up getting divorced in no time? Not really. If you both are willing to take the time and effort to build a solid foundation for your marriage, there's no reason to give up.
You might have had very little time before getting married, but you've got your whole life ahead of yourselves now. If you put in the effort, you still have the chance to get to know your spouse on a deeper level.
You need to have honesty and transparency in the relationship and let them see you who you really are to build a strong marriage from scratch.
Married to a stranger: 15 tips to know your spouse
If you're married to a stranger who happens to be your spouse now, here are 15 tips to get to know them better.
1. Tell them you'd like to know them better
If you're struggling to feel connected to your spouse as they feel like strangers, chances are your spouse might be feeling the same. Don't give in to the awkwardness. Instead, be open about it.
Find out a good time to talk about it and ask for their help so that you two can put the time and effort into getting to know each other.
2. Be their friend first
When you're married to a stranger, trying to build a friendship with them will allow you to get to know them on a deeper level. It may take some time But, once they start to feel safe around you, they might be more likely to open up and show vulnerability.
Building an emotional connection with your spouse is important because physical intimacy might fade out with time, but friendship won't. Take the time to become their trusted friend so that your spouse feels comfortable enough to be themselves around you and let you see who they truly are.
3. Take them out on a date
If you're asking yourself, 'How to ignite love in my marriage when I marry a stranger?', you may start with taking them out on a date. If you don't know what activities your spouse likes yet, take them to a neutral place.
It can be anywhere from a local coffee shop, diner, or park as long as it's romantic and not too loud. You have the rest of your life to take them to movies, concerts, comedy shows, or hip new restaurants. For now, choose a place where you can talk comfortably without shouting.
4. Show genuine interest
Marrying a stranger means you might not know anything substantial about them. Since you're trying to forge a relationship with your spouse, you need to show them you're genuinely interested in getting to know them.
It's a good idea to break the ice and have meaningful conversations instead of making small talk about the weather. Make sure your spouse gets the feeling that you're invested in their life and genuinely want to know more about them.
5. Give it time
While you might feel like asking your partner all the questions you have at one go, don't rush it. Research shows that building a friendship can take more than 100 hours. Spend enough time with your spouse but make sure they don't feel like you're forcing the connection.
It's best to give it time so that both of you feel comfortable around each other to let your guard down so that intimacy can develop naturally.
6. Play 'get to know you' games and quizzes
If you're wondering what questions to ask or how to start the process of getting to know each other better, you may try playing 'get to know you' games. Making a trivia game and asking questions about each other is a fun exercise that you may try as well.
Want to ask them, 'What's it like to be married to me'? Go ahead. If you're feeling stuck, watching this video and asking these questions may help you get to know each other better and build emotional intimacy.
7. Take a vacation together
Taking a vacation together can be an amazing way to get to know your spouse better and bond with them. If you've just got married and going on your honeymoon, use that time to connect more meaningfully.
Even if you had a brief honeymoon, planning another vacation can help you get more comfortable with your spouse when you're married to a stranger.
8. Find out their love language®
There are 5 different love languages®. Finding out your spouse's love language can help you understand how they like to express and receive affection. How do they support you on your bad days?
Do they use words of affection or act of service? Do they give you a long hug and touch you frequently? There are many ways to express feelings, and how your spouse shows their affection can tell you how they want to receive love as well. Pay attention and figure it out.
Check out this video to understand about the love languages® better:
9. Talk about their childhood
While someone's childhood doesn't define them, it sure is an important aspect of their life. Talk to your spouse about their childhood, ask their favorite memory, and find out if they have any unresolved childhood trauma.
Early childhood experiences have developed your spouse's personality and shaped how they see the world around them. Knowing about their childhood can give you insight into who your partner is.
10. Give them attention
Want to know your spouse better? Try to pay attention to them whenever they talk to you. Instead of texting somebody or scrolling through your phone, put it down and actively listen to what your spouse is trying to tell you.
Focus only on them and make them feel seen and heard.
Related Reading: 

15 Awesome Ways to Create Memories with Your Partner
11. Pray together
Daily habits like praying together with your spouse can bring deeper intimacy to your marriage. No matter how awkward it may feel at first, it'll pass. Praying together allows you to be more vulnerable with each other and you get to know your spouse's dreams, weaknesses, and fears.
12. Watch their favorite movie together
Do you know what movie your spouse has watched over and over again? Knowing someone's favorite movie can tell you a lot about their personality. Also, going to the movies together can set the stage for a romantic evening where both partners can open up and get to know each other better.
A study showed that watching movies together and afterward talking for 30 minutes about the character's romantic relationships has decreased the risk of divorce by half. Why not give it a try?
13. Open up to them
Relationships are a two-way street. Your spouse might be just as eager as you to get to know you better. That's why it'd be great if you open up to them and talk about yourself instead of always asking questions about them.
Tell them stories about your childhood, share your dreams, fears, and personal stories so that your spouse gets to know you and feels at ease sharing more about themselves. When you start to practice vulnerability in the relationship, you inspire them to do the same.
14. Spend time with their oldest friends
Meeting your spouse's oldest friends can help you get to know them better. Hearing funny stories about their time together at college or one drunken night might have you laughing for days.
Pay attention to them so that you can figure out what role those friends play in your spouse's life. Learning about their relationship with their friends can tell you what they value in a relationship as well.
15. Try couples counseling
Taking help from a trained and experienced therapist is a great way to help your partner open up if they've been struggling to do so. Therapy sessions are designed to work as a safe space for both of you, and they can help you start talking and opening up to each other.
Over time, it can help you strengthen the bond and create healthy communication habits as well.
Conclusion
If you're married to a stranger, know that it's possible to build a great relationship with your spouse over time. Initially, it may feel overwhelming but don't give up and keep putting in efforts every day. You might even find a good friend in your partner.
Don't shy away from performing random acts of kindness and complimenting them so that you can bring out the best in them.
Share this article on
Want to have a happier, healthier marriage?
If you feel disconnected or frustrated about the state of your marriage but want to avoid separation and/or divorce, the marriage.com course meant for married couples is an excellent resource to help you overcome the most challenging aspects of being married.
More On This Topic
You May Also Like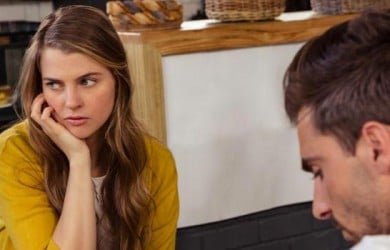 Popular Topics On Married Life