How to Pray With Your Spouse: 8 Steps & Benefits
Haven't we all heard the adage that 'couples that pray together stay together?' But where to start and how to pray with your spouse? What if you're comfortable praying alone and not with other people? What do you pray about anyway?
Is it only about praying for a relationship to work once you manage to pray with your spouse?
Do prayers for marriages in trouble actually work? What does the Bible say about praying together? If you're planning to start praying with your spouse, it's normal to have all these questions and concerns.
It may take some time and practice, but once you start to pray together, it may help you build and maintain a healthy marriage in more ways than you can imagine.
In this article, we're about to talk about how praying for and with your spouse can help your marriage and what steps you can take to make God the center of your relationship.
Related Reading: 

100 Powerful Prayers For Husbands
What does prayer do in a marriage?
Let's start with this passage from the Bible that talks about praying together. "Again, I say to you, if two of you agree on earth about anything they ask, it will be done for them by my Father in heaven.
For where two or three are gathered in my name, there am I among them." -Matthew 18: 19 -20
It's understandable if you're asking yourself, 'Can praying for our marriage really change anything?' ' Well, it does. Daily marriage prayers can bring a couple close together because when you're praying as a couple, you can feel God's presence in your marriage.
When you sit to pray together, you start to share your fears, insecurities, and vulnerabilities with God and your spouse. They get to know you on a different level, and it opens the door to communication.
It strengthens the bond you two share and allows you to support each other better. By praying together to God, you can revive your relationship with God. You might be wondering how a couple can experience the love of God while loving each other.
Well, you need to be emotionally, physically, and spiritually connected to your spouse to do that. If your marriage can make you and your spouse feel like one flesh, that's when you've genuinely connected. Praying together can be the stepping stone to build that connection.
As Genesis 2:24 says: "For this reason, a man will leave his father and mother and be united to his wife, and they will become one flesh."
When you pray regularly with your spouse and grow in the knowledge of God, you grow closer to each other as well.
Benefits of praying together
If you're wondering about the benefits of husband and wife praying together, here are a few to begin with:
1. Praying together makes you more forgiving
A study revealed that when spouses pray for each other, it tends to make them more forgiving. It helps couples to build a deeper connection with each other and God.
Devotion for engaged couples can be a way to develop and deepen their spiritual intimacy.
Praying reminds us of God's mercy and teaches us to forgive others.
2. Praying together keeps you grounded
Praying with your spouse is an excellent practice if you want to be more rooted and grounded in the word of God.
When you share your worries and problems with God and your spouse, you acknowledge that you can't control everything, but God can.
You admit that you need God's help and wisdom in every aspect of your life. It makes you more humble and allows you to cast your anxieties on God.
3. Praying together helps you to be more empathetic
There are lots of benefits of praying for others. Prayer for husband and wife can bring more compassion to the relationship.
There's this beautiful scripture about praying for each other "Confess your faults one to another, and pray one for another, that ye may be healed. The effectual fervent prayer of a righteous man availeth much."- James 5:16
When you pray with your spouse and hear them pour their heart out to God, it allows you to feel closer to them. You can look beyond your own concerns and truly focus on your husband or wife.
Related Reading: 

Prayers for Marriage Problems
4. Praying together helps you feel united
When you hold your spouse's hands and pray to God, it makes you feel more united. Your spouse is your companion for the lifetime, and what's a better way to feel it than opening your heart to them in front of God?
Prayer for your spouse's issues together can make them feel like you're in this together and increase affection in your marriage.
5. Praying together makes you more hopeful
If your marriage is in trouble and you want to restore it, praying together may help. You two may not agree on a lot of things.
But when you decide to put all those differences aside to pray together, it allows you to find common ground.
Be it for intimacy, good health, honesty, and love, and the marriage prayer can include any kind of prayer for your relationship.
It shows you that your marriage can still be salvaged and gives you hope.
6. Praying together can bring deeper intimacy to your marriage
It allows you to be more vulnerable with each other and helps you achieve deeper intimacy.
When you talk about your weaknesses and challenges in front of the Lord and your spouse, you allow them to see you for who you genuinely are.
You confess and seek God's wisdom together, which helps you to trust your partner and allows them to do the same.
7. Praying together can improve your marriage
Once the honeymoon phase wears off, couples may start to have more disagreements and misunderstandings between them.
It may feel difficult to live up to your spouse's expectations sometimes. Inviting God into your marriage may make it easier to overcome marriage problems.
Research has shown that spiritual intimacy is directly correlated with marital intimacy and well-being.
8 simple steps for praying with your spouse
Now let's focus on how to pray with your spouse. While there are many things that make it hard for you to pray with your spouse, once you're determined to do it every day, it becomes a way of life for the both of you.
Let's look into ways you can incorporate praying together into your schedule.
1. Create a prayer schedule
Probably you've got a jam-packed schedule, and so does your spouse. Your conflicting schedule might make it harder to find time to pray together.
That's why you need to take time out of your busy schedule, even if it's for just a few minutes, to pray every day.
You might also pick a spot and turn it into a prayer corner where you can focus on praying together.
2. Start with a silent prayer
If praying out loud makes you or your spouse uncomfortable, you can start by praying silently. There are so many prayer books for couples, as well as beautiful bible verses about praying together.
Going through them might make you feel more religiously attuned and prepare you to start praying together.
Related Reading: 

What Does Bible Verses Say About Family Unity and Peace
3. Keep it short
Until praying together starts to feel familiar, keep it short and simple. A few scripture verses, especially a verse about praying together, is a good place to start.
You can share requests, take turns, and keep your prayer short so that your spouse doesn't feel intimidated.
4. Don't judge your spouse for praying differently
What does praying mean to your spouse? Saying grace before meals? Going to mass every Sunday? Or do they want to sit together holding hands when they pray?
If your spouse has just started their journey into spiritual growth and is on a different level than you, try to respect it.
Don't judge them for having a different relationship with God. Rather talk to them and learn about their spiritual awakening.
Find a middle ground and be there for them when you both work on building your faith in God.
5. Refrain from preaching
If you're trying to encourage your spouse to pray with you, make sure not to be too preachy. It might make them feel criticized and push them further away from praying.
You may ask them nicely to join you and if they don't listen to you, pray to God to change their heart instead of preaching constantly.
Related Reading: 

5 Biblical Principles For Good Communication In A Christian Marriage
6. Actively listen
How to pray with your spouse when their personality and spiritual style are different from yours? Listen with all senses when your spouse is praying.
Don't interrupt or rush the prayer. Take your time when it's your turn, and let your spouse have as much time as they need.
This is a time for both of you to slow down and be present at the moment.
7. Pray about everything
Instead of worrying about only relationship prayer for couples, you can and should pray about everything. There can be a prayer for your spouse, all of your marital issues, and children.
However, make sure that your prayer for your marriage problems doesn't sound like you're complaining to God against your spouse.
When you pray with your wife or husband, pray a blessing over them. Make a list of the things you're going to pray about.
You may try to Keep the prayer personal and conversational.
8. Be committed to remaining consistent
How to pray with your spouse when praying together feels awkward? Well, no matter how you feel about it at the beginning, don't quit.
Stick to it, and slowly you'll find peace in praying together.
Being accountable to God and your spouse can help you stay consistent even when you feel like giving up.
If you miss a day every once in a while, don't let that stop you from praying altogether. Start the next day again and keep going.
Conclusion
Once you start praying for each other regularly and praying with your spouse becomes a part of your life, your marriage will never be the same. Your marriage prayers today can change the trajectory of your lives together.
Even if you seem to struggle and don't see the light at the end of the tunnel at the moment, don't lose hope. Keep believing and praying 'For, with God, nothing shall be impossible'- Luke 1:37
Watching this video might help you understand the power of a praying couple.

Share this article on
Want to have a happier, healthier marriage?
If you feel disconnected or frustrated about the state of your marriage but want to avoid separation and/or divorce, the marriage.com course meant for married couples is an excellent resource to help you overcome the most challenging aspects of being married.
Learn More On This Topic
You May Also Like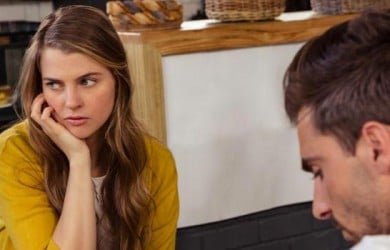 Popular Topics On Married Life