Strategies for Dealing When You're Married to a Workaholic Spouse
When you are married to a workaholic, it may be difficult to get your routine under control, especially if you have a hard time balancing all the things that you need to get done with little help from your spouse.
However, having a workaholic spouse isn't all bad. There are strategies that you can adopt which can help you make the process a bit easier. Keep reading for 10 strategies on dealing with a workaholic.
What is a workaholic person
A workaholic is a person that spends much of their time working. They may have a hard time finding a work-life balance. These individuals generally start working early in the morning and work well into the late-night hours too.
In other words, a workaholic may value their career over other things in life. At the same time, this doesn't mean they are a bad spouse or parent. It is possible to be married to a workaholic and make it work.
It is also possible to have a healthy marriage when you're married to a workaholic.
10 strategies for how to deal with a workaholic spouse
If you are married to a workaholic, there are likely some things that you'll have to get used to. You may have to do a lot of the housework by yourself, take care of the kids most of the time, and on top of that, you likely need to make sure that your spouse has everything they need as well.
These things might take some time to get used to, but together, you and your spouse can make it work. You should be able to develop a routine and make sure that you are just as aware of their schedule as they are. Additionally, you should try these techniques.
Here's a look at 10 ways to handle a relationship with a busy man or woman.
1. Try your best not to argue with them about their work
Once you have a relationship with a workaholic, their long hours may get on your nerves. This is to be expected from time to time, but you should do your best to refrain from nagging them or getting into arguments about their job. Keep in mind what their job allows you to do as a couple and as a family.
2. Do not give them ultimatums
As much as you may want to give your spouse an ultimatum when they come home late, miss dinner, or aren't present for an important event, you should keep from doing so. This probably won't help a workaholic and may just lead to an argument.
If you find that your spouse is missing too many things, and perhaps things that you had rescheduled so they could be present, you might need to stop going out of your way to do this.
When your spouse notices that they missed something that they wanted to do with the family, this may help them change their behavior. It may be harder on you to keep changing your plans as well, so you should only do this when it is necessary.
Related Reading: 

Why Ultimatums in Relationships Are Actually Be Destructive
3. Meet with a therapist
If you feel like your spouse working long hours is causing workaholic relationship problems between the two of you, consider meeting with a therapist to see if you can work through your problems.
Moreover, a therapist may be able to advise you on additional strategies that you can adopt to work out the issues in your relationship. Or, it can be a neutral place for you to talk about what has been bothering you if you don't feel comfortable saying these things to your spouse's face.
Related Reading: 

How Seeing a Therapist Can Improve Your Life
4. Make sure the time you spend with them is well spent
When you are married to a workaholic, you should make sure that you make the most of the quality time that you spend with them. This means that you should have an outing as a family, plan a special dinner, or just have some quality time in your home.
You don't want to just waste time lounging around on the couch when you could be doing something exciting together. Furthermore, you don't want to spend this time arguing or in a fight with your partner.
5. Set specific rules and expectations
A couple that is facing workaholism and marriage can be experiencing a bit of strife. This is why it may be necessary to decide together what rules there will be when it comes to your spouse's workaholic tendencies.
Be sure that the rules and expectations you come up with are fair for both parties. By the end of your discussion, you should both know exactly what your roles are within your family.
6. Don't enable bad behaviors
Anytime you are fed up with certain things that your spouse is doing that are related to being married to a workaholic, you should be sure to let them know.
In some cases, they may not know that you are upset with them over past behaviors. Perhaps you are disappointed when they don't tell you they are leaving for work in the morning, or you want them to make the time to tuck the kids in when they go to bed.
Let them know what you need from them. Chances are they will be able to comply. If they are unable to, perhaps you can reach a compromise.
Related Reading: 

Negative Behaviors in a Relationship You Must Know
7. Consider that their work ethic is a positive aspect
Being married to a workaholic is probably something that doesn't surprise you since you likely knew what your partner's work ethic was like before you got married. Maybe that is one of your favorite things about them.
It is important to remember that, so you can cut them a little slack at times. Having a strong work ethic is a positive thing, and it could also mean they are quite focused on other aspects of their life too.
8. Plan a special activity for the two of you
Another thing that may be beneficial concerning workaholic relationship advice is that you should plan activities that are just for you and your spouse.
If you are at home most of the time doing housework or taking care of the kids, you might crave some grown-up time or want to get out of the house.
This is a great reason to plan a romantic dinner with your spouse or go check out a movie you've been wanting to see. Take the initiative and tell your partner to pencil you into their calendar, so you know that they won't forget about your date.
Related Reading: 

8 Romantic Evenings Ideas to Explore
9. Take some time for you
Being married to a workaholic can leave you feeling like you don't have much of your own, especially when you are having a trying day. This is why it is crucial to take some time for yourself.
Even just an hour or two every now and then can help your resolve and keep things in perspective. Consider checking out a new fiction novel that looks good or learning how to bake your favorite treat. Just make sure that whatever the activity makes you happy.
Check out this video that illustrates how you can practice self-love in the relationship:

10. Include them in things when they are home
Even though you may think that your spouse works too much, you might need to focus instead on the time they spend at home. When your spouse is home, make sure you take the time to let them know that you appreciate all they do for your family.
You can also spend quality time as a family. This should reinforce to your spouse that you love them and understand their point of view. It can also allow them to know that they are a valued part of the family, even though they aren't always there.
Conclusion
When it comes to workaholics and marriage, there are some issues that may come up along the way. However, if you are willing to put in the work and your partner is too, you have a chance of making the relationship not only work but also thrive.
Being married to a workaholic can have its positives, and there are many ways that you can learn to deal with it.
The reasons above may be able to help a great deal, so try to add them to your routine and see how it goes. Remember that you can also reach out to a therapist for support if this is something that you are comfortable with.
Just make sure to keep the lines of communication open and tell your spouse what you expect of them, and allow them to do the same. Marriage is still a partnership that needs to be open and honest. Although dealing with a workaholic can be difficult, it doesn't have to mean everything about your marriage will be.
Be sure to put in the work and take care of the things you need to take care of. You can figure out together, along the way, what your day-to-day will look like as a couple.
Share this article on
Want to have a happier, healthier marriage?
If you feel disconnected or frustrated about the state of your marriage but want to avoid separation and/or divorce, the marriage.com course meant for married couples is an excellent resource to help you overcome the most challenging aspects of being married.
More On This Topic
You May Also Like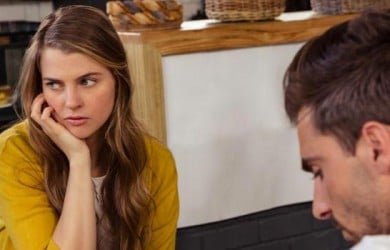 Popular Topics On Married Life