Is It Wrong to Track Your Spouse's Phone? 5 Reasons to Consider
Healthy couples share. They share secrets and finances, and some even share the bathroom. But what about location sharing? Is it wrong to track your spouse or is it your right to know what your partner is up to?
Location sharing and phone snooping are common in modern relationships, but that doesn't necessarily mean those are healthy habits.
The subject of whether to track a husband's phone or not is polarizing. Some feel it's controlling and an invasion of privacy, while others see the practical value of knowing what your partner is up to.
Is there ever a legitimate reason to share a location with your spouse? And if you want to start keeping tabs on each other, how do you bring it up without sounding distrustful?
We're looking into all the ups and downs of tracking your spouse's phone
Is it wrong to track your spouse's phone?
Is it wrong to track your spouse's phone? For many people, the answer can be a resounding yes.
Many people feel that looking through phones or guilting a partner into location sharing is controlling, but there are plenty of legitimate reasons for couples to share such details.
Here are some probable pros and cons of tracking your spouse's phone:.
PROS:
It helps you see whether your partner got home safe or not

It puts your mind at ease about dangerous situations (When traveling, taking public transport, or in sketchy areas)

A great timetable to see when your partner is going to be home (for planning surprises or making dinner)

It shows your spouse you have nothing to hide

It helps you

feel secure in your relationship

(if they don't care, then there's nothing to hide)

It allows you to do something sweet for them (leave a love note on their phone or take a silly picture)
CONS:
It could be used to control or trap a partner

It has potential for breeding mistrust or

miscommunications

It ruins the element of surprise in a relationship

It possibly shows a

lack of trust

in your partner

It could contribute to obsessive or paranoid behavior

It makes your partner feel micromanaged
5 possible reasons why your partner tracks your phone
It can hurt if you suspect your partner is looking at your phone or tracking you without permission. It is a violation of your privacy and may signal there is something deeper going on in your relationship.
Why do partners track each other? Here are 5 common reasons partners give for 'tracking my husband or wife':
1. They are jealous
Is it wrong to track your spouse if you think something is going on behind your back?
Your partner may reason that you are being unfaithful in some way and try to legitimize their tracking by claiming you are the one in the wrong.
If your spouse has deep insecurities causing them to lash out in jealousy or violate your privacy, you may need to seek counseling and have a firm conversation with your spouse about boundaries.
Related Reading

: 

20 Signs He Is Jealous but Wont Admit It

2. They are controlling
For some, tracking a partner's phone can be a sign of controlling and concerning behavior.
To keep you close, a partner may monitor who you can and cannot call or text. They may do this through guilt or by a demand to isolate you from certain people.
Research indicates this is a form of nonphysical abuse that often comes from anxiously attached individuals.
3. They are legitimately concerned
Is it wrong to track your spouse if you are concerned about their well-being? In some cases, tracking a partner's phone is completely fine!
If you are in a long-distance relationship, stay out late, or live in an area that makes you nervous, it can be helpful to share your tracking location with your partner.
This lets them know you arrived home safely, much in the same way as a parent might ask their teenage child to share their location as a form of protection.
4. They like staying connected
One sweet reason why couples track each other's locations is simple: they like staying connected.
Tracking your spouse's phone doesn't mean you have to check in on them all day long. Sometimes it's just nice to know where they are and what they are up to and when they will be home.
Related Reading

: 

10 Ways on How to Stay Emotionally Connected in a Long Distance Relationship
5. They don't trust you
Can you track husband's phone and still trust him? One of the most common reasons why partners snoop and track their spouse's phone has to do with a lack of trust.
Building trust is essential to a successful relationship. Insecurities and a lack of trust often lead to phone snooping or the need for 'tracking my husband or wife' for their own good.
Related Reading

: 

15 Ways on How to Build Trust in a Relationship

Some more questions
If you are lost in a sea of 'track spouse's phone' Google queries, you've come to the right place.
Is it wrong to track your spouse? And if not, what are the rules? Here are answers to some of the most frequently asked questions about tracking your spouse.
Can my wife track me on my phone?
If you're concerned about spouse phone monitoring, you may be wondering if your partner is tracking you through some kind of app.
One easy way to know if your partner is tracking your phone is to check your location-sharing option. If you or your partner has enabled this setting or app, your spouse can track your location remotely using their phone.
There is also a chance that your wife is tracking your movements on your phone by checking your history or your e-mails and social media activities. It's a little more difficult to know if she is doing these things, but there are some telltale signs such as:
Messages you've never seen being marked as read

Checking your screen time records

Apps you've never installed appearing on your phone

People suddenly removed or blocked from your social media accounts
To learn more on phone tracking, watch this video:

Is it normal to track spouse's phone?
Is it normal to check your spouse's phone? Yes. Sneaking a peek at your partner's device while they're making coffee or using the restroom is pretty common for both men and women.
The real question is whether or not it is right to check your spouse's phone. The answer to that is a little more complicated.
Should you investigate if you suspect your partner is being untruthful?
Is it wrong to track your spouse if you feel your partner is being unfaithful? Wife or husband tracking without permission signals there is something wrong in your relationship.
Communication is the key to a healthy, satisfying relationship. Looking through phones without the owner's knowledge is a violation of privacy
The inability to communicate has been strongly linked to divorce.
If you and your spouse can't communicate, it may be time to consider a marriage course or couples counseling. Marriage therapy can help partners improve their relationships, boost communication skills, and learn how to problem-solve together.
Alternatively, marriage therapy can also help couples realize when it's time for their relationship to end.
Is sharing location with partner toxic?
If you feel safer with your partner knowing where you are, all the power to you! The key is to have open and honest conversations about your boundaries.
Both you and your partner should be free to stop location sharing at any time without the other worrying if it means something fishy is going on.
If you feel forced into location tracking or feel your partner is snooping through your phone without permission, perhaps location sharing has turned toxic to you.
How do you ask to start tracking each other's phones?
Just ask.
Instead of tracking your spouse in secret, have an open and honest conversation about why you want to share your location as a couple.
There are plenty of practical and safety-related reasons listed in this article for why you may want to track partner's phone. Share this honestly with your spouse and see how they feel.
However, search any 'tracking my husband/wife' articles and you'll see many partners have strong opinions about this being an invasion of privacy, so don't be surprised if your spouse is not up for being tracked.
The key is to be open about your desires. Think about why do you want to track your spouse's phone in the first place.
You don't

trust them

.

You have insecurities from a previous relationship that make you more comfortable knowing where your partner is.

You want to make sure your partner is safe.
Whatever the reason, it is always better to be honest about why you are asking to track than to sneakily do it behind their back.
It's up to you to decide
Is it wrong to track your spouse? If you are doing it secretly and without your partner's permission, yes. It is wrong and a violation of their privacy.
If you find yourself searching 'track husband's phone' or 'How can I track my wife without her knowing?' on the internet, you are likely dealing with trust issues in your relationship.
Reasons why the topic of 'track spouse's phone' may come into your life include your partner being overly jealous or controlling. It may also be that they are concerned about your safety.
However, phone tracking isn't all bad. There are definitely pros to knowing where your spouse is at.
If you and your partner can have an honest conversation about why you would like to share locations and you both consent to it, then there shouldn't be a problem with it.
In the end, only you and your partner can decide what does and does not work for your relationship.
Share this article on
Want to have a happier, healthier marriage?
If you feel disconnected or frustrated about the state of your marriage but want to avoid separation and/or divorce, the marriage.com course meant for married couples is an excellent resource to help you overcome the most challenging aspects of being married.
More On This Topic
You May Also Like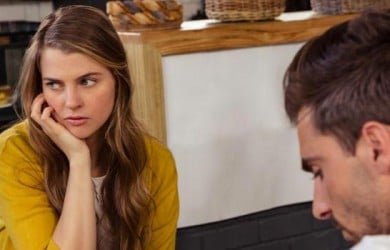 Popular Topics On Married Life