Is Your Smartphone Hurting Your Relationship with Your Child?
As a Pediatric Therapist I am the mom of a spunky 3-year-old and, I admit, there are times that I think "How did my parents get through the day without the speedy rescue of a smartphone?!" A screen has definitely helped me (more times than I would like my own clients to know) complete grocery store shopping, get through important phone calls, and I have even relied on a tablet to help me get picture perfect pigtails in my daughter's hair.
Seriously, how did my mom do it?! Oh, but nothing so convenient comes without a cost. We have all been warned about the negative impacts of extensive screen time on kids' brains, but what about the impact of our own habits?
As a pediatric therapist, it has been my job to research how cell phones, ipads, and electronics are impacting our kids. My findings are alarming and I spend many sessions pleading with parents to limit screen time.
I always get similar responses "Oh yes, my son is allowed only an hour a day" or "My daughter is only allowed a video during teeth brushing". And my response is always the same "I am not talking about your child…I am talking about YOU." This article focuses on the effects that your own screen time has on your child. How does your habit negatively impact your child? More directly than you might think.
Below are just some of the ways that your relationship with your phone is impacting your relationship with your child.
1. You are a model for your child
Most parents I work with will inevitably come to me with the issue of wanting their child to spend less time on their phones, tablets, systems, etc.
If you want your children to limit their screen time, you must practice what you preach.
Your child is looking to you to show him how to occupy time with something other than a screen of some sort. If you make limiting screen time a family challenge and priority, your child will feel less like his limits are a punishment and more like the limits are part of a healthy life balance and structure.
As a bonus, your child will be learning from your model how to occupy space and time with more creative hobbies.
Verbalizing your own feelings and coping skills may help tremendously in helping your children identify their own feelings and try new coping skills. It might sound as simple as "Wow, I am feeling so stressed from my day (deep breath). I am going to take a stroll around the block to calm my mind". Your child will get a clear scene of how do deal with feelings without utilizing screens as coping mechanisms.
2. A nonverbal message of what is valuable
Your child is learning from you what is valuable in life. We determine value by the time and energy we put into something.
If your child is watching you pay more attention to a phone or laptop than to other activities, your child may be learning that screens are the most valuable aspects of life.
We all have invisible buckets we carry around that represent important aspects of our life. For example, smartphones may fall into the "Cyber" bucket. Become aware of the buckets you are carrying around. How full is your "Connection" bucket?
Try using visuals to measure and compare how full or low your buckets are. Make it a priority to fill your "Connection" bucket and naturally you will begin to put your energy into the buckets that matter the most, and your kids will thank you for it.
3. Eye contact
Eye contact aids in learning, help us remember information, and grabs our attention. For children, it is through eye contact, especially with a primary attachment figure, that the brain learns how to calm itself, regulates, and makes inferences about how important they are.
We are far more likely to miss the opportunity for eye contact if we are looking at a screen while our child is calling our name.
Famed psychologist, Dan Siegal has studied the importance of eye contact between children and their attachment figures and has found that frequent eye contact and attunement through the eyes helps children in developing empathy for others.
Your eyes are vital in helping your child feel more understood and seen and in return, your child learns more about you.
Siegal has found that when positive experiences through eye contact are "repeated tens of thousands of times in the child's life, these small moments of mutual rapport [serve to] transmit the best part of our humanity –our capacity for love — from one generation to the next". They are not kidding when they say "Eyes are the windows to the soul!".
4. The power of touch
Simply put: If you are touching your phone, you are not touching your kid. Touch is vital for healthy brain development. Touch aids in a child's ability to feel her body in space, feel comfortable in his own skin, and better able to emotionally and physically regulate.
Touch also sends signals to the brain that a child is loved, valued, and important; essential for developing self-esteem, self-worth, and for strengthening the parent-child attachment.
By prioritizing interacting in ways that include touch, such as offering to paint your child's nails, do their hair, give your child a temporary tattoo, paint their face, or give a hand massage, you will naturally be less able to get distracted by your phone.
5. Relationship and connection
Children are extremely sensitive to their parent's emotions and reactions to them. Children best regulate themselves when their parents are attuned to them. An important part of attunement is affect, and affect comes from nonverbal information, such as facial expressions.
A well-known experiment by Dr Edward Tronick of UMass Boston, The Still-Face Paradigm, demonstrated that when parent's facial expressions were non-responsive to their baby's behaviors and efforts to connect, the baby increasingly became more confused, distressed, less interested in the world around them and desperate to gain their parents' attention.
When you are looking at your screen instead of your child, you are compromising your ability to be responsive to your child and likely increasing the stress your child feels while also unknowingly sending them into a state of dysregulation.
This can be avoided by simply looking at your child and responding non-verbally to what they are sharing with you.
When you successfully convey non-verbally that you truly hear and see your child, they feel felt, understood, and connected to not only you, but their connection to their own emotional state strengthens too.
So what to do?
We rely on our screens for work, news, communication, and even self-care. My daughter recently asked me "Mommy, what does an iPhone do?" I was overwhelmed by my own response. As I spewed out the endless ways I use and rely on my device, I realized that this was not a phone, but a true necessity.
And in more ways than one, the advancement of the smartphone has bettered my life, made my ability to complete work tasks faster and with greater efficiency (hello…MORE family time), made finding my daughter playdates and classes easier and more accessible, and thanks to facetime, my daughter has a way to connect to her "GaGa" despite living thousands of miles away.
So the true key, the secret to avoiding this disconnected danger of what researcher Brandon McDaniel of Penn State is calling "Technoference", is finding balance.
Striking the correct balance
Some serious self-reflection may be needed in order to assess just how off-balance you may be now, but keep this in mind: The goal is to create more opportunities for connection and attunement with your children, not to restrict your screen time to nil.
In fact, technology expert and writer, Linda Stone, who coined the phrase "parental partial attention", warns parents of the negative impacts of partial inattention, but explains that minimal inattention might actually build resilience in children!
It was when my daughter screamed and splashed water in my face during her bath time that I realized I was not practising what I preach. I was texting with my boss, feeling on top of my work obligations when I was forced to face the fact that I was compromising my daughter's time with me in order to be "on top" with work. We both learned big lessons that night.
I learned that my own screen time was interfering with my daughter's ability to feel felt and she learned how to get her needs met without screaming and splashing.
Self-reflection and honesty is the most valuable step in changing this habit. Knowing how much time you are spending on your phone and why will help you make different choices about when and how you spend your time on your phone.
Because of the advancement of technology and the instant availability to reach one another, our expectations in every aspect of life have skyrocketed. We are expected to be on call 24/7.
Allow yourself to stay offline
Whether it is responding to a friend who is fighting with her partner, a work task suddenly sprung through email or processing a heart-stopping news notification. We have to give ourselves permission to "be offline" to not be "on-call" all the time. It can wait. I promise. And once you give yourself this permission to be fully present while at home with your children, you will feel more relaxed, free, and be able to truly enjoy your family.
Your children will feel your energy. Your children see themselves through your eyes and if you are looking at them with delight rather than guilt, they will see themselves as being delightful human beings. And this is an important seed to plant early on.
An important question for self-reflection is this: If you were not on your phone, what would you be doing? Time spent in front of a screen may be distracting you from other parts of life, or it may be helping you fill time.
Rediscover your lost passions and hobbies
Technology has a sneaky way of making us forget about hobbies and passions we once enjoyed that don't have anything to do with a screen. Start planning and scheduling non screen-related activities.
If your day is filled with activities such as walks, knitting, reading books (no Kindle!), making crafts with your children, cooking, baking…the possibilities are endless… you will soon find yourself too busy to check your phone.
Take a moment to reflect on your habits
How often are you occupied by your smartphone when your kids are present?

If more than an hour a day, do you see a pattern that can help you figure out why you are spending so much time looking at your phone?

If there is no clear pattern, when are you fully present for your kids, sans screens, and when can you encourage more of this time?

Do you notice changes in your child's behavior when you are using your smartphone?

Have you tried to limit your child's screen time use without paying attention to your own habits?

Do you think to make it a family priority to limit screen time while together will make a difference in your family?

What are the hobbies and interests you have outside of spending time on your phone and how can you either increase your time spent doing these things, or what are some interests you may want to further explore?
Make a plan
Create realistic family boundaries around screen time that the entire family has to follow. For example: determine a certain allotted time for the day, no screens at the dinner table, or no screens an hour before bed. If you are all following the same family rules, you will be doing a great job modelling behaviour and also opening up more opportunities for connection.

Set your own rules to optimize opportunities for connection. Make it a rule that your smartphone is off-limits during your kids' homework time, or while they are doing chores. Schedule in the daily fun with the kids, whether it be listening to music together, cooking, or playing a game. They will be thanking you for your availability when they are in need of your support or help during challenges.

Schedule your online check-ins. If you have to check in with your work or email often, set an alarm to go off every two hours as a reminder that this is the time to find some privacy and to check in with all your responsibilities. If you use your phone as self-care and have a particular game you love to play, schedule that time as well! A perfect time for these scheduled check-ins is when your child is also busy, such as during their homework time, when they are typically engaged in their alone time, or while they are having their own screen time. Just make sure you are also setting an alarm to notify you when to stop, and let your kids know that your screen time is about to begin and you will be less available for the planned time.

Get rid of the distractions by deleting useless apps and by turning off as many push notifications as possible. Without those pesky reminders to check your phone, you will be less tempted to pick it up in the first place.

Find a way to stay accountable. Talk to your family about your goals and why they are important, discuss how you may lovingly support each other and also verbalize when electronics are impacting true connecting. While changing any habit, or addiction for that matter, remember to be kind to yourself. Some days will be better than others, but new and healthier habits will form and it will become easier with time. Perhaps your children will not be the only ones reaping the benefits from connecting more with the beautiful, amazing you.
Share this article on
Want to have a happier, healthier marriage?
If you feel disconnected or frustrated about the state of your marriage but want to avoid separation and/or divorce, the marriage.com course meant for married couples is an excellent resource to help you overcome the most challenging aspects of being married.
More On This Topic
You May Also Like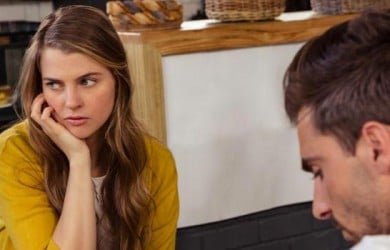 Popular Topics On Married Life