18 Tips on How to Stay Strong During No Contact
There may be times when you feel like your relationship needs a break. This could cause you to want to take a no contact break, which means you should not contact your ex for a set number of days, in order to decide if you want to continue in the relationship.
Here's a look at what to do and how to stay strong during no contact.
What is the no contact rule?
Generally speaking, the no contact rule calls for you to close off contact with an ex for a period of time, which should allow you time to determine if your relationship is still working and what you want to do about it.
It may be difficult to know when to go no contact, but it might be necessary when you feel like your relationship is one-sided or you think you need a break.
You can specify how many days you would like to go no contact and after that time, you should be able to determine what you want to do next.
Related Reading: 

What Is the Psychology of No Contact on the Dumper?
For more information on taking a break in a relationship, view this video:
Does no contact work?
In many cases, no contact does work. For some couples, it allows them to get the break they need and come together to discuss their problems and move forward with the relationship.
In other instances, you may discover that the relationship is not what you want and decide to move on to the next chapter of your life.
For certain individuals, they may feel like why is no contact so hard, and this is a valid question.
It may be difficult not to talk to your partner, even if you are upset with them, but spending time apart and not talking can be an effective tool to help you stay focused on your goals and decide what's right for you.
Related Reading: 

Will No Contact Work If He Has Lost Feelings
How to stick to No Contact
You may be puzzled when it comes to how to get through no contact. This is understandable, considering it can be trying to ignore contact from the person you spend the most time with.
However, the best ways to avoid contacting your ex are keeping yourself busy and staying off of social media. Here's a look at other tips on staying strong during no contact.
18 tips for how to stay strong during No Contact
Even when you know that you want a no contact separation, you may be at a loss when it comes to how to stay strong during no contact. Here are some tips that you can try to make the process easier on you.
1. Stay busy
You are likely wondering what to do during no contact. It doesn't really matter what you spend your time doing, but it helps if you are able to stay busy.
Consider doing things that you weren't able to do when you were with your partner or doing your best to figure out what you like to do and engaging in that type of activity.
2. Take a social media break
Something else that may be necessary when you are struggling with no contact is taking a break from social media. Not only can think help your mental health, but it can ensure that you don't see posts by your ex or his friends.
It will also make it more difficult for you to message your ex and for them to message you.
3. Spend time with loved ones
You may be able to get no contact encouragement if you spend time with loved ones and people that care about you.
Not only can they distract you from what is going on, but they may also be able to provide you with helpful relationship advice or their point of view on the matter.
Related Reading: 

5 Benefits of Spending Time With Family
4.Stay strong
Another way related to how to stay strong during no contact is to try your best not to falter. In other words, keep in mind what you want to accomplish and stick with it. Remember the reasons why you wanted to take a break from your relationship in your mind.
If you weren't being treated fairly or you were putting so much into it that you were exhausted, consider what you would like to see change before getting back together with your ex.
5. Start a new hobby
You may also want to start a new hobby to stay busy during no contact. Think about watching online videos to learn more about your hobby, investing in some supplies and seeing what you can accomplish.
This can get you through your days and may be a handy way related to how to stay strong during no contact.
6. Remember your goal
Anytime you are losing your no contact motivation, it may be necessary to remind yourself that you are trying to meet a goal. You may be trying to figure out if your relationship is worth saving, or you might be doing your best to improve your overall health.
No matter what you want to achieve, you should consider setting a goal and doing your best to meet it. This can help you in a number of ways, including helping you stay focused.
7. Believe it will work
When you are able to believe that your no contact will work, this may also go a long way into you meeting your goal. Staying positive may not be easy, but this is another aspect of your life that you can talk to loved ones about.
When you are feeling discouraged, you may be able to call your best friend or mom, who will be able to help you keep things in perspective.
8. Pay attention to your needs
Taking care of your own needs may be another way for you to find no contact help. Pamper yourself a little bit, take mental health days, and eat your favorite foods.
Don't neglect the things you want to do around your house or with your friends. Do all the things you like to do but haven't been able to for a while. This can help improve your mood.
9. Learn to relax
When you are engaging in activities to help you meet the needs that you have, it may be helpful to learn how to relax as well. You might want to meditate, take long baths, or learn more about aromatherapy.
There are plenty of articles online or books to read on these subjects, if you don't know where to begin.
10. Take care of your health
It is also imperative that you are taking care of your health during the no contact process. This is especially important when you want to know how to stay strong during a breakup.
You must make sure that you are eating healthy meals, getting enough sleep at night, and exercising. Exercise can help you stay healthy and can also release endorphins, which might allow you to feel better and be able to maintain your mood.
11. Visit with a therapist
Working with a therapist is also a valuable way to consider how to stay strong during no contact.
A therapist should be able to talk to you about the concerns you have for your relationship and help you decide if you want to work it out with your ex or if other options may be more beneficial for your overall health.
12. Take it day to day
It can be overwhelming to not talk to someone for 60 days or more, so it may be helpful to take it day to day. Once you get through another day without calling or messaging your ex, you can congratulate yourself.
You have likely accomplished something that will help you make decisions that are good for you and your future.
13. Ignore messages your ex sends
In some situations, your ex may send messages to try to get you to talk to them. It is important that you ignore these messages and don't engage with them. This is especially important if you laid out the rules ahead of time.
They should respect you enough to go along with your wishes, and if they don't, you don't have to change your actions.
14. Think about your relationship
You can take the time away from your relationship to think about it. You may have been in an unhealthy relationship, and it could take time to process how you were being treated.
When you take the opportunity to work through things that have happened in the past, it may help you take up for yourself in the future.
15. Work on yourself
If you have ever wanted to learn something new or take a class on a specific subject, this may be the time to do so. You should be doing things that make you happy, since you have time to do exactly what you want to do.
This may be helpful for how to maintain no contact. If you are busy learning about wine or cooking, you probably won't have time to look at your ex's social media pages.
16. Don't give up
Hang in there. It can be hard to not text or DM your partner, but you are trying to improve your life and relationship. This is why you should stay silent, even if your ex is trying to goad you into talking to them.
Consider what their motivation may be and if they have changed or learned anything from your break. They may have, but they also may just be trying to get you back under their terms.
17. Keep your mind busy
Thinking about your ex may be something that causes you to want to message them as well. This is why it is important to keep your mind busy.
You may want to catch up on your streaming, watch all your favorite movies, or read more books. This will help you keep your brain working and prevent you from wondering about what your ex is doing.
18. Understand it will be difficult
No matter what period of time you are taking advantage of the no contact rule, it can be difficult. However, you need to do your best when it comes to staying strong after a breakup.
You owe it to yourself to make beneficial decisions for your life and if you wanted a break, there was likely a reason for this. Keep in mind that it will be hard during the process, and it may become a bit easier.
Why is no contact effective?
No contact can be effective when you are able to stick to it. This is because it could signal to your ex that you are not going to let them dictate all the rules of the relationship. They may understand that they must change how they are acting if they want you back.
Although it can be difficult understanding how to stay strong during no contact, you must keep in mind that it will likely be worth it, and you may be able to work things out with your partner.
Will the no contact rule change my ex's behavior?
There is no guarantee that the no contact rule will change your ex's behavior, but if they want you back, it might.
Once you have utilized the no contact rule, you should sit down with your ex and lay down your rules and expectations for the relationship moving forward and allow them to do the same. If they are not okay with these rules, you may want to move on from this relationship.
Related Reading: 

Will No Contact Work If He Has Lost Feelings
Can we still be friends after no contact?
In some situations, you may be able to be friends with your ex after no contact. However, in others, you might want to cut your losses and continue not talking to them.
It is up to you what you want to do in your current situation.
Conclusion
When you are trying to learn more about how to stay strong during no contact, the tips ahead can go a long way into helping you meet that goal.
Be sure to keep in touch with your support system, take care of your needs and health, and talk to a therapist if need be.
Overall, there are many different ways related to how to stay strong during no contact, so it is worth it to try this technique if you want things to change in your relationship.
Share this article on
Want to have a happier, healthier marriage?
If you feel disconnected or frustrated about the state of your marriage but want to avoid separation and/or divorce, the marriage.com course meant for married couples is an excellent resource to help you overcome the most challenging aspects of being married.
More On This Topic
You May Also Like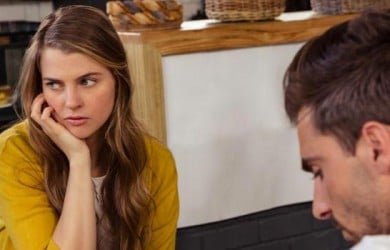 Popular Topics On Married Life