How to Respond to Stonewalling by Your Loved One: 25 Ways
Communication is the key to a healthy, solid relationship. When one person shuts down, it brings one mate who displays struggles dealing with conflict and causes the other partner not to know how to respond to stonewalling or silent treatment.
In a partnership, the behavior is detrimental, but the people who use this tactic either when they want to avoid discussing the issues or feel there's not a problem to talk about, everything is fine.
Practical, authentic communication in a partnership is critical, but accomplishing this with a partner can be difficult. Refusing to do so regularly is nearly as severe as infidelity, potentially ending the relationship.
What is stonewalling in a relationship?
The act of stonewalling in a partnership is when a mate shuts down from the discussion, becoming literally like a "stonewall" in that they are unresponsive to any sort of attempt to hold a conversation.
It can be a sudden change or something your partner does more and more with time. Either way, it can be demoralizing and frustrating when your partner is unresponsive towards you. It makes it vital to learn how to respond to stonewalling.
A healthy partnership flourishes with open and healthy communication, where both partners are respectful. Stonewalling goes against all of that!
Related Reading: 

Healthy Communication For Couples: Speaking From the Heart
What can you say to someone who is stonewalling you
When you speak to someone refusing to communicate back, the objective is not to be aggressive with that person. It's important to verbalize how you feel, not how they're making you feel.
One effective technique you can use when learning how to respond to stonewalling is utilizing 'I statements' instead of appearing to blame with "you" statements.
Express that you recognize the silence and acknowledge your mate's feelings. You can also apologize for any behavior that might have been inappropriate on your part.
The idea is to set aside a time after everyone has had some time and space to get their thoughts together to come back to have an open, honest and vulnerable conversation. Let your partner know you are willing and wish to discuss the problems.
When you can have dialogue, it's essential to set boundaries to avoid this type of behavior in the future. Let your mate know stonewalling is not the solution but, instead, is toxic and damaging to the partnership.
25 effective responses when your loved one stonewalls you
How you handle stonewalling will depend on how you view the behavior. If it's toxic or abusive, it might be wise to seek counseling and determine if it's better to take some time apart.
When you feel there is a difficulty for your mate with conflict and believe there are no ill intentions, it's probably worth attempting to communicate to make them feel safe and comfortable expressing themself.
Plus, it's crucial to let them know the behavior is not the right approach. Let's look at a few examples of what you can say.
1. Let your mate know the partnership is a priority for you
In trying to discern how to respond to stonewalling, it's vital to let a partner know that the relationship is your top priority. A relationship is either growing and thriving or failing.
When one person is not participating or has become unresponsive, there's no nurturing, meaning it can't grow. That needs to be relayed as positively as possible.
Related Reading: 

What Are the Three Biggest Priorities in a Relationship
2. Express that there will be moments of rough patches
Disagreements happen in each relationship. They take effort and hard work. Stonewalling behavior is not an acceptable approach when a mate's expectations are too high for a partnership they believe should be all sunshine and roses. It simply doesn't work that way. That means boundaries are necessary.
3. Avoid aggression
When attempting to get a silent partner to communicate, you should never revert to belittling or derogatory remarks in an attempt to make them respond.
Words hurt, and these can be exceptionally damaging to a mate. That's one reason most people resort to stonewalling in relationships.
4. Express how you recognize the stonewalling
Contemplating how to respond to stonewalling, you'll find it essential to acknowledge the behavior and let the person know that it's not the solution.
The action is passive-aggressive; many individuals using the tactic believe it calms a situation but instead can damage a partnership. The partner needs to realize it takes two people effectively communicating as a team to make a healthy union.
5. Don't point fingers
No one wins when you decide to start using "you" phrasing instead of taking accountability and owning your part in the conflict. That means apologizing for anything you might have done wrong and letting your mate know you're trying to understand their perspective.
That might mean taking some time apart to collect thoughts and then come back together to have that conversation.
6. Don't try to change your partner
When responding to stonewalling, you should help your mate understand the desire is not to change who they are but to fix a behavior that isn't working for the partnership.
In looking at how to respond to stonewalling, a partner needs to recognize that silent treatment isn't appropriate when you respect each other.
Related Reading: Here's Why You Shouldn't Try to Change Your Partner
7. Concentrate on the good qualities
When speaking to your partner to help them overcome stonewalling, the idea is to focus on what you find appealing and genuinely respect in your mate. It's okay to express the emotional effects of stonewalling are harming the relationship you've both worked so hard to develop.
8. Good intentions are the hope
When considering how to respond to stonewalling, the hope is that there are no ill intentions behind the silent treatment.
If that were the case, it would be a toxic situation for which you would need to respond by letting your mate know the controlling behavior is not something you're willing to tolerate.
It's wise to either take time away or end the partnership. But the first step would be counseling.
9. Try to forgive
Stonewalling manipulation is hurtful, but it's vital to approach it with a forgiving heart, especially when you know the other person is having difficulty expressing themself or struggles with conflict. In those situations, it takes you to put forth the extra effort.
Related Reading: 

How to Practice Forgiveness in a Relationship
Watch this video to understand the risk in forgiving someone and why it is still worth it:
10. Make yourself present at the moment
Stonewalling relationships require you to make yourself available and present. When a partner sees that you're not giving up on them despite being stuck in emotional stonewalling, it helps them recognize the level of care.
But it would be best if you also took a stern (not aggressive) stance that the behavior is not the right solution.
11. Convey your desire to hear their response
When you're trying to figure out how to stop stonewalling behavior that your mate is inflicting on you, try to make them understand that you want to hear what they have to say. Convey that it is important to you hear their viewpoint.
12. Schedule a time to talk
You can determine how to react to stonewalling by letting your partner know their unresponsiveness makes it clear they need to decompress. That might help them find a certain level of security and safety to open up.
If they won't help you designate a specific date and time that's better for them to have the discussion, go ahead and schedule it and let them know you'd appreciate their being prepared.
13. Make your mate feel respected and loved
When you figure out how to break through stonewalling, likely through scheduling time to talk, you first want to learn from them how you can make them feel more respect and give them a greater sense of love.
In this way, perhaps there will be no more stonewalling in marriage or the relationship. Also, you can provide them with some of the stonewalling examples you've been exposed to.
14. Explain the cycle of damage
When expressly trying to discern how to get through to a stonewaller, the mate needs to hear how the behavior (not the person) can affect the partnership the damage it can do each time it happens.
15. Boundaries need laying out
Not only do you need to set healthy boundaries when a conversation finally begins, but it's essential that a partner feels as though they too can set some. It can make them feel more confident when expressing themself in periods of conflict, so there's no more shutting down.
Related Reading: 

15 Must-Have Healthy Boundaries In Marriage
16. Don't forget about yourself
While you have concerns for your partner, you need to ensure that your needs are met when determining how to respond to stonewalling. It's not merely about respecting the person but having significant respect for yourself and allowing self-expression.
It's essential not to people-please or try to appease your partner. That's not healthy either. Honesty is vital.
17. Keep things vulnerable and open
In that same vein, it's okay to be vulnerable when learning how to handle stonewalling and critical to be open. When a mate sees you're exposing your innermost thoughts, it could trigger them to open up.
Research shows us that emotional vulnerability contributes to healthy intimacy between couples. It also helps in conflict resolution.
18. Don't find justification by blaming yourself
Avoid projecting onto your mate what could be "limiting beliefs." These are often ingrained in us before partners come into the picture and tend to reflect our own insecurities by excusing behavior because you allow yourself to believe it's typical for some fantastical reason.
So in your mind, the stonewalling is excused, perhaps because you feel you deserve it on some scale.
19. Keep your word
When you express something to a stonewaller, make sure that happens. If you say you're going to take time apart to gather your thoughts but then come back together on this day to look at the situation again, do that. It allows trust and can develop a sense of security for the stonewaller.
20. Appreciate the effort verbally
Suppose you want to know how to respond to stonewalling. In that case, one definitive step is to show appreciation if the one giving the silent treatment shows up prepared to discuss the problem on the day you schedule for the discussion.
Not only should you show gratitude, but it needs to be verbalized to encourage it in the future.
21. Allow the silence
Sometimes silence is golden. If you behave as though the treatment is not an issue for you, it will likely end with the stonewaller ultimately coming to you as though nothing ever happened.
Then you can have your conversation with the notation that if it becomes a habit, the relationship will end.
22. Encourage your mate to journal
When a partner has difficulty speaking their thoughts and feelings for fear of conflict, encourage them to journal to build their confidence, and you can do the same. After some time, it might be easier for each of you to sit down and talk comfortably.
23. It's vital to incorporate moments where you self soothe
When looking at how to respond to stonewalling, sometimes you need to take a break and indulge in looking after yourself. These times can be exceptionally stressful.
That means not making it a full-time effort. If a partner does not budget on their responsiveness, it's okay for you to step away and work on self-care.
24. Walk away
When stonewalling appears to be a power play or a method to control the partnership, that's toxic if not abusive.
In those situations, you need to walk away from the situation and seek individual counseling to discern if this is genuinely a partnership you want to salvage. In most cases, this would be one that should end.
25. Couples' counseling
A partner who doesn't intentionally stonewall as a means to harm the partnership but instead chooses to avoid conflict or merely doesn't know how to handle the discussion would likely benefit from attending couples' therapy.
That is if you can get them to respond to this request. Since a professional's office is a safety zone, stonewallers might see it as a secure place to open up.
The problem is if they believe everything is fine and there's no issue to discuss, it would likely be up to you to go and get insight on how to respond to stonewalling. You can then use these tools at home.
 Related Reading: 

How Counseling for Couples Can Help Maintain a Marriage
How can you better understand stonewalling
You can better understand stonewalling through research educational literature, involve yourself in workshops, contact a counselor for guidance, so many avenues to take when you want to salvage a partnership or if you need to walk away from a toxic situation.
Sometimes you don't recognize the potentially harsh circumstances until you research or reach out to professionals. They can help you understand things in a way that is conducive to your healing and learning.
When your mate stops responding altogether, don't leave yourself in the lurch; begin educating yourself by reading reliable books and articles.
Final thought
Stonewalling in a relationship is a serious situation. The damage it can do can be severe if adequate tools aren't used to rectify the circumstance.
First, you want to attempt to learn about stonewalling so you know what you're dealing with, and then make an effort to communicate with your mate using the most healthy techniques described here.
Here is a workshop that touches specifically on stonewalling and how to deal with conflict in your personal life to get you started.
If or when these methods don't work, it's ideal for you to reach out to a couples' counselor if you believe you can get your partner to attend. If that doesn't happen, participate in individual therapy to gain insight on how to respond to stonewalling.
If these efforts are unsuccessful, allow the silence and go on with your life. When the individual returns to you as though nothing has happened, that's the moment to express yourself. Let them know sternly that you won't tolerate this behavior again.
For instances of toxicity, basically abuse, you should walk away. That's unhealthy for everyone in the situation and shouldn't be tolerated.
Share this article on
Want to have a happier, healthier marriage?
If you feel disconnected or frustrated about the state of your marriage but want to avoid separation and/or divorce, the marriage.com course meant for married couples is an excellent resource to help you overcome the most challenging aspects of being married.
More On This Topic
You May Also Like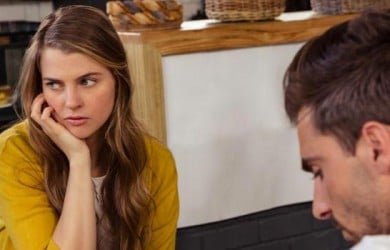 Popular Topics On Married Life