How to Move from Ego Driven Reactions to Soulful Responses in a Relationship
Someone recently shared these life-giving words from Richard Rohr with me:
"The ego gets what it wants with words.

The soul finds what it needs in silence."
When I took time to sit with this quote, I became really struck by this message. When we are living in the ego, we argue, blame, shame, gossip, control, personalize, compare, compete, and defend with our words.
Our ego invites us to prove our worth through our reactions.
But, when we live out of the soul, we encounter ourselves and others in a very different way. Instead of the ego's combative nature, this approach involves a choice to respond to others in a softer way. Instead of living out of our ego reactions, we offer others our empathy, reflective listening, compassion, forgiveness, grace, respect, and honor.
Carl Jung argued that we spend the first half of our lives developing our egos and the second half of our lives learning to let go of them. Unfortunately, our egos can really get in the way in relationships.
How might our relationships with our partners, colleagues, friends and family members change if we begin the sacred journey of letting go of our egos?
The psychologist, John Gottman, created the theory of The Four Horsemen of the Apocalypse. He adopts this language from the Book of Revelation in the New Testament. While the Book of Revelation describes the end of times, John Gottman uses this metaphor to describe communication styles that can prophesy the end for a couple. These four pathways to ending a relationship include criticism, contempt, defensiveness and stonewalling.
1. The first pathway – criticism
Criticism is when we verbally attack our partner's character, habits or personality. I think it is important to be mindful that when we criticize our other half, we are living out of our ego.
One example of living out of the ego might be a husband who checks the family bank statement and realizes his wife has overspent their bi-weekly budget by $400. He is furious and immediately criticizes his wife by saying something like – You never live within the budget. You always do this and I am so over your Kim Kardashian lifestyle.
These words of critique will likely shut down the conversation because the wife was attacked with 'you never and you always' language.
But, what would a more mindful response that is not driven by the ego be?
"The soul finds what it needs in silence" – Richard Rohr
A more mindful approach would be to take some deep breaths and reflect on how you can respond compassionately to your partner.
A more soulful reaction might be – "I was checking our statements today and we went $400 over the budget. I am really feeling anxious about whether we are going to have enough for our retirement. Is it possible for us to talk more about what we are spending money on and to be more mindful about our spending?"
In this response, the husband uses 'I' language and expresses his needs in a positive way. He also asks a question, which invites a dialogue.
2. The second pathway – contempt
Another pathway towards the end of a romantic or platonic relationship is contempt.
When we exercise contempt, we hurl insults often and see the worst in our partner. Contempt is an ego driven response because we see our partners as the sinner and ourselves as the saint. We distance ourselves from others by describing them like a big kid, a perfectionist, a narcissist, lazy, angry, selfish, useless, forgetful, and many other negative labels.
Instead of seeing a loved one as a whole person with strengths and growing edges, we see them in a primarily negative light. One antidote to contempt is to build a culture of affirmation and gratitude. This soulful response is one in which we are mindful to tell our partner, friends, and family what we appreciate about them and thank them when they do something helpful or thoughtful.
Our words of affirmation will empower our loved one and the relationship.
3. The third pathway – defensiveness
Defensiveness is another road towards the end of relationships.
Many people are defensive when they are criticized, but being defensive is an ego response that never solves anything.
Example 1-
A mom tells her teenage son, 'Yet again, we are late.' He retorts, 'It's not my fault we are late. It is yours because you didn't get me up on time'.
In any given relationship, defensiveness is a way to project responsibility by blaming someone else. The solution is to accept accountability for our part in every situation, even if it is only for that part of the conflict.
Example 2-
In order to stop the cycle of blame, the mom might mindfully respond, 'I am sorry. I wish I had woken you up earlier. But maybe we can start showering at night and make sure we set our alarm clocks ten minutes earlier in the morning. Does this sound like a plan?'
Therefore, being willing to identify our part in a problem is a means to overcoming defensiveness.
4. The fourth pathway – stonewalling
Stonewalling is another problematic behavior that can be a dead end for a relationship. This is when someone withdraws from disagreement and no longer engages with a boss, partner or loved one. It usually happens when someone is feeling emotionally overwhelmed and so their reaction is to shut down and disconnect.
A remedy to stonewalling is for one person in the relationship to communicate their need to take a break from the argument, but to promise to circle back to the dispute.
Shift your gears from ego-driven to more mindful responses
Criticism, contempt, defensiveness and stonewalling are all ego-driven responses to others.
Richard Rohr reminds us that we can live out of our ego or we can live out of our heart space, which will always be a wise, soulful, mindful and intuitive response.
Personal experience
I have realized that when I am taking a yoga class and practice out of my ego, I have sometimes become physically hurt in class. However, when I listen to my body and am mindful about what I need to offer myself, I don't get hurt.
In the same way that we can hurt ourselves physically by living out of the ego, we can also hurt others and ourselves in emotional ways when we live out of the reactive headspace that we call the ego.
Take a moment to ponder who in your life you have been reacting to from your ego. How can you shift gears and become more soulful, mindful, and compassionate in your reactions to this person?
When we live with the ego, we will likely experience anxiety, depression, and anger. But, when we live from the soul, we will find more life, freedom, and joy.
Share this article on
Want to have a happier, healthier marriage?
If you feel disconnected or frustrated about the state of your marriage but want to avoid separation and/or divorce, the marriage.com course meant for married couples is an excellent resource to help you overcome the most challenging aspects of being married.
Learn More On This Topic
You May Also Like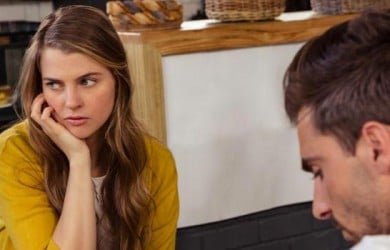 Popular Topics On Married Life