How to Overcome Apathy in Relationships: 10 Ways to Cope
Most marriages and romantic relationships go through different phases of peace, happiness, conflicts, and other lows and highs. A lesser-known phase in romantic relationships and marriages is that of apathy.
Apathy in a relationship is quite common. This phase may be experienced once or a few times throughout the course of a romantic relationship or marriage.
It usually happens when both people in the relationship feel settled into a regular and comfortable routine. Learn how to overcome apathy in relationships to make sure that your relationship does not suffer because of this.
Are you wondering whether you're going through this phase of apathy in your romantic relationship? Learn about everything related to understanding apathy by reading on!
Also, Try: 

Am I Happy In My Relationship Quiz
What is apathy in a relationship?
To learn how to overcome apathy in relationships, it's crucial to clearly understand what apathy even means. One feels apathy when they've lost interest in things or activities that one once enjoyed.
It is a state where you feel no motivation. When you're going through a phase characterized by a strong lack of interest, concern, emotion, or feeling, it is apathy.
When it comes to marriages or romantic relationships, phases of apathy are characterized by the absence of interest in the significant other. If your relationship is going through a phase of apathy, you may feel a lack of concern for your partner.
It happens when you feel indifferent towards your beloved, and emotions such as excitement, motivation, passion, or concern for your partner are suppressed.
What causes apathy in relationships?
It is pretty common for people to be feeling apathetic in a relationship. People can go through phases of feeling apathetic on their own and in their romantic relationships or marriage.
Understanding what causes apathy is a pivotal part of learning how to overcome apathy in relationships.
Here are some common causes of apathy:
1. Experiencing major life events
If you or your significant other are experiencing a major life event, especially some sort of crisis, such as dealing with sudden unemployment, an unexpected financial crisis, the loss of someone close to you, and so on, it may cause apathy.
If you're experiencing something major and negative, it can lead you to feel useless, worthless, incompetent, and pessimistic about your abilities and life outcomes.
Related Reading: 

5 Things That Are Keeping You From Opening up to Your Partner
2. Feeling overwhelmed or worn down in life
If you're experiencing an event or situation which is taxing for you, either mentally or physically or both, you may feel overwhelmed. You may start feeling defeated or worn down.
Don't confuse this with feelings of boredom. That's different. When you're experiencing events that are making you feel overwhelmed, you may then feel a strong sense of detachment, even from your relationship.
3. Going through issues related to mental health
Mental health issues are a major cause of apathy. Apathy can be one of the symptoms of a psychiatric, psychological, or neurological disorder such as Alzheimer's, depression, anxiety, schizophrenia, stroke, Parkinson's, or frontotemporal dementia.
This is why it's crucial to identify apathy and seek professional help for dealing with it, significantly if it impacts the different aspects of your life, such as your work life, productivity, and relationships.
Related Reading: 

Do I Have Attachment Issues Quiz
4. Negative thoughts and negative feelings about yourself
Progressing from feeling pessimistic about life outcomes, incompetent, worthless, and unhappy to a place of detachment and apathy may be another cause.
5. Feeling stuck or stagnant in your life
If different aspects of your life feel mundane to you, feeling apathetic in a relationship and your life is a common consequence.
This means that if your romantic relationship has fallen into a very predictable or mundane routine or your work life looks pretty boring and routine. You may feel detached from the same.
Related Reading: 

6 Signs Show You Are in a Dying Relationship and Is Time to Let Go
5 common signs of apathy in a relationship
To figure out how to overcome apathy in relationships, let's take a deeper dive into what it means to feel apathetic and detached from everything and everyone, including your significant other.
As already mentioned, apathy is a strong feeling of detachment. When you lack motivation or interest in your interpersonal relationships and/or other activities that interested you previously, your ambitions, or goals in life, it may be apathy.
Apathy is not just an emotion or feeling. It is also an attitude. It is an attitude characterized by unconcern, indifference, listlessness, dispassion, and detachment. It's sort of like living passively. By definition, empathy and apathy are opposite feelings and attitudes.
Learning how to overcome apathy in relationships also involves understanding the symptoms of apathy. These symptoms have been listed as follows:
1. Lack of communication
A clear apathy symptom in a relationship is when partners stop talking to each other altogether. They don't wish to share their feelings, as the other person's opinion or well-being has no meaning to them. They might be apathetic towards it.
2. Lack of initiative
You're in a mindset where you always expect the other people in your life, such as your close friends, family members, or other loved ones (including your partner), to initiate activities or plan activities.
3. Lack of intimacy
If you have stopped taking any initiative to make and execute plans with your partner, you might be in an apathetic relationship.
Taking the initiative conveys that you want to invest in the relationship and work to keep your bond strong. If you stop doing this, that could be because of relationship apathy.
4. Lack of excitement
Do you get excited when you see your partner and think about your future together? No? Then you could be experiencing apathy in a relationship.
Your partner's company and presence should positively move you due to your regard for them. But, if this isn't the case, then things might be a cause for concern.
5. Indifference towards partner's need
Apathy in relationships can become apparent when you don't care about your partner's needs and how your actions might affect them. The indifference usually marks a rupture in the relationship that you must note.
Is apathy the reason for your relationship problems?
There is a high possibility that you may be reading this because you may have a hunch that something is wrong between you and your significant other.
You may wonder whether you're feeling apathetic in a relationship, especially your marriage or romantic relationship.
If apathy is the source of your relationship problems, then it may be due to feelings of boredom or feeling like you're both stuck in a mundane routine in your relationship.
Talking to your partner is crucial in determining whether apathy is the real problem. Try to introduce some excitement or fun activities in the relationship, such as planning a road trip or romantic getaway, going out for fun-filled date nights, planning game nights, and so on.
However, apathy might not be the issue in your romantic relationship. Here is a list of some issues that may give you the impression that it's an apathetic relationship phase, but in reality, it may be:
You and your partner have very different interests or hobbies.

Your partner and

your communication styles

and preferences may be different.

Your significant other may be dealing with mental health issues they're unaware of.

Your preferred way of expressing love may differ from your

spouse's

way.
10 ways to deal with apathy and overcome it
If you and your partner feel that apathy is the primary cause of the relationship problems you both may be facing, then consider implementing these ways of learning how to deal with an apathetic partner.
1. Face and communicate
The first step in learning how to overcome apathy in relationships is facing this situation head-on. There won't be any productive outcome from running away or ignoring or denying this situation.
You and your beloved have to acknowledge the reality of this situation or phase in your marriage or romantic relationship.
Have an open and direct conversation with your partner where you both identify apathy and speak about how it is impacting your romantic relationship and hurting you both.
Try to do this in a way that does not threaten your partner.
Related Reading: 

How to Communicate Your Needs in a Relationship

?
2. Allow your partner to have the space
If you initiated this conversation about dealing with apathy in the relationship, and your partner did not seem quite aware of this realization of yours, it is crucial to allow your partner to have that space to process this vital conversation.
Let your partner process everything you said to them. Ensure you're not pestering your beloved for attention or opinions at this point.
3. Identify the underlying issue
Another key part of knowing how to overcome apathy in relationships is to figure out what may be causing the apathy in the relationship. Do this together with your beloved.
Figure out whether you're both feeling bored in the relationship or whether it's the mundane routine you've both grown complacent with that's causing you both to feel apathetic.
It's vital to counter passivity and indifference with meaningful actions in the relationship.
Related Reading: 

How to Identify and Deal With a Man With Commitment Issues
4. Consider your beloved's point of view
Maybe what you consider apathy or the reasons you're attributing to feeling apathetic in your romantic relationship may vary significantly from your beloved's point of view.
So, make sure to listen to each other's perspectives and then come up with an explanation and plan of action that is an amalgamation of both your perspectives. This is essential to effectively implement how to overcome apathy.
5. Enjoy your significant other's company
A big part of navigating how to overcome apathy in your romantic relationship is by reminding yourself and your beloved of what you both enjoyed doing together.
Think about the activities you both previously enjoyed doing together and take the necessary action to do those things together. This may reignite the excitement and passion in the relationship.
6. Practice self-care
Self-care might seem selfish when you are in a relationship, but remember that two happy individuals can come together and contribute to a relationship in a healthier manner.
Take time to do the things that make you happy so you don't bring negativity, frustration, and resentment into the relationship. It will give you a chance to contribute more productively to the relationship.
7. Express your appreciation
Most of us like to be appreciated by the people around us; it is the same regarding relationships.
Make an effort to let your partner know that you genuinely appreciate them and see all they do for you. It will help validate their efforts and help love blossom between the two of you.
Watch this video to learn how showing appreciation can be your superpower:
8. Indulge in shared interests
Shared interests can allow couples to strengthen their bond based on something that makes them happy. This can be especially important when there is apathy in the relationship.
If you like art, you can visit an art museum together. Or go to the concert of an artist that you both enjoy listening to.
Related Reading: 

How Important Are Common Interests in a Relationship?
9. Express your personal needs
Relationship apathy can build up over time when your needs are not met. So, please try to express what you need and what would make her happy. Encourage your partner to do the same so that each of you can make an effort to be sensitive to each other's needs.
10. Consider therapy
If you have exhausted all the options mentioned above, you can consider going in for relationship counseling so that an expert can help you with your problems. They can identify the specific problems in your relationship and guide ways of making positive changes.
In a nutshell
Relationship apathy can become problematic over time, making you feel disconnected from your partner and harming its prospects. It can make you and your partner act like strangers, despite being together.
Apathy in relationships is something that should be dealt with quite early on to avoid it from affecting other important aspects or dimensions of your life. Remember to listen, communicate and take action.
Share this article on
Want to have a happier, healthier marriage?
If you feel disconnected or frustrated about the state of your marriage but want to avoid separation and/or divorce, the marriage.com course meant for married couples is an excellent resource to help you overcome the most challenging aspects of being married.
Learn More On This Topic
You May Also Like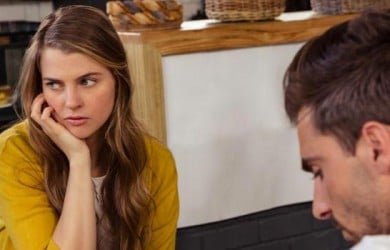 Popular Topics On Married Life