11 Signs of an Unhappy Person: Impact & Ways to Help
Ever wondered, "Why are people unhappy? What causes unhappiness?"
In the modern world, every other person could be extremely unhappy due to the uncertainties of life. Unhappiness is such a state in which a person drives himself away from the people around him and thinks pessimistically.
However, it is sometimes very hard for a person to determine the reason for their unhappiness because, at times, their habits are the cause of their sadness.
Below are some signs of an unhappy person. Check out how many of them you experience while you are unhappy.
5 impacts of unhappiness on life
Unhappiness can have a profound impact on various aspects of life, affecting an individual's physical, emotional, and social well-being. The consequences of unhappiness can be far-reaching and may include the following:
1. Mental and emotional health
Persistent unhappiness can lead to mental health issues such as depression, anxiety, and stress.
Prolonged unhappiness can erode a person's self-esteem and confidence. Negative self-perception and a sense of failure or worthlessness may hinder personal growth and development.
Negative thought patterns and feelings of hopelessness can become overwhelming, making it difficult for the person to find joy or satisfaction in life.
2. Physical health
Unhappiness is linked to various physical health problems. Chronic stress and unhappiness can weaken the immune system, increase the risk of cardiovascular diseases, disrupt sleep patterns, and contribute to conditions like obesity and digestive problems.
3. Strain on relationships
Unhappiness can strain relationships with family, friends, and romantic partners. A person experiencing unhappiness may withdraw from social interactions, become irritable, or display emotional instability, making it challenging to maintain healthy connections with others.
4. Productivity and performance
Unhappiness can negatively impact a person's ability to focus, concentrate, and perform well in academic or professional settings. Lack of motivation and a sense of dissatisfaction with one's life can lead to reduced productivity and performance.
Unhappiness can affect career choices and advancement opportunities. It may lead to job dissatisfaction, lower job commitment, and increased absenteeism, which could have financial implications as well.
5. Risk of self-harm
Some individuals may turn to alcohol, drugs, or other addictive behaviors as a way to cope with their unhappiness. This can lead to a dangerous cycle of dependency and further exacerbate their emotional and physical health issues.
In severe cases, chronic unhappiness and untreated mental health conditions can increase the risk of self-harm or suicidal ideation.

Why is it important to recognize the signs of unhappiness?
Recognizing the signs of an unhappy person is crucial because it allows individuals to address and manage their emotional well-being effectively. Ignoring or denying unhappiness can lead to worsening mental and physical health, strained relationships, and reduced productivity.
Identifying these signs enables timely intervention, preventing potential long-term consequences such as depression, anxiety, or self-destructive behaviors.
Acknowledging unhappiness also opens the door to seeking support from loved ones or mental health professionals, leading to healthier coping strategies and a better chance of finding lasting happiness and fulfillment in life.
11 telling signs of an unhappy person
Unhappiness can become the cause of many issues that negatively impact a person's physical and mental health in the long run. That is why it becomes important to identify it in time and take the necessary actions to combat it.
Here are some telltale signs that you might see in a person who is unhappy:
1. Always complaining
Wondering, "Why am I so unhappy?"
An unhappy person is, at the same time, an ungrateful person. God has bestowed us with plenty of blessingsThere might be many positive things, but some people do not feel satisfied with them, be it their home, money, job, or anything.
Complaining becomes one of the major signs of an unhappy person due to many reasons. Some people think a lot; they have a habit of very closely inspecting everything and then establishing positive and negative beliefs about things.
When these negative beliefs work, they end up making a person sad, which is why they complain every time and do not feel content.
2. You are a pessimist
Pessimism arises when you do not find happiness anywhere, so you start thinking the worst of everything. It depends upon a person's mood and their nature.
Nothing promotes unhappiness like pessimism. Once you enter the cycle of expecting bad things to happen to you, they become more likely to occur.
If you are in the habit of thinking negatively, you'll always find yourself caught in a mire of unhappiness.
The struggle with pessimistic behavior is it makes even the most illogical thought seem logical. That's the reason why it is said to be happy and adopt an optimistic approach to life. Look at the facts and don't over-analyze them, and you might start seeing the silver lining.
3. Getting angry at petty things
Issues that do not even matter will make you angry if you are an unhappy person. A person feels irritated at little things and takes out their frustration on others. This would further drive people away from you.
It's that look individuals have when they're attempting to look formed yet have something that is gobbling them up inside. More often than not, you'll see it when they don't think anybody is looking.
4. Often feel lonely
Looking for signs someone is miserable?
You often feel as if no one wants to be your friend, nobody likes you, or you are different from others. The feeling that you can't adjust among others constantly puts you in a bad mood. Moreover, once you start feeling unhappy all the time, you start trying to avoid people.
Hence you must recognize when unhappiness is making someone antisocial. Make yourself go out and blend, and you'll see the distinction immediately.
5. Hopelessness
When a person is sad, they cannot think of good and positive things in life. What they see might be sheer hopelessness. They may feel as if they are not capable of achieving their goals in life. This is one of the signs of an u happy person.
This hopelessness demotivates a person and makes them lose all their potential. Moreover, research has also suggested that people feeling hopeless are at a greater likelihood of developing depression.
6. Fear grasps your mind
The state of unhappiness keeps a person away from living their dreams, from earning something bigger and better.
One of the key signs of an unhappy person is that they are always fearful that they might be wrong; they might commit a mistake or the like. Such thoughts occupy their mind and take them far away from achieving something.
7. Decline in health
One major sign of unhappiness is that you are not healthy anymore. You come across serious health problems like fatigue, weight loss, chronic pain, insomnia, blood pressure, and even migraine.
8. You are absent-minded
One of the telling signs of an unhappy person in a relationship is that a sad person usually forgets things. They might be physically present, among others, but mentally they are absent. They don't listen carefully and don't attend to other people properly.
This is perhaps because they are depressed; they are only thinking of themselves and their worries, and that keeps them aloof from others.
9. Involvement in bad activities
A constant state of feeling unhappy forces you to use drugs, get involved in unsafe sexual acts, or use alcohol. These activities may give them momentarily pleasure and a way to temporarily escape the sadness.
10. Insecurities
A person who is plagued by insecurities can suffer from mental issues like depression, low self-esteem, and anxiety. These mental issues can be a contributing factor to eating disorders and substance use disorders.
A survey conducted to examine the association between job insecurity and mental health reported that the mental health-job insecurity relationship is heightened for workers in turbulent times.
People usually feel insecure when they compare themselves with others and feel less than them. If you are different from others around you, it can be perceived as a negative attribute hence isolating you.
11. Avoiding problems
An unhappy person sees issues and missteps as compromising, so they attempt to conceal them.
Issues, when overlooked, will, in general, get greater. The more you avoid an issue, the more it begins to feel like you can't take care of it, and afterward, it only makes you feel worse.
These are hence, some of the prominent signs of an unhappy person. Try to figure out what's bothering you and then find a solution to it rather than letting sadness take over you; because life is too short to be unhappy, so surround yourself with beautiful people and live a happy life.
How can you help an unhappy person: 5 ways
Supporting an unhappy person requires compassion, understanding, and a willingness to help. Here are some ways you can assist someone going through a difficult time:
Of course! Let's delve into each point to provide a more comprehensive understanding of how to help an unhappy person:
1. Be around people who listen without judgment
When someone is feeling unhappy, they may need a safe space to share their thoughts and emotions. Be around the people that, as a supportive friend or family member, practice active listening. Allow them to give you their full attention, maintain eye contact, and try to openly discuss your problems.
Sometimes, just having someone listen to you without judgment can be incredibly cathartic for the unhappy person.
2. Accept empathy and validation
Empathy involves putting yourself in their shoes and trying to understand their feelings from their perspective. Allow others to acknowledge your emotions and help you realize that it's okay to feel the way they do.
Loved ones validating your experiences can make you feel understood and supported, even if they haven't experienced the same emotions.
3. Be present and available
Instead of overthinking about the things that make you unhappy, try being physically and emotionally present for yourself. Spend time with your loved ones doing activities you enjoy or simply accepting their companionship.
Your presence can offer comfort and reassurance that they are not alone in their struggles. However, if they need space, respect their boundaries and let them know you are available when they are ready to talk or spend time together.
Watch this video to learn more about why it is so hard to live in the present:
4. Encourage getting professional help
If you see signs you're unhappy and they seem to persist or intensify, explore the possibility of seeking professional help, such as therapy or counseling.
Professional mental health support can provide specialized guidance, coping strategies, and a safe environment for the person to explore their emotions and challenges. It's essential to embrace seeking help without looking at your struggles as abnormal or insurmountable.
5. Seek assistance with practical tasks
Unhappiness can make even the simplest tasks feel overwhelming. Offer practical assistance with everyday responsibilities, such as running errands, cooking, or doing household chores. Help can alleviate some of your stress and allow you to focus on addressing your emotional well-being.
Be sure to ask what specific tasks you might need help with, as everyone's needs are different.
Some commonly asked questions
Here are some commonly asked questions that can help you understand the signs of a miserable person much better:
What are some common causes of unhappiness?
Some common causes of unhappiness include unfulfilled expectations, relationship issues, financial struggles, work-related stress, health problems, lack of purpose or direction in life, loneliness, and unresolved past traumas.
External factors like societal pressure, comparison with others, and adverse life events can also contribute to unhappiness. Additionally, mental health conditions such as depression and anxiety may underlie feelings of prolonged unhappiness.
How can you help yourself if you are unhappy?
To help yourself when feeling unhappy, start by acknowledging your emotions without judgment.
Engage in self-care practices like exercise, mindfulness, and sufficient rest. Seek support from friends, family, or a therapist to talk about your feelings. Engage in activities that bring joy and purpose.
Challenge negative thoughts and practice gratitude. Remember that it's okay to ask for help and take small steps toward positive changes in your life.
When should I seek professional help for being unhappy?
Seek professional help for unhappiness when your emotions and feelings persist for an extended period, interfere with daily life, or become overwhelming. Other signs include a loss of interest in activities, social withdrawal, changes in sleep and appetite, and difficulty functioning.
If self-help strategies and support from loved ones don't improve your emotional well-being, a mental health professional, such as a therapist or counselor, can provide specialized guidance and support to address the underlying causes and develop coping mechanisms.
How do you communicate with a miserable person?
To communicate with a miserable person, approach them with empathy and understanding. Listen actively, without judgment, and validate their feelings.
Be present, available, and offer your support. Avoid trying to fix their problems; instead, let them know you're there to listen and help if they want it. Respect their boundaries and be patient, as they might not be ready to open up immediately.
Show compassion and be a reliable source of comfort, reminding them they are not alone in their struggles.
Final thoughts
Recognizing the signs of an unhappy person is crucial for fostering emotional well-being. From feelings of hopelessness to physical manifestations of stress, understanding these indicators empowers individuals to address their unhappiness effectively.
By embracing empathy, validating emotions, and offering support, we can create a compassionate environment for those experiencing distress.
Encouraging professional help when necessary and assisting with practical tasks further reinforces our commitment to their healing journey. Together, by acknowledging and addressing unhappiness, we can pave the way for a happier, healthier, and more fulfilling life.
Share this article on
Want to have a happier, healthier marriage?
If you feel disconnected or frustrated about the state of your marriage but want to avoid separation and/or divorce, the marriage.com course meant for married couples is an excellent resource to help you overcome the most challenging aspects of being married.
You May Also Like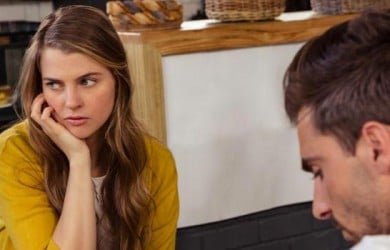 Popular Topics On Married Life