20 Tips on How to Choose Between Two Guys
So, you are trying to settle down and looking for a partner who will cherish you with his love. But, there is a twist. You have two men vying for your attention.
You like both of them. They are successful and give you attention, which often causes many dilemmas in your mind. You have spent sleepless nights thinking like two guys, how do I choose!
But, unfortunately, you still haven't found the right direction on how to choose between two guys who have feelings for you.
It is not a crime to have feelings for more than one person simultaneously. But, you have to beat the stress and choose one of the two.
No, nobody is going to blame or judge you. Instead, here you will find some exciting solutions for how to choose between two guys. So, read on to know more!
Related Reading: 

25 Ways on How to Choose a Life Partner
Is it possible to be in love with two different guys simultaneously?
You are confused and find ways to choose between two guys. On top of that, you are hurt and conflicted as you have feelings for two guys simultaneously. It may seem unethical to you. But yes, it can happen.
Some women fall in love with two guys at the same time. This is called Polyamory, or simultaneously having romantic feelings for two different persons.
Psychologists say that having a romantic interest in two different people simultaneously is normal. As a woman, you have certain criteria in your subconscious mind about your partner's personality traits. In some cases, you may encounter two different men who all sport the qualities you desire. So, it is possible.
Humans have been monogamous by their own choice for a long time. The idea of living and spending life with a particular person is so common that you may think it is impossible to be in love with two people how to choose.
But, Polyamory is often stressful, and research says that women who have such feelings often think more about how to choose between two guys and become stressed and depressed.
Whatever the case, it is not a sin or an uncanny thing. It is purely psychological, and you may need to think better about choosing between 2 guys to get over the dilemma.
Related Reading:

 Polyamory vs Polygamy: 18 Key Differences, Tips, and More
20 tips on how to choose between two guys
You are in a moral dilemma because you can't choose between two lovers. You are happy being in a relationship with two guys. But, on the flip side, you know that you have to settle down with one of them.
On top of that, you do not want to cause heartbreak for any of these two men. But, you know that you have to make a tough choice.
Because you are struggling inside, and you want to make peace with yourself by finding the best possible answer against how to choose between two guys.
Well, the journey is indeed tricky. So, here are twenty tips on how to choose between two guys –
1. Try to find out more about their personalities
Even if you like these two men, they are different from the core. The best method to choose between two guys is to find as many details as possible about their personalities.
Try to find out about their hobbies, family members and relationships with their families, personal preferences, food habits, vacation habits, etc.
You will find that there is someone more suitable for your ideals. Go for that man only.
Related Reading: 

16 Personality Temperament Types and Marriage Compatibility
2. Check out how you spend time with each of them
You are still confused about how to pick between two guys. So, try this method of dating two guys how to choose!
Check out how their behavior changes when you two spend a long time together.
Which of them makes you happier and safer? Who brings out the best in you? You will indeed find your answer.
3. Check out the negative qualities of each man
Unsure about how to choose between two guys at this moment? Look out for their negative qualities. If you want to spend your life with someone, you must be aware of their negative traits.
Who makes fun of you often in the wrong way? Are there any anger issues? Which seems more self-centered and loves to get the opposite sex's attention?
Find your answers to the above questions; you will understand whom you need to choose!
Related Reading: 

6 Signs You Are in a Negative Relationship
4. Ask what they want from their life (and you)?
You are looking for your life partner. Hence, you need to check if the man you choose has the right plans. Hence, when confused between two guys, ask them about their plans.
You will slowly realize that there is someone whose plans do not match your ideologies. He may not be the right one for you!
5. Never decide based on physical appearance
Want the best advice on how to choose between two people? Never choose according to their appearance. And on top of that, do not compare their physical appearances to find the best one.
Physical appearance can only cause a need for money. But, with the right person, you will always feel a deep mental and physical connection.
On top of that, a man's personality is what makes him attractive! Choose wisely, girls!
Related Reading: 

How Much Do Looks Matter in a Relationship?
6. Check out how each of them feels about you
Are you still thinking about how to pick between two guys? Then try to consider their feelings once.
Even if both of them have romantic feelings for you, their feelings will not be the same.
Hence, try to find what they feel about you and how they want to plan their future with you. You will get your answer!
Have a look at this video to understand a man's feelings when he is in love with you:
7. Is there any moral clash?
There is another solution on how to choose between two guys. That is to compare the moral ideologies of the two guys.
Check out if you are clashing with any of these guys on moral issues. You will find that one of them shares similar ideologies to you while the other may have some conflicting ideas. It is better to choose who shares the same belief as you! After all, it is a matter of your life!
Related Reading: 

15 Relationship Conflict Patterns & Common Causes
8. Who is more interested in settling down?
So, you are confused about the two guys equally smitten by you. But, in the end, you have to choose only one person. So, how to choose between two guys you love?
Well, by checking out their eagerness to settle down. Ask them about their plans to settle down with you.
While men may have feelings for you, some are more serious than others. Ideally, you should choose a man eager to settle down with you and maintain that stand.
If a guy is keen to settle down with you, he will start planning about the future and may even set some long-term family goals. Ask and check out how they have planned their life with you.
So, it is better to go with the guy who plans to marry within a few years!
9. Who is there to cheer you at your lowest point?
Relationships are not about love and sweet moments. It is also about supporting each other and helping each other find an anchor in the difficult times of your life.
Check out who is there to cheer you up after you are upset. The man who comforts you during your lowest times is the ideal partner. After all, you will need a shoulder to cry on when sad.
On top of that, check out who helps you when stressed due to personal and professional issues. You will indeed find out. This method on how to choose between two guys you love never fails!
10. Who is more family-oriented?
So, you are confused about how to know which guy to choose. Have you tried to find who is more family-oriented?
A guy who loves his family will always be a great man to start your own family. Check out who talks more about his family in your presence. Check out who these two guys ask for your help to choose gifts for their parents or siblings.
A real family-oriented guy will also invite you to meet with his family once in a while! Understand that this man is undoubtedly husband material!
Related Reading: 

20 Signs He's Husband Material
11. Which of them is friendlier with children?
Wondering, "Which guy should I choose?" Then follow this tip. Check out which of these guys are friendlier with children. A guy who understands children better and is comfortable while caring for them will be a more responsible father figure.
Check out which of these guys love their nephews or niece or spend time with children regularly. Also, ask them about how they feel while being asked to take care of children! It will help you to decide better!
12. Who has the qualities of a real man?
You need an honest and dependable man who will always be there with you through thick and thin. So, why not apply this principle to how to choose between two guys?
Who among these is respectful towards everyone, even strangers? Who always talks politely and does not make a scene, even when angry? Who opens their hand to help people in need? Who is there to offer helping hands to the neighborhood during any issues?
Seek the answers and then decide.
Related Reading: 

15 Amazing Characteristics of a Godly Man
13. Who is trying harder to impress you?
Torn between two guys? Then check out the efforts of each of them. Even if they both have romantic feelings, they will have different approaches to impress you.
Instead of thinking, "I like two guys, what should I do" let their actions speak. One of them will try harder to impress you. You will find him doing everything possible to make you fall for him. Choose that one!
14. What about their past?
No, judging a person by their past is not a good habit. But, this is a matter of relationships. So, make this an exception.
Modern research tells us that people have the same pattern in their relationships. Hence, ask each of these men about their past relationship histories and what they think of their past flings.
Having decent knowledge about their past may help you choose the right person to some extent!
15. Who has a more positive outlook on life?
Life is about hurdles and challenges. But, having a positive outlook can help you sail through even the most turbulent storm.
It would help if you had someone who offers you a positive mindset and is always eager to find the silver lining in difficult situations. Find the man who gives you confidence and support to carry on even doing the most difficult phases with positivity!
Related Reading:

 20 Ways to Build Positive Relationships
16. Imagine life with each of them
Still, confused about how to choose between two guys you have feelings for? Then why not get into some imaginary situations.
Try to imagine your life with each of them. Which one looks comfortable and closer to a good and uneventful life? If you find it easier to imagine a promising future with one of them, go for that man!
17. Who accepts you as you are?
While dating a man and, most importantly, finding your partner, you need to check out their mentality about you. A good man who truly loves you will never try to change you. He will accept you as you are and accept your flaws as a part of you.
So, check out who always tries to change your personality and dressing sense to his liking. A little suggestion is all right, but telling you always to change something is not a good sign either.
Related Reading: 

Developing Acceptance Skills in a Relationship
18. Ask your friends or family members
Some people may say you should not talk about such matters to your friends. But, it is good totally about life issues once in a while. So, if you have issues with how to decide between two guys, you can get help.
Ask your close friends or family members. Talk in detail with them about each man's qualities and negative traits. They may provide you with some solutions. But, please remember; always take their advice with a pinch of salt!
19. Ask yourself
Never refuse your gut feeling while choosing between two guys! Probably your mind and heart know the answer already. You have to believe in your gut instinct once in a while. If your gut feeling tells you something is wrong among one of these men, believe in it. Your intuition never goes wrong!
Related Reading: 

30 Questions That Can Help You Find Clarity In Your Relationship
20. Consult a therapist
If you have not found any sustainable answer on how to choose between two guys you love, it is time to get professional help. It is not unnatural to seek a therapist when you are confused and stressed over relationship issues.
A therapist can help you navigate between the issues and may even help you decide on the most dependable guy among these two men you are involved with!
How can I be sure I chose the right guy?
Well, there is nothing like this. You have made the conscious decision on how to choose between two guys you love. So, it is time to concentrate on your choice. Yes, with time, people change.
But, have faith in your decision and love. As you move forward with him, you will find new ways to mend gaps and bridges together. So, be sure of your decision and jump in the wagon!
Wrapping up
It is not abnormal to have romantic feelings for two guys at once. But, it would help if you found the answers to, "How do I choose between two guys' ' to get over all the complications. Take your time and think properly to make the decision.
It may be a lengthy and conflicted procedure. But, you will find the right person after a long thinking procedure. After choosing, stick to your decision and be prepared to be the other person in your life.
It is better to have a stable relationship than two conflicted ones! Hence, take your time and take a step towards your dream guy!
Share this article on
Want to have a happier, healthier marriage?
If you feel disconnected or frustrated about the state of your marriage but want to avoid separation and/or divorce, the marriage.com course meant for married couples is an excellent resource to help you overcome the most challenging aspects of being married.
More On This Topic
You May Also Like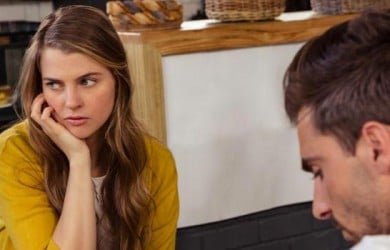 Popular Topics On Married Life