5 Signs You Are Suffering From a Good Girl Syndrome
"Am I a good girl?" is something you might have asked yourself at one point. Technically, there isn't anything wrong with being 'nice' or 'good.'
However, the qualities praised in little girls, such as being quiet, kind, and agreeable, can often translate into the 'Good Girl Syndrome' when they grow up, which can be a problem.
Kindness is a quality that should be present in everyone, regardless of gender. But how can you tell whether your niceness is still in the healthy realm or if it's started to become harmful?
Continue reading to determine whether you have the 'nice girl syndrome' and how it can become problematic.
What does it mean to have good girl syndrome?
What is a good girl exactly? Being a good girl is self-explanatory, but it is when it becomes a syndrome that it becomes a problem.
The 'good girl syndrome' is the manifestation of traits valued and praised among little girls to the extent that deviating from those traits makes them feel guilty and fearful of being judged.
It's society's expectations of who women should be and how they should act. Although they are admirable traits by themselves, women end up internalizing them and striving to please others, even if it's at the cost of their well-being.
The signs of a good girl usually manifest in things such as fear of speaking out, fear of disappointing others, fear of rejection, the need always to excel, avoidance of any conflict or confrontation, and inability to refuse others.
Those who suffer from this syndrome tend to resent those who can get what they want because they cannot do so for themselves. They struggle with expressing their feelings or asserting themselves because of the overwhelming fear of criticism and judgment.
In relationships, it manifests in negative thoughts, attitudes, beliefs, feelings, and behaviors about sex and intimacy, limiting their enjoyment and responsiveness of that aspect of the relationship.
Society tends to think of 'good girls' as innocent and pure. Thus, a significant lack of positive sexual education can inhibit sexual response. Everyone always says that the "good girls don't!" when "good girls do" should be taught healthily.
5 Signs you are suffering from good girl syndrome
So, how can you tell that you are suffering from good girl problems? Here are five signs you're a good girl and not in the healthy sense:
1. Believing that you have to be nice to be loved
Being a nice girl revolves around the idea that if you want to be loved and accepted, you have to be nice and kind to everyone. However, it's a skewed concept because we cannot please everyone we meet, no matter how hard we try.
This concept is based on a deeper idea that tells you that you are not good enough, so to be loved, you have to do things and satisfy a few criteria first. It implies that your worth only equals how much you have pleased the people around you.
2. Forcing yourself to stay sensible and conventional
One of the characteristics being drilled into the heads of good girls is that they have to stay quiet and not stand out, always do as they're told, and not question any of the norms.
Society is telling you to only do what everyone else is doing and what everyone else expects from you without trying to be different.
Good girls always stick to the instructions and what's realistic. They are not allowed to be silly and far-fetched, thus limiting their creativity.
3. Struggling to say no
Although this is a common issue with both genders, this is even more profound in those with the good girl complex. They have trouble setting their boundaries for fear that it might end up pushing people away.
It ties into their need to always please others. They essentially become a doormat because refusing and potentially getting into a confrontation might rid them of their 'good girl' image.
This often makes them psychologically vulnerable to toxic, codependent, abusive, manipulative, and unhealthy relationships.
4. Setting high standards for yourself
Those with the good girl syndrome tend to put a lot of pressure on themselves. This is yet another thing that stems from their want always to please others and never disappoint.
They tend to compare themselves to others who have been successful and give themselves a hard time when unable to achieve what others have.
From a young age, women have been pressured to look perfect and avoid attracting negative feedback. Unsurprisingly, this results in unhealthy behaviors as they grow up.
5. Being afraid of upsetting others
The idea behind the behavior of good girls is that they are responsible for how other people feel. They walk on eggshells and bend over backwards to keep people happy. The second that there is a downward shift in mood, they feel like they are somehow to blame.
Good girls then mold themselves into the person that society wants them to be instead of becoming the person they really are.
Does the good girl syndrome affect your relationship?
In a relationship, the good girl syndrome can limit a woman's desire to explore its sexual aspects. It makes her believe that going beyond the boundaries set by society will have her labeled as something dirty or untamed, and no woman wants that.
Women who suffer from the good girl complex cannot fully enjoy themselves during sex. They are constantly judging themselves and being careful to stick within those set boundaries.
Whenever their partner suggests going outside what is accepted as 'sexual normality,' they tend to become uncomfortable and dismiss the idea entirely.
It doesn't just affect the sexual aspect of the relationship too. When you have good girl syndrome, you unconsciously employ tactics that make it easier to avoid shame and rejection.
This means only asking for some of the things that you want and need and withholding the others.
You end up sacrificing a lot for fear of doing or saying something that might jeopardize your relationship.
However, this only leads to miscommunication and feelings of neglect. The good girl complex can take an emotional toll, making you feel anxious, lost, and drained, and feeling emotionally burdened in a relationship is never a good sign.
How to overcome the good girl syndrome
Fortunately, it is possible to overcome the good girl syndrome. How? Watch this video to know more.
The problem is it won't come easy, which is understandable since the roots of this complex are something that women have internalized from a young age. Undoing something that has had years to cement itself inside your consciousness is always easier said than done.
But these tips can push you in the right direction:
1. Reassess your beliefs
You need to reflect and consider which of your beliefs are right and which are harmful. It involves a lot of unlearning and relearning, but it is essential to overcoming the good girl syndrome.
2. When you're dissatisfied, find the root and act on it
This is when you actively stop letting people walk all over you. If you feel like certain decisions or certain situations make you uncomfortable, then don't be afraid to put a stop to it right away. It's nice to be empathetic and considerate of how others feel, but you must also learn to look after your own well-being.
3. Believe in yourself
This one is critical: you should know your worth. Don't let others decide your worth for you. You should be confident in your decisions, even if people disagree.
Don't be afraid to fight for what you know is right. Some conflicts and confrontations might be terrifying to go through, but they are essential for personal growth.
The takeaway
It's always good to be good. However, like everything else, too much of it can be problematic. You don't have to force and torture yourself to prove your kindness.
Overcome the nice girl syndrome and free yourself from the psychological and social pressure to be someone you are most likely not.
Recognizing the signs of a good girl within yourself is the first step to overcoming the syndrome. Although it is easier said than done, it is not entirely impossible. It's a lot of work, but it allows you to finally claim 'I am a good girl and know that you don't have to sacrifice your worth to prove it.
Share this article on
Want to have a happier, healthier marriage?
If you feel disconnected or frustrated about the state of your marriage but want to avoid separation and/or divorce, the marriage.com course meant for married couples is an excellent resource to help you overcome the most challenging aspects of being married.
More On This Topic
You May Also Like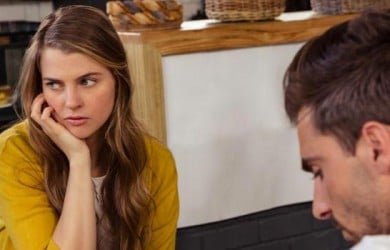 Popular Topics On Married Life