Approval-Seeking Behavior in relationships: Signs & How to Heal
Approval-seeking behavior is a typical attitude among many people. What is approval-seeking behavior? What are the causes, and how can you heal? Keep reading this article to learn more.
At some point in our lives, we've tried to act to please others. In other situations, you may have tried to change your behavior to suit your friends or family to avoid criticism instead of doing what's best for you.
In addition, if you are constantly worrying about the thoughts of others or what they will say concerning your life decision, this may mean you are placing your happiness into other people's hands.
Suppose the inability to get that approval causes you anxiety, fear, and stress; you may be suffering from approval-seeking behavior.
What does approval-seeking behavior mean in a relationship?
Approval-seeking behavior happens when you behave a particular way to please others or get their validation. If your actions, thoughts, and feelings are influenced by what others may think it says of you, or if you constantly need approval and praise, you may suffer from approval-seeking behavior.
In addition, approval-seeking behavior can happen in any form of relationship. Seeking constant validation in a relationship is like asking for permission to do something for yourself.
You find it challenging to do without other people's positive words. Also, you become stressed and fearful if you don't get this validation in a relationship.
When you want others' permission before doing anything, you are handing over the power of your life to others.
To feel worthy and valuable, you seek approval from people who don't know you as much and certainly don't care. You fear rejection or dread conflict or any altercation more than doing what makes you happy.
A person who seeks approval from others or has an approval-seeking personality is more concerned about others' opinions of their life. You worry about how you are perceived by others and are constantly seeking validation in a relationship.
Unfortunately, seeking validation in relationships or asking for approval from others does the exact opposite of what you want. It reduces your self-esteem and makes you feel empty. You feel insecure and unworthy, and undervalued. Therefore, it becomes easy to rely on others for assurance.
The question is, do you know yourself and your values? Why do you act to fit in and get along with others when you can exhibit your unique personality? Is your constant need for praise and approval worth sacrificing your self-worth? Read on to learn more.
Why do you seek approval from your partner: 5 causes
We have all sought validation or approval from others at some point. For example, as a teenager, you may need the approval of your parents to do certain things. Also, your child may be seeking your approval.
According to a 2016 study, seeking emotional validation from mothers at a young age strengthens emotional awareness.
However, if, as an adult, you can't independently decide without seeking validation in relationships, there may be some reasons behind it. Learn about them in the following paragraphs:
1. Fear of rejection
We all fear rejection from others. The fear of rejection is the irrational feeling of not being liked, accepted, or loved by others. People with this feeling are afraid of being socially secluded.
Also, they fear being alone and struggle with a lack of confidence. They become tired of constantly worrying about what others think of them. The fear of rejection is a sign of social anxiety. A person showing the signs will struggle with low self-esteem, lack of confidence, shame, or guilt.
Related Reading

: 

How to Manage the Psychological Effects of Rejection
2. Loneliness
Another cause of attention-seeking behavior in a relationship is loneliness. If you feel unheard or unseen by your partner, you may find yourself seeking approval from others, even when you've never shown it.
Feeling insecure in a relationship occasionally is entirely normal. Your partner will only sometimes put their 100% effort into the relationship, and this is expected. However, if it happens a lot, you may seek praise, approval, and reassurance from others.
Related Reading

: 

15 Signs of Loneliness in a Relationship and How to Deal With It
3. Low self-esteem
Low self-esteem is when you don't have confidence in your self-worth and abilities or don't believe in yourself. It is associated with anxiety and depression, and results from childhood experience, drama, abuse, upbringing, and culture.
When you can't see yourself in the best form, you may want to bring back the lost attention by finding solace in the approval from others. In turn, the attention given by others may help reassure you that you are worthy, or it may bolster your value.
4. Childhood experience
Most of our adult behavior has been part of us since we were kids. When a child constantly receives approval from his parents or family, he becomes a self-confident adult.
They build a strong sense of value, worthiness, and internal validation. That makes it impossible for them to consciously or unconsciously seek them outside.
These children will be able to validate themselves without any encouragement from others. Sadly, children who receive more criticism and blame grow up with guilt, shame, fear, and anxiety. Consequently, they tried to repair the damage through the constant need for praise and approval.
5. Sense of identity
The way we constantly live changes due to civilization and technology. The internet and the advent of social media have established an urgent need to have a specific identity, even if it's not real. It's made us unconsciously crave the need for praise, reassurance, and approval from others.
A 2022 study suggests that social media leads young people to rely on others' approval for self-validation and goals, leading to low self-worth. You may post a picture online and expect more comments or likes. When some people don't get enough of these comments or likes, they become depressed, thinking they aren't enough.
In other words, it can be easy to lose your identity in the age where social media like TikTok and Instagram set the standard for how we live. Therefore, you may find your identity in others by seeking their validation.
Identifying attention-seeking behavior – 10 signs
There are many signs of attention-seeking behavior. However, the most common ones are highlighted below:
1.Being afraid to say no
One of the first signs of seeking approval is when you are afraid to say no. Do you always say yes to the requests of others even when you aren't comfortable or when it's to your detriment?
If the answer is yes, then you may value the validation of others over your own. Saying yes when you want to say otherwise can result in depression, frustration, hatred for others, and pent-up anger.
2.Taking arguments personally
Another noticeable sign pointing to your approval-seeking behavior is when you get overly sensitive in arguments. Disagreements are inevitable in relationships. If someone disagrees with your point of view or something you said, and you find it insulting, you may be seeking to win their approval at all costs.
It also shows that you think your self-value is low because someone said something contrary to your statement. Instead, you should understand that people have different perspectives, which will reflect how they behave.
Related Reading

: 

15 Phrases That Will Diffuse Arguments With Your Partner
3. Constantly changing your principles
Principles are the basis for our conduct and reasoning. They guide us in behaving and relating with others. Having personal values and principles means you have your way of living – it should be unique and set you apart.
While some events will prompt you to change your philosophy, they should be for a good cause. For example, if your principle emanates from an old tradition or something not morally acceptable, you may change it.
However, if you have different values or principles from time to time due to your encounter with people or their way of life, you may be exhibiting a sign of seeking approval from others.
4. Changing your point of view when disapproved
If someone disagrees with you, how do you react or respond? Do you stand firmly and defend your position or restate your opinions to fit more closely with the other person? In this scenario, you are seeking the approval of others.
There are billions of people in the world. So, everyone can't agree with your perspective. After all, having different opinions on topics is what makes us humans. You should voice your opinion calmly, firmly, and confidently when you argue.
Approval seekers often change their opinions based on the person in the discussion because they fear their beliefs are wrong. Therefore, they don't want to look different or present a conflicting view.
5. Making friends with someone who isn't on the same page as you
Another sign that shows an approval-seeking attitude is when you force yourself to be friends with someone, especially one who doesn't respect you. This behavior may be accepted when children display it, but it is not advisable for an adult.
Furthermore, if you are trying to be friends with someone after falling out, it's understandable. The relationship may be important to you, and you are certain your self-worth isn't trampled upon in the process.
On the other hand, constantly forcing yourself on someone or buying them gifts when they have shown you they don't want the friendship is demeaning. It's best to know how to stop attention-seeking behavior.
6. Pretending to know something in a gathering
We've all been in a situation where everyone seems to know the latest news or celebrity in town. Sometimes, everyone else at an event will be familiar with a concept or idea that may seem unfamiliar to you.
Typically, you may wonder if you are doing something right or question your knowledge about the topic.
Also, you may fear that your lack of a particular skill causes a knowledge gap. If this happens, and you decide to fake it rather than ask for clarification on the subject, you show an approval-seeking personality.
7. You try to be unique
Whether you make an effort or not, you are already a unique person, and so is another person. There is no point in trying too hard to stand out or doing something so others can see you are different. It's a waste of time and energy.
The best you can do is to act right and accordingly without seeking the approval of others.
Related Reading

: 

Unique Romance Tips for Married Couples
8.You feel the need to prove yourself
Another behavior that shows you live for others is your need to prove your worth or value. In life, you don't need to announce some things.
As you live, people observe you, noting what you stand for, your interests, and your dislikes. Whether you use your knowledge against others or overly explain yourself to prove a point, it's unnecessary.
9.Avoiding conflicts with everyone
Conflicts are inevitable in every relationship, whether with your friend, family, or romantic partner. They are part of the core of a healthy relationship. If you find disagreements uncomfortable, the best way is to table your perspective, find common ground and resolve it.
Although there are events when it's necessary to avoid disputes with some people, at other times, you may need to settle the differences as soon as possible. Avoiding conflicts will only make people step on your toes and take advantage of you. In turn, you will feel more frustrated and depressed.
10. You do things for recognition
Most people like the attention they receive when they do something. If you do something constantly, you want others to see it and praise you. This is a sign of needing constant validation in a relationship. It reeks of low self-esteem. In truth, most people don't care and want to be entertained.
How to overcome the need for approval-seeking behavior- 6 ways
One of the questions many people ask about this subject matter is how to stop seeking approval. The path to overcoming approval-seeking behavior is a complex one. It involves a conscious effort and intention to win. The following tips can help you eliminate attention-seeking behavior from your life:
1. Know that attention-seeking behavior won't help
First, you must understand that seeking approval from others won't help you. It is not the solution to your fear of "I am not enough." Or "I need more." Instead, it will drain you of the energy you need to divert to essential activities in your life.
2. Accept that no one is perfect
When you admire others or do things to get their approval, it's often because you believe they're perfect. Unfortunately, no one is perfect in life. We are all full of flaws and weaknesses.
Instead of striving for perfection to make others like you, you should strive to be better within yourself. You only owe yourself so much. What you need are self-acceptance and self-admiration.
Related Reading

: 

10 Tips to Creating Your Perfect Relationship
3. Get to the root of the attention-seeking behavior
Another tip on how to stop seeking approval from others is to go to the source of the issue. Often attention-seeking behavior starts from a young age. Your experience with your parents, caregivers, and other children your age may affect your self-image and adult life, leading to seeking approval and validation.
Suppose you have a dismissive parent or one who heavily criticizes you. Perhaps, you had difficulty making friends and became fearful of being rejected in the process.
Also, if your parents were perfectionists and had high expectations of you, in these instances, you would want to please others, regardless of your ill feelings.
Learn more about criticisms during childhood in this video:
4. Believe in yourself
The road to rediscovery in attention-seeking behavior is to believe in your worthiness. Take pride in your principles, thoughts, feelings, and emotions. They make you stand out from others. Affirm that no one can be you, and embrace the notion.
Related Reading

: 

30 Ways to Practice Self-Love and Be Good to Yourself
5. Confront issues
Running away from issues won't make them go away. Instead, you should build a tolerance for conflict and argument. Express your opinions clearly and appropriately, even if the other person disagrees.
Doing this shows you have respect for yourself and others. The fact that the person didn't accept your perspective doesn't make you wrong, and vice versa.
6. Learn to accept criticism and rejection
You can't be perfect; not everyone will accept or like your personality. If you want to know how to stop seeking approval from others, learn to receive criticism. There will be moments when you will fall off the expectations of your boss, wife, parents, children, or friends.
In such cases, their disapproval and criticism can help you become a better person. See it as a learning experience rather than resent them.
5 examples of attention-seeking behavior
The following are some of the common examples of attention-seeking behavior:
Seeking the compliments of others

Over apologizing for your opinions or perspectives

Being overly submissive to other

Giving insincere compliments to others

Caring too much about what others think of you
Is it narcissistic to want validation?
We all, at some point, have sought validation from others. It is all right as long as it isn't constant. However, you may exhibit narcissistic behavior when external validation is your motivation for acting or when you react negatively, are stressed, or become anxious or fateful when you don't get it.
Takeaway
Attention-seeking behavior is doing something for the approval of others over your happiness or interest. The goal is to get others to like you, but this does the opposite – it makes you fearful or anxious if you don't get the compliments or praise you seek.
This article has explored attention-seeking behavior fully, its causes, signs, and how you can overcome it. Should you need more help, relationship counseling can help you highlight your approval-seeking behavior and proffer lasting solutions to them.
Share this article on
Want to have a happier, healthier marriage?
If you feel disconnected or frustrated about the state of your marriage but want to avoid separation and/or divorce, the marriage.com course meant for married couples is an excellent resource to help you overcome the most challenging aspects of being married.
More On This Topic
You May Also Like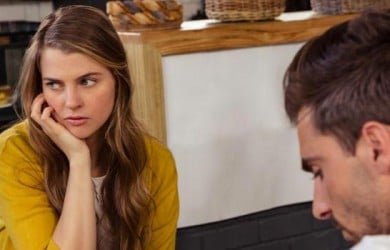 Popular Topics On Married Life