You Found Your Soulmate, Now Find You
At the age of 40, I didn't know that I'd find my soulmate, but I did. Ten years later our marriage is still as blissful and storied with magic as that first year.
Do you know what I mean by soulmate?
A Soulmate is someone who through deep loving – and sometimes deep adversity – inspires us to be more of our true, authentic selves.
For instance, we'll be wandering around the kitchen in the morning, making coffee, checking our phones, and catch each other's eyes. We stop and stare deeply into one another, silently thanking God that we found the other.
We'll often well up with tears in an exchanging of this deep gratitude. We embrace, kiss a little, take an even longer investigation of each other's souls, and speak through our hearts: "I remember you."
It is almost everything I dreamed it would be, but not quite. With all that bliss you might ask, how could I say such a thing, right?
Discovering your relationship with yourself
Like many people, I grew up thinking that finding the perfect partner, the right man, my soulmate, would 'complete me'.
And, on a lot of levels it does feel like that, But, the truth is that no one outside of me, not even my Soulmate, can fill the void that exists inside. It could only be filled by discovering my true self.
Let me be clear, my husband is all that. He is an amazing man on every level. Genuine and kind, brilliant and creative, warm, loving, generous, soulful. I could go on. And yet, I discovered that despite all of this it still did not fulfil the deep longing that existed within me.
Over time, what I learned is that I was seeking myself.
Breaking the mould of your past programming
My beautiful husband did help, to be sure. He provides as close to unconditional love as I believe possible in our modern-day life. And because the relationship is so solid, I felt an incredible freedom to explore myself and expand into new territories, completely and totally reinventing myself from the inside out.
The miracle is that I did it within my committed relationship – something my past programming had apparently ruled out!
But what I didn't know then is that for my whole life I'd had an innate and deep desire to "know thyself". My True Self, my God Self. My professor Dr Mary Hulnick calls this the "holy longing." I was just under the misunderstanding that it could only be found in a partner, outside of me.
Seeking your own magnificence and goodness
What this journey has taught me is this: we are each here to seek our own magnificence, our glory, our goodness. We are searching for the spark of the Divine that we are. We yearn to experience our Divinity, our wholeness, our majesty.
Our partners may hold space and reflect that to us, but this holy longing, this deep sense of connection and overwhelming love that we all are, is what we seek. It can only be discovered from within. And, it can only be reflected in another once it's found within ourselves.
Scratching what lies beneath your shadow self
Where is it within us, you might ask? Safely tucked under the programming and patterning of what some call our shadow self. Below the surface of the 'doing-and-doing-and-overdoing' to attempt to validate our existence.
Behind the masks we wear to look better, to try harder, to keep up. Beneath the crappy emotional remnants of being human we often find ourselves swimming around in.
But one more crucial layer beneath all of that is the real you.
Keep excavating. In there is the authentic you. The higher part of you. The essence of you.
And this essence is the same as the vibrational frequency of Love. It's the truth of who you are.
Love. And that truth, which is you, is what you are seeking.
Be the chief designer of your life
It's not in a job or a car or a house or a career. It's not even in your kids. And I am here to share from the first-hand experience, it's not even in your Soulmate.
I live a charmed and blessed life. I am the chief designer of it and my deep well of gratitude and joy is brimming in knowing that I was able to make this discovery about myself within the container of the relationship that is my marriage. It provided the safety and nurturing acceptance in which to explore myself. It granted me the freedom to color outside of the lines of who I thought I was.
Be you, so your soulmate recognizes you when you meet
If you're out in the world searching for your Soulmate, take a breath. Put your hand on your heart and know that what you truly seek is you. If you are overly busy out trying to find your Soulmate, it may very well be that you are just missing you.
Find the true you – and then, go be you, out in the world – so that your Soulmate will recognize you when you meet.
Share this article on
Want to have a happier, healthier marriage?
If you feel disconnected or frustrated about the state of your marriage but want to avoid separation and/or divorce, the marriage.com course meant for married couples is an excellent resource to help you overcome the most challenging aspects of being married.
More On This Topic
You May Also Like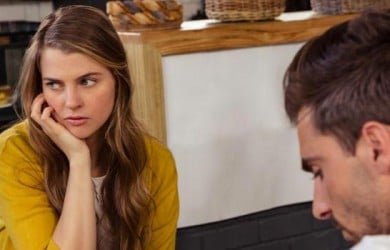 Popular Topics On Married Life