What Is Self Disclosure in Relationships – Benefits, Risk & Effects
Self-disclosure in relationships may make some people feel uncomfortable out of fear of sharing too much personal information.
While this may be a valid concern, there are also benefits of self-disclosure, especially when it is done correctly.
Learning what self-disclosure is and how it helps relationships is important. So, before we delve deeper into how self-disclosure affects relationships and how important it is, let us first know what self-disclosure exactly means.
What is self-disclosure in relationships?
The first step in understanding the benefits of self-disclosure is learning what it is.
Self-disclosure is simply the act of giving information about yourself to someone else. Self-disclosure can involve passing along rather superficial details, such as your favorite movie, or it can be something more private, such as your religious views.
Interestingly, self-disclosure does not always have to be verbal or intentional. We engage in self-disclosure through non-verbal methods, such as our body language and how we dress.
Most often, when we talk about self-disclosure, though, we are referring to spoken acts of self-disclosure, such as sharing our goals, dreams, attitudes, beliefs, or preferences with others.
Self-disclosure is a reciprocal process
Self-disclosure can also be thought of as a mutual give-and-take or a reciprocal process.
This means that when there is self-disclosure in relationships, one person shares personal details of their life, and the other person, in turn, makes a self-disclosure.
Through this process, people in relationships can gradually reveal more and more of themselves over time. In this way, self-disclosure in relationships is an ongoing process of sharing information about oneself.
An example of self-disclosure might be that a friend shares with you that they are struggling with a disagreement with a family member, and you share with them about a time you had a family conflict and how you resolved it.
An example of self-disclosure in romantic relationships might be talking to your significant other about what you hope to achieve in your career or what your life would ideally look like five years down the road.
These conversations can help you to reveal parts of yourself to each other. Ideally, your partner also should share their visions with you.
Related Reading: 

The Importance Of Communication In Marriage
How important is self-disclosure in a relationship?
The give-and-take process of self-disclosure is rather crucial for relationships.
Research states that when people in a relationship gradually reveal themselves to each other while sharing their feelings and experiences, they build trust and understanding. This reciprocal sharing between partners also leads to emotional intimacy.
Self-disclosure benefits are so strong that research has found it is linked to better relationship satisfaction, whereby partners feel a stronger sense of love and commitment. Even when a relationship is not romantic in nature, a certain degree of self-disclosure is important to build trust.
People may worry that sharing too much personal information is harmful in a relationship, but the reality is that couples cannot grow in intimacy and trust without self-disclosure.
Platonic relationships also struggle to develop if people are not willing to share with each other. This makes self-disclosure perhaps one of the most important components of lasting, healthy relationships.
Benefits of self-disclosure
Self-disclosure brings numerous benefits to romantic relationships, such as:
Being happier in the relationship

Feeling loved by your partner

Developing stronger trust for your partner

Partners feeling a sense of being needed by each other

Reporting higher relationship quality

Stronger

commitment to the relationship

Understanding each other better

Developing higher levels of empathy for each other
All of the above benefits of self-disclosure can certainly make for a more successful romantic partnership, but self disclosure isn't just beneficial in personal relationships.
Experts report that self-disclosure has benefits even in professional relationships in the workplace. Some benefits of self-disclosure at work may include:
Being more likable to your coworkers

Helping you to cooperate more effectively with people at work

Developing stronger connections and rapport with coworkers and clients

Making work more enjoyable

Helping you to be more productive when working on teams
The benefits of self-disclosure can be seen in various types of relationships, from romantic partnerships to work relationships. The same benefits of self-disclosure in romantic relationships, such as trust and closeness, also apply to friendships.
Related Reading: 

How to Feel Close and Connected With Your Partner
What are the risks involved in self-disclosure?
While there are benefits of self-disclosure, there may be some risks, especially when oversharing in relationships in a professional setting.
For instance, experts warn that if you are sharing too much personal information at work, you may make your colleagues or clients uncomfortable, leading to embarrassment.
When done to the extreme, self-disclosure at work can also damage your reputation and cause people to feel that they cannot share things with you. They may worry that you share too many personal details.
To prevent the risks of self-disclosure at work, it is a good idea to set boundaries and use your judgment regarding what is appropriate to share. For instance, you may connect with coworkers over your enthusiasm for health and fitness.
Still, it might not be appropriate to share intimate details of your love life or the specifics of your religious or political views.
It is also helpful to practice caution with self-disclosure at work. Monitor your coworkers and see how much self-disclosure they engage in with you and others.
This can be a model of what is appropriate to share. Also, be sure that you are sharing to build trust and connection, and not to gain the spotlight at work or to get sympathy from your coworkers.
Risks involved in personal relationships
The risks of self-disclosure may not be as serious in personal, romantic relationships, but there is always the chance that your partner may be surprised by or uncomfortable with the information that you share.
In the worst case, they may be unable to accept something that you share with them, leading to the downfall of the relationship.
If this happens, the silver lining is that you have determined this is not someone you can be your authentic self with; on the other hand, it is more likely that self-disclosure will bring you and your partner closer together and build trust.
In a healthy relationship where you and your partner are compatible, self-disclosure should typically be beneficial instead of risky.
Ensuring the best outcomes of self-disclosure
To ensure your self-disclose doesn't lead to any risks, try:
To ensure the best outcomes of self-disclosure, it may be beneficial to open up slowly, especially in workplace relationships. Begin by sharing superficial information, and once everyone is comfortable, you may explore more personal topics.

The same can be said for romantic relationships. You may disclose fewer personal details in the beginning, but over time, as you and your partner build trust, you can share more intimate details of your lives, bringing the two of you closer.

Ultimately, self-disclosure works best when it is reciprocal, meaning both you and your partner or colleague are self-disclosing. This can eliminate some of the risks of sharing too much personal information.

It may also be beneficial to slowly open up in personal relationships, such as in a romantic partnership. There is a chance that sharing too much information, especially too soon, can make you less likable or make you appear insecure.

It is

recommended

that you begin with a self-disclosure that is a happy medium between general and intimate. As the relationship develops, you and your partner can increase the intensity of your self-disclosures, making them more intimate as time goes on.
In a healthy relationship, the two of you will both share increasingly intimate information and engage in deeper levels of self-disclosure as the relationship progresses.
Related Reading: 

Ways to Keep Your Relationship Strong, Healthy, and Happy
How does self-disclosure normally progress through a relationship?
Self-disclosure tends to begin gradually, resulting in people opening up and sharing intimate details with each other. Experts explain that self-disclosure involves both depth and breadth as if peeling back layers of an onion.
At the beginning of peeling back these onion layers, people tend to share superficial details like their hobbies and personal interests. Sharing of superficial details tends to involve quite a bit of depth, as people are apt to share many of these details.
As a relationship progresses and people build trust, self-disclosure involves more breadth, meaning people will share more intimate details of their lives.
For example, as two people become more comfortable with each other, they may begin to share very personal information, such as details of their religious beliefs or stories of past struggles.
From another perspective, there may be levels of self-disclosure in relationships. Self-disclosures are made with increasing intensity over time, so the relationship can grow slowly.
In the beginning, self-disclosures tend to be superficial, but they become increasingly intimate throughout the course of a relationship. If one member of the partnership is making only superficial self-disclosures, but the other is sharing personal details, this can be a sign that the relationship is not progressing to deeper levels of self-disclosure.
How does self-disclosure affect relationships?
As previously stated, there are both benefits and risks of self-disclosure, but the effects of self-disclosure in relationships are largely positive.
As per a study, self-disclosure is one of the most impactful components of romantic and platonic relationships because it creates a bond between two people and helps the bond strengthen over time with continued communication and self-disclosure.
Here are seven ways self-disclosure affects relationships positively:
When we share personal details of our lives with others, they feel drawn to us, creating stronger feelings of attraction. In a relationship, being vulnerable enough to engage in self-disclosure with your partner can increase your partner's attraction to you.

When people partake in mutual self-disclosure, meaning both members of the relationship are sharing personal details with each other, trust is strengthened within the relationship. This makes the relationship a safer space for both partners.

Sharing intimate details of your life with your partner will make them feel special since you trusted them enough to reveal parts of yourself to them. This obviously makes for a stronger connection.

In the beginning stages of a relationship, we tend to be more hesitant about revealing personal details, but as time goes on and we build trust, we are likely to self-disclose more personal information. This helps the relationship to grow and develop instead of remaining stagnant.

Sustaining the relationship
Since relationships cannot grow without mutual self-disclosure, self-disclosure in relationships helps people to stay together over the long term.

Opening up to your partner and sharing your vulnerabilities can help you to feel accepted. When you share personal struggles or insecurities, and your partner continues to accept you, this, in turn, leads you to self-acceptance. The same can be said for your partner when you accept their self-disclosures without judgment.

Being able to share the most personal details of your life, including experiences, fears, and beliefs, provides you and your partner with a strong degree of support.
Related Reading: 

Steps to Becoming a Supportive Partner
Factors that influence self-disclosure
There are obvious benefits associated with self-disclosure in relationships, but that doesn't mean that everyone will be comfortable with a high level of personal disclosure. Someone who shares personal details may be different from those who have a fear of self-disclosure.
For example, personality affects self-disclosure. Someone who is extroverted and has an easier time developing close relationships will probably be comfortable with self-disclosure early in relationships.
On the other hand, introverted personality types may be reluctant to share intimate details of their lives with others. This can lead them to be slower to reveal themselves and more slow to develop close relationships.
People who struggle with loneliness are also less likely to self-disclose, which, in turn, can lead them to continue to be lonely, creating a vicious cycle. Someone in a bad mood is also likely to feel less confident and, therefore, unlikely to share personal details with others.
On the other hand, someone who is feeling optimistic and happy will probably be more confident with self-disclosure.
Furthermore, those who feel that they are equal to those who they are surrounded by may be more likely to self-disclose.
On the contrary, when someone feels that their skills and knowledge are inferior to those of other people, they may worry about negative judgment. This can lead to a fear of self-disclosure.
What happens in a relationship if the couple isn't willing to self-disclose?
There are certainly benefits of self-disclosure in relationships, but people who have a fear of self-disclosure may find that their relationships deteriorate.
For example, in a marriage or long-term romantic partnership, people may realize that they begin to grow apart if they do not use self-disclosure in communication.
Over time, with a lack of personal disclosure, spouses or long-term partners may begin to feel like they do not know each other anymore, and awkward silence will fill the room when they are together.
Relationships can break apart
Understandably, without self-disclosure, relationships can break apart. This is not surprising, given the fact that self-disclosure predicts marital satisfaction.
Furthermore, without self-disclosure, relationships will lack the closeness and trust that are necessary to keep two people connected over the long-term, through all of life's struggles.
Relationships cannot evolve
In addition, when there is a lack of self-disclosure in relationships, they may come to a screeching halt. Without the connection and closeness that comes from sharing personal details with each other, the relationship cannot grow and evolve.
It remains stagnant, and partners may begin to feel that they cannot trust each other or are no longer special.
One member of a relationship may begin to feel that their partner is shutting them out when there is a lack of self-disclosure. One partner may also begin to feel unneeded, ultimately leading to loneliness and resentment.
Some of these facts about self-disclosure apply not just to romantic relationships but also to friendships. Over time, two people who have a fear of self-disclosure will grow apart as they lose their trust and connection.
This is why self-disclosure is such a vital part of all relationships, although self-disclosure in a friendship or a workplace relationship will understandably look different from self-disclosure with a spouse or significant other.
For instance, certainly, there are things you would share with your spouse that you wouldn't share with your boss at work.
Also Watch:

Conclusion
While it may look different for different types of relationships, self-disclosure is an important component of any successful relationship.
Self-disclosure builds trust and connection, which brings people together and strengthens their bond.
In the workplace, this can make you more likable and help you to advance your career. In friendships and romantic partnerships, self-disclosure can build a lasting connection, keeping friendships and partnerships intact over the long-term.
If you worry about sharing too much personal information, start slowly. Have conversations where you talk about your hobbies, such as your favorite musical artist or your favorite weekend activities.
Then, as you become more comfortable, you can begin to share more personal details, such as a past struggle or life experience that has influenced you. Overcoming a fear of self-disclosure may be difficult, but in the end, it pays off in the form of healthy, lasting relationships.
Share this article on
Want to have a happier, healthier marriage?
If you feel disconnected or frustrated about the state of your marriage but want to avoid separation and/or divorce, the marriage.com course meant for married couples is an excellent resource to help you overcome the most challenging aspects of being married.
More On This Topic
You May Also Like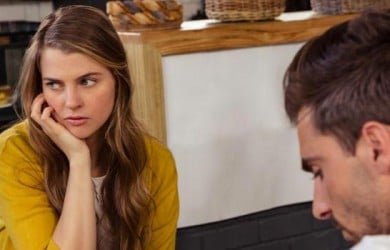 Popular Topics On Married Life