Understanding a Destructive Marriage From a Child's Perspective
They say that divorce is hard, and they say that it is expensive. But, sometimes all the excuses made about divorce should be avoided, and the action to have a divorce should be taken to escape a destructive marriage.
A divorce should concern more than just the parents; it should concern the whole family; children included. But some couples choose the life of compromise and prefer staying married for the kids only.
But, divorce should not be delayed and prolonged. The longer a destructive marriage lasts, the longer the damage occurs for all those involved. You have to decide when to leave a marriage with kids before matters go out of your hand.
A toxic family that stays together
It does not make a strong marriage if the two involved are always fighting, putting each other in a bad mood, and shouting early in the mornings. It is not a healthy marriage to be rude to your partner and not help them when they most need it.
For example –
"My parents are always disagreeing with each other, always complaining about the smallest of things in their lives. They hold each other back. The happiness in the family is ever so rarely shown.
I feel as if parents in a bad relationship don't place any thought on the effect that their bad habits and repulsive actions have on their children. They are too consumed in their problems and focused on what matters to them more than others."
How does an unhappy marriage affect children
Let's cite a personal example here –
"I, for a period of my time, thought that I did not want to be in a marriage. I witnessed firsthand how horrible it is, how unloving and uncaring it can be. I thought to myself why on earth would anyone want this and that was wrong for me to do.
It was evil of me to think of a future where love does not exist because it does not feel as if there is any love in my own family.
It takes a toll on the child's mental health, on mine, to hear the constant fighting and to be woken up in the mornings because others are not happy."
Parents, who always start their day on the wrong side of the bed, try and inflict their wounds onto their children, and also, try to bring their moods down. It is downright wrong and childish. It is also unfair.
This is why bad marriages are worse for kids.
Damaging effects of a destructive marriage
"I have become so starved of love and needy for it because it is not shown. Not every human on this planet should have children. Some simply are not cut out for it and cannot be a good parent to save their life.
My parents are too stubborn to change their ways and too self-centered to care about how others feel.
Whenever my mom asks if I am okay, it is with a smile on her face and no follows up questions. No interest to pursue the question and get an answer. It shows how little care is given."
The worst thing that can happen to you while living in a destructive marriage is getting used to the bad treatment and finding ways to cope with the noise. It shows how nothing is going to get resolved and that the problem will continue.
Just because a child gets used to their parent's bad marriage does not make it easier for the child. The longer it lasts, the more likely kids just become so numb to their actions and void of emotions to what they do.
It makes me fight back, over and over, when a child shouldn't have to go through any of it. It makes me tired and bored of the same old unhappy routine.
What they have done?
Personal experience –
"My brother has, unfortunately, followed in their footsteps. He has become violent as a defense to all their actions and rude just like them, mimicking their actions.
My question is why parents would want to raise children like that, yet again they are so unfocused on their children's problems that they don't even notice.
I, on the other hand, want nothing else but to escape from them and leave them behind, literally to never return because they are bullies and I cannot live with bullies in my life. Why would you as parents, create an environment that chases your children away? My mind and mental health struggles alone now, it isn't strong enough to just keep going through with what they have to offer.
And, it is not right for me to hold myself back in life due to a broken family. It is not healthy for myself and I should be thinking and doing what is the best course of action for me."
If they are unwilling to change then I will not force them to do so. They should learn about their consequences to their actions.
What does family mean?
A family should be more than just the DNA coursing through your veins. It is the love for each other, acceptance, and care. It is also how you raise and take care of your children.
If you are failing at these things in life. Then your mistakes as a parent will make its way into your children's. There are just so many things that my parents are doing wrong. It breaks my heart to think about it.
Why do bad parents even exist?
Another bad thing is that my parents keep bringing up that the way they treat us is how their parents raised them.
Why would you want to continue a bad upbringing when you as the parent know how it feels? Can you not take the initiative to learn from your parents not to do as they did?
It shows how lazy my parents are to change and better themselves for their families. It should never be too late to repair and attempt to fix a broken marriage but if absolutely no effort is given, then leaving each other should be the next course of action.
Never get complacent with a destructive marriage.
What have I learned?
I have learned what a family should mean and how they should treat each other.
I have learned from observing the pain of my family, a pain I would never want my loved one to go through. A pain I would not enjoy going through so I will find someone I love and not let that love die or end.
And if it does, I will respectfully get a divorce no matter how much it hurts because my children wouldn't deserve to go through an unhappy marriage.
Happiness should be the main objective for your family, and I will not be selfish enough to put my feelings before those I should care about and are important to me.
Share this article on
Want to have a happier, healthier marriage?
If you feel disconnected or frustrated about the state of your marriage but want to avoid separation and/or divorce, the marriage.com course meant for married couples is an excellent resource to help you overcome the most challenging aspects of being married.
Learn More On This Topic
You May Also Like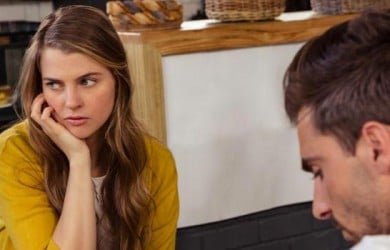 Popular Topics On Married Life