What Is a Covenant Marriage?
In a few states, such as Arizona, Louisiana, and Arkansas, people may know about covenant marriage because it is practiced. However, if you do not belong to one of those states, you may not know what covenant marriages are about.
If you have just relocated or are planning to move to one of these covenant marriage states, then this term might be new to you. A marriage covenant is also presented in the Bible as a way to describe marriage.
So what is a covenant marriage, and how does a covenant marriage differ from the traditional marriage that we all know?
What is a covenant marriage?
Understanding the marriage covenant is not too difficult. The marriage covenant in the bible was the basis of the covenant marriage first adopted last 1997 by Louisiana. The name itself gives solid value to the covenant of marriage, so it will be hard for couples to simply end their marriage.
By this time, divorce had been so common that it may have lessened the sanctity of marriage, so this is their way of ensuring that a couple won't abruptly decide to divorce without a solid and valid reason.
The best covenant marriage definition is the solemn marriage agreement that a couple agrees to sign before marriage.
They have to accept the marriage agreement, which promises that both spouses will do their best to save the marriage, and agree that they will both undergo pre-marital counseling before getting married. If they come across problems, they'd be willing to attend and sign up for marriage therapy for the marriage to work.
Divorce is never encouraged in such a marriage but is still possible given the circumstances of violence, abuse, and abandonment, and therefore covenant marriage divorce rates may be low.
To understand attitudes about covenant marriages and divorce, read this research.
You must also opt for pre-marital counseling for your relationship to remain smooth and healthy.
Requirements before entering into a covenant marriage
If you want a covenant in marriage, there are some requirements you need to meet. These requirements could vary based on the state you live in. These can also be called the marriage covenant vows. Covenant marriage laws include –
Attend marriage counseling
The couple needs to attend pre-marriage counseling to understand what they are getting themselves into.
Related Reading: 

Marriage Counseling vs. Couples Therapy: What's the Difference?
Apply for marriage license
Marriage covenant documents include an application for a marriage license. As a prerequisite for covenant marriages, the couple should apply for a marriage license.
While applying for a marriage license, the couple will have to submit a document called the declaration of intent, which talks about why they are opting for a covenant marriage in the first place.
The marriage license application should also be supplemented with a sworn and notarized attestation from the clergy member or licensed marriage counselor.
Important information about covenant marriage
Here are some important points about covenant marriage that you should know about.
1. Strict criteria for divorce
The couple who will choose such a marriage will agree to be bound by two distinct rules, which are:
The marrying couple will legally seek premarital and marital counseling if problems do develop during the marriage; and

The couple will only seek a divorce request of nullity of their covenant marriage license based on limited and viable reasons only.
Related Reading: 

10 Most Common Reasons for Divorce
2. Divorce is still allowed
Divorce is allowed in a covenant marriage setting, but their laws are strict and will only allow a spouse to file a divorce under certain conditions:
Adultery

Commission of a felony

Abuse of any form to the spouse or their children

The spouses have lived separately for more than two years

Drugs or other substance abuse.
3. Additional grounds for separation
Couples may also file for divorce following a given period of separation. In contrast, the spouses no longer live together and haven't considered reconciliation for the past two years or more.
4. Conversion to covenant marriage
Married couples who didn't choose this kind of marriage can sign up to be converted as one, but before this happens, the same with the other couples who signed up, they need to agree on the conditions, and they have to attend a pre-marriage counseling.
Note that the state of Arkansas doesn't issue new covenant marriage certificates for couples who are converting.
5. Renewed commitment with marriage
The covenant marriage vows and laws aim at one thing – that is to stop the divorce trend where every couple who experiences trials opt for divorce like it's a store-bought product that you can return and exchange. This kind of marriage is sacred and should be treated with the utmost respect.
Related Reading: 

How Can a Lack of Commitment in Marriage Lead to a Divorce?

 
6. Covenant marriages strengthen marriages and families
Because it's harder to get a divorce, both spouses are more likely to seek help and counseling, thus making it possible to fix any trouble within the marriage. This has increasingly proved to be effective as many couples who have signed up for this kind of marriage stay together longer.
Why do people choose a covenant marriage?
Is your marriage a covenant marriage?
When you are asked if you want to sign up with the regular marriage option or the covenant marriage, you might find yourself a little bit confused about the difference, and of course, you'd want to know the benefits of a covenant marriage. Here is why some people choose covenant marriages.
1. They discourage divorces
Unlike traditional marriages, covenant marriages are non-traditional, but these marriages discourage divorce because it's a clear disrespect to the covenant of marriage.
We all know that when we tie the knot, we just don't do this out of fun and that when you no longer like what is happening in your marriage, you can immediately file for divorce. Marriage is not a joke, and this is what such kinds of marriages want couples to understand.
2. You get a second chance
You get the chance to work things out for the better. Before you get married, you are already required to attend premarital counseling, so you'd already know what you are getting yourself into. A few good tips in pre-marriage counseling can already build a strong foundation for your married life.
3. You try to make it work
When you're faced with problems and trials, the couple would instead do their best to work things out instead of opting for divorce. Isn't marriage all about trying to be the best for your spouse?
So in your journey of marriage, you are given a chance to be better together and see how you can grow with your partner.
4. Strengthens families
It aims to strengthen families. It aims to teach married couples that marriage is a sacred union, and no matter how hard the trials are, you and your spouse should work together to be better for you and your family.
'Marriage is a covenant, not a contract – If you want to know more about this statement, watch this video:
How to convert a traditional marriage to a covenant marriage
Under some circumstances, a couple may need to convert their traditional marriage into a covenant marriage. When you have a traditional marriage, you can convert it into a covenant marriage. However, if you have a covenant marriage, you will not convert it into a non-covenant marriage.
To convert a traditional marriage into a covenant wedding and marriage, you may have to pay a fee to the appropriate court and submit a declaration of intent. You may also have to submit the date and time of your wedding.
You may find a pre-printed form with some courts to make the process simpler.
Here is research that will help you understand the difference between covenant marriage vs traditional marriage.
Reasons for leaving a covenant marriage
The reasons for leaving a covenant marriage are minimal. No-fault divorces are not an option in covenant marriages.
Reasons on the grounds of which one can seek a divorce in a covenant marriage are –
The non-filing spouse committed adultery

The non-filing spouse committed a crime and received a sentence

The non-filing spouse abandoned the house for more than one year

The non-filing spouse committed emotional, sexual abuse or violence

The couple has lived separately for more than two years

A court has granted legal separation to the couple, and they have not lived in their marital home for more than one year

Both spouses agree to the divorce

The non-filing spouse abuses alcohol or some substance.
Related Reading: 

9 Reasons to Leave a Marriage and Start Life Afresh
What to do if you want to leave a covenant marriage
If any of the above reasons are valid in your marriage and you are planning to seek a divorce in a covenant marriage, here is what you should do.
Document ill-treatment, sexual abuse, domestic violence

Document the marriage counseling you receive

Document all essential dates

Document all circumstances that support your grounds for divorce.
What makes marriage a covenant according to the Bible?
Marriage is one of the most important things in a person's life. It is a covenant between two people. A covenant is an agreement made in the presence of God. It is a permanent bond, and God promises to be faithful to his promises.
According to the Bible, marriage is ordained by God from the beginning of time. It has always been acceptable for a man and a woman to live together and have a family.
When God made the creation, he created Adam and Eve and gave them dominion over the earth and everything in it.
In Genesis 2:18, we read that
"the man and his wife were both naked and were not ashamed."
This shows that it was not shameful for Adam and Eve to be married and live together. It also shows us that this was part of God's plan for humankind from the beginning.
Related Reading: 

8 Interesting Strategies To Make Your Marriage Stronger
Takeaway
Understanding marriage is very important. Marriage is a sacred covenant that establishes a lifetime union between husband and wife where trials are overcome with communication, respect, love, and effort.
Whether or not you choose to sign up for a covenant marriage or not, as long as you know the value of marriage and will not use divorce as an easy way out, then you are indeed ready for your married life.
Share this article on
Want to have a happier, healthier marriage?
If you feel disconnected or frustrated about the state of your marriage but want to avoid separation and/or divorce, the marriage.com course meant for married couples is an excellent resource to help you overcome the most challenging aspects of being married.
More On This Topic
You May Also Like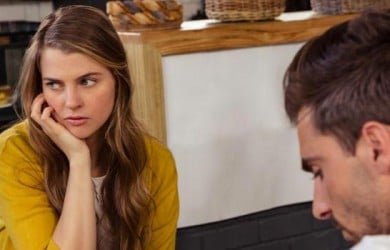 Popular Topics On Married Life