Marriage Archetypes: What Are You Like in Your Marriage?
Just like every other human endeavor,
marriage is one that creates meaning and purpose.
By marrying someone, you can discover not only them but also a more significant part of yourself.
As such, people will find out how they become when they live under the same roof as the one that they love.
But more often than not, people miss out on this point. Because they think that marriage is a common struggle between partners, they see it as a bond that must be solved together.
While this is true, it is not necessarily the case that we forget ourselves when we enter marriage. It will even show more of us than them.
With that, it is crucial to find out who we are in a marriage and what are our marriage roles and responsibilities. But how so? Simple – with the help of marriage or relationship archetypes.
Contrary to popular belief, each one of us is not uniquely unique. While we may have qualities and experiences that shape us differently from those around us, there still runs a common thread that ties our humanity together.
By being able to know this thread and its meaning, it becomes a lot easier for us to maneuver in life.
In this case, by exploring marriage archetypes, we can better approach our marital interpersonal relationships and understand our marriage responsibilities. As we seek to know more about ourselves, we'll be aware of tendencies, goals, fears, and the like.
Watch this video to understand the critical roles that lead to a successful relationship:

Guardian
In the first relationship archetype, in the list, the guardian is someone who prioritizes the good of the family above everything else. Seeing marriage as something that they have to protect, Guardians will do everything in their power to ensure that their partner and the family are safe.
With that, they will make quiet sacrifices. Preventing to share the burden on their partners, they will seek to solve everything as long as they can. Thus, they may space out but expect them to bring forth some good results.
Lover
The Lover prioritizing their loved one above everything else and can make the other feel valued and respected. More than anything else, this archetype is excellent at maneuvering with one's feelings, thoughts, and actions as they are born to create meaningful relationships.
As such, the Lover may always use this to their advantage. While they can become very manipulative and controlling, making sure that they are on the right path is the key.
By constantly re-assessing their motives, they will prevent themselves from committing grave mistakes along the way.
Seducer
With their charms and wits, seducer relationship archetypes can conquer almost anything. After all, even kings and emperors are persuaded by gypsies and geishas. When married, the seducer will keep things fun and exciting as they will never run out of ways to allure the other.
In this case, making sure that they are loyal to their partner is one of the major hurdles that they have to ensure. By seeing the value of their partners, they can effectively prevent themselves from unnecessarily falling with those who still pursue them even when they're already married.
Giver
Just like the caregiver relationship archetypes, a Giver is a specialized form that focuses on making the other person loved and cared for as they are nurtured.
For this archetype, being able to nurture their loved one is the best thing that they can give. In doing so, they are also living out their archetypes.
While this seems perfect, the giver is more prone to problems. Vulnerable to abuse, givers are commonly victimized by the wrong partners.
As ungrateful people take advantage of their generosity and kindness, the giver can quickly become a used rag that's thrown away afterward.
Idealist
Perceiving relationships as the pinnacle of human existence, the Idealist always seeks what's best for them and their partners.
In this relationship archetypes, they will cross all lengths to ensure that they are in good condition with their partners. As such, they create a situation where the relationship is perpetually headed towards greatness.
However, they should also be equally as careful. Since not all their ideas are the best or not all of them are agreed with by the other, they can easily cause misunderstandings and problems. Insisting on what they want, the better approach is to listen to their partners as well.
Rationalist
Able to create the best and most efficient decisions for marriage, the Rationalist is always a great partner to grow with.
Since they will almost always pick what's right and good, their impact on the relationship will be positive. As such, both personal and relational growth will be out of the question.
However, one problem with the Rationalist is that they tend to become too strict. Instead of hearing out their partners, they tend to block-out and focus only on the rational solution.
In the long term, this can unconsciously hurt the relationship as the other also needs some form.
Share this article on
Want to have a happier, healthier marriage?
If you feel disconnected or frustrated about the state of your marriage but want to avoid separation and/or divorce, the marriage.com course meant for married couples is an excellent resource to help you overcome the most challenging aspects of being married.
Learn More On This Topic
You May Also Like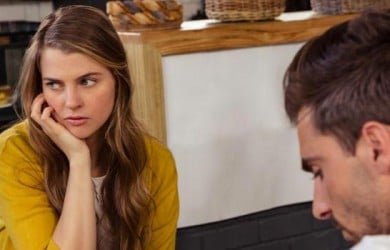 Popular Topics On Married Life